The rural economy declined in August for the first time in 2011 as economic confidence and home sales deteriorate to below growth neutral levels. The bright spot continues to be agriculture. Farmland values continued to appreciate and the majority of bankers expect values to appreciate over the next twelve months.
The overall Rural Mainstreet Index (RMI) declined to 49.3 from 55.7 in July, according to the survey of bank CEOs in a 10-state region. August's reading was the third consecutive monthly decline and well below April's high of 59.4.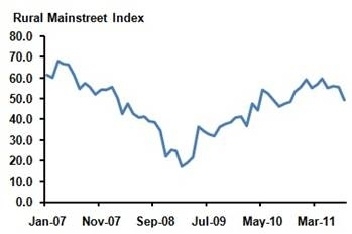 "The Rural Mainstreet economy is clearly slowing down. According to our August survey, more than one-third, or 35 percent, of bank executives expect the U.S. economy to dip into recessionary territory before the end of 2011," said Creighton University economist Ernie Goss, co-author of the report.
Agriculture
Farmland prices remain above growth neutral for the 19th straight month as the farmland index increased to 61.9 from July's 59.4. Consistent with farmland price growth, the farm equipment sales index expanded to 56.9 from July's 53.7. "A weak economy and significant economic volatility have encouraged nonfarm investors to buy nonfinancial assets including farmland. This continues to be an important component of farmland price growth," said Goss.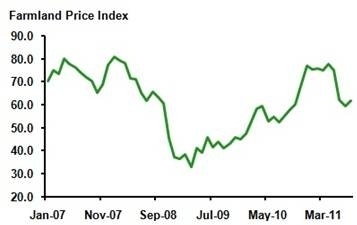 Bankers are bullish on their outlook for farmland values with roughly 20% expecting an increase of 5% or more over the next twelve months. "On average, an annual price increase of 2.6 percent is projected for farmland prices for the next year. This is significantly below current actual growth rates of between 10 and 20 percent depending on the area," commented Goss.
Banking
Loan volumes declined in August to 62.1 from a reading of 66.4 in July and certificate of deposits decreased to 40.2 in August from 43.7, although checking deposits increased to 55.4 from 52.8 in July.
The rural economy continued to see a slight loss in jobs, with the August index at 49.3, unchanged from July. "Healthy farm income has produced very little to no new hiring by Rural Mainstreet businesses," commented Goss.
Bankers confidence in the rural economy over the next six months plummeted in August to 44.0 from July's 55.0. "Recent weak national economic reports and S&P's (Standard and Poor's) downgrade of U.S. debt pushed the region's confidence index below growth neutral for the month," noted Goss.
According to one respondent, "The downgrade of US debt by S&P has created a great deal of uncertainty both locally and throughout the country. I think this will continue to erode consumer confidence and, subsequently, put the country back in a recession."
Survey
The Rural Mainstreet Survey is a snapshot of the rural economy covering 10 states, focusing on roughly 200 rural communities with an average population of 1,300. The survey respondents include community bank presidents and CEOs located in Colorado, Illinois, Iowa, Kansas, Minnesota, Missouri, Nebraska, North Dakota, South Dakota and Wyoming.

Disclosure: I have no positions in any stocks mentioned, and no plans to initiate any positions within the next 72 hours.