With the recent turbulence in the market, investors are scrambling to find the best way to protect their money while still bringing in a decent return. I believe that investors may be able to find this safe haven in RPC, Inc. (NYSE:RES). Although the share price does the Company no justice, RPC Inc. seems to be highly profitable and exhibits amazing potential for future growth. And to sweeten the deal, the Company shows dividend growth and even a high probability of a buyout. All of these factors combine to make a seemingly adequate safe haven for any investor.
To start off, RPC Inc. managed to raise revenue 75.2 percent from $252,896,000 in Q2 2010, to $443,029,000 in Q2 2011, while net income also rose from $31,602,000 in Q2 2010, to $73,165,000 in Q2 2011. The EPS has also increased greatly year over year, increasing from 0.21 cents per share in Q2 2010, to 0.50 cents per share in Q2 2011. Another important aspect to note is that the Company has beat earnings, revenue, and profits not only year over year, but each quarter. It had also beat analyst estimates for earnings every quarter since before 2010, until Q2 of 2011, where earnings fell in-line with analyst estimates of 0.50 cents a share. Some other promising news seems to be that the quarterly dividend has been raised to 0.08 cents per share, up from 0.027 cents per share last year.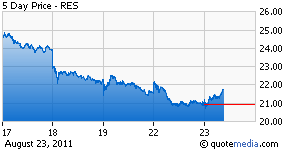 After exploring the finances of RPC Inc., we may now delve into the question of whether the Company can keep performing for years to come. And when looking into this question, we realize that RPC Inc. seems to be in the right place at the right time. The Company is an oilfield services provider and provides pressure pumping (which accounts for 54% of revenue) in the midst of a large natural gas boom. RPC Inc. currently has contracts with companies active in the Eagle Ford, Marcellus, and Haynesville Shales. Even though the Company already has considerable influence in these areas, more growth may be to come, taking into consideration that the Eagle Ford Shale was one of the most actively drilled shales for oil and natural gas in 2010 and that the Haynesville Shale is possibly the largest natural gas field in the contiguous 48 states. RPC Inc. has also shown interest in entering the Bakken Shale, where large oil companies such as Brigham Exploration Company, Concho Resources Inc. (NYSE:CXO) , Continental Resources Inc. (NYSE:CLR), EOG Resources Inc., Hess Corp. (NYSE:HES), Marathon Oil Corp.(NYSE:MRO) , and Whiting Petroleum Corp. (NYSE:WLL)currently operate. Exposure in these massive oil shales seem to answer our original question with a resounding yes. RPC Inc. will be able to post impressive earnings and YoY growth if it continues to attain large contracts from high profile contracts in these key shales.
One of the main concerns investors may have with RPC Inc. is that it has a short interest (as % of float) of 19.59%, quite high compared with its peers, or any company in general. But this statistic could be useless, especially considering recent speculation about a buyout. On August 8, news broke that the management of RPC Inc. had hired Goldman Sachs Group Inc. to advise them on selling the company. Many companies in the energy sector have shown a strong interest in acquiring new shale assets. One of these such companies is Exxon Mobile Corp, (NYSE:XOM) which acquired oil giant XTO Energy in December of 2009 for $41 billion. Exxon also expanded into the Marcellus Shale even more by purchasing two privately held natural gas companies for their stakes in the Shale. These acquisitions and RPC Inc.'s apparent willingness to sell could mean a buyout for the oilfield services company.
I cannot say whether or not RPC Inc. will be bought out or grow into a massive oilfield services company, but I can say for sure that it shows tremendous potential for doing so. With large oil companies expanding and a natural gas boom growing, RPC Inc. seems to be in a perfect position for some type of gain. Even if you want to play it safe in this turbulent market, RPC Inc. seems like it could be the perfect company for you. With more quarters of excellent earnings, revenue, and profits, RPC Inc. seems like it could shape out to be one of the most profitable and respected companies in the oil well services & equipment industry.


Disclosure: I have no positions in any stocks mentioned, and no plans to initiate any positions within the next 72 hours.