The Dow Jones Industrial (DJIA) rallied for a 4th straight trading session yesterday to finish in positive territory for the year. This rally made up for a late day plunge in the major indices on Wednesday as investors were forced to recognize that the eurozone is still dictating to the U.S. markets. It was a pretty enlightening session Wednesday, which saw the Dow soar higher by 100+ points from 2:30-3:30p.m., forcing the risk on trade to pull up the Nasdaq (COMP) and S&P 500 (NYSEARCA:SPY). But all three indices crashed into the red shortly after the ECB announced it would no longer accept Greek debt as collateral.
The European Central Bank's Governing Council suspended a waiver that had allowed Greek banks to use the country's junk-rated government bonds as collateral for central bank loans. In its decision, the ECB said it pulled the plug on the waiver because it can't be sure that Greece's attempts to secure a new program will be successful. News reports also indicated the ECB isn't open to requests to allow Greece to raise short-term cash by issuing additional Treasury bills in an effort to keep the government funded as it attempts to reach a new deal with its creditors. Even with this action taken by the ECB, investors should understand that it is possible for the ECB to reinstate the waiver if Greece can come to terms with the Troika, the International Monetary Fund and the ECB. Now that investors have a better understanding as to what caused the late day sell-off, let's take a look at the spirit of the market since.
Economic data still manages to play an important role with investor sentiment and productivity numbers lately haven't been all that promising or strong.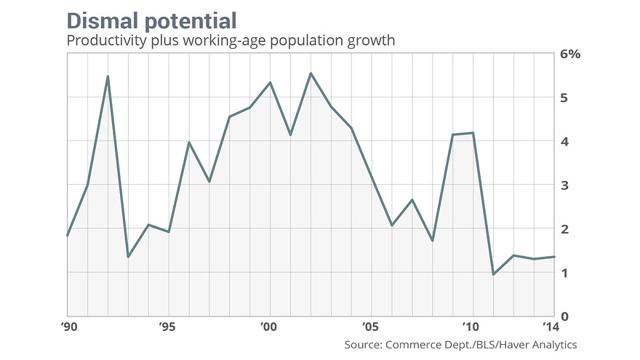 It's tough to read much in the latest quarterly swings in productivity data, but taken over the last four years, they paint a dismal picture of the potential for growth from the U.S. economy.
The latest report from the Labor Department showed that productivity fell 1.8% in Q4 2014. For the year, productivity grew 0.8 percent. Another important and somewhat troubling issue related to productivity is the fact that the working-age population growth is set to decline, from roughly 0.5% right now, to just 0.2% in 10 years' time.
In an all-important jobs data week, we learned that job cuts have recently accelerated due, in part, to weak oil prices. U.S. based employers announced plans to cut 53,041 jobs in the month of January, a rise of 63% from last month, outplacement firm Challenger, Gray & Christmas said Thursday. Over 21,000 of those cuts were directly attributable to the recent decline in oil prices, the report said. There were 42% more layoffs in the energy industry in January than the sector cut in all of 2014 put together.
This morning, investors finally received the highly anticipated Nonfarm Payroll report from the government. The U.S. added 257,000 jobs in January and hiring in the final two months of 2014 was even stronger than previously reported, reflecting by far the strongest pace of job creation since a recovery began more than five years ago. Economists polled by Reuters had expected a gain of 230,000 nonfarm jobs. The unemployment rate, meanwhile, edged up to 5.7% from 5.6% as more people entered the labor force in search of work, the Labor Department said Friday. In a good sign, average hourly wages jumped 0.5% in January to $24.75 after declining in December. That put the 12-month increase at 2.2%, close to a post-recession high. The amount of time people worked each week also remained at a post-recession high of 34.6 hours. The economy has now added at least 200,000 jobs for 12 straight months, a feat last accomplished in 1994-1995, and hiring shows little sign of slowing down despite weaker economic growth around the world. In November, the number of jobs created even topped 400,000 for the first time since the end of the recession excluding the temporary hiring of Census workers in 2010. November's job gain was revised up to 423,000 from 353,000. The government also raised the number of jobs created in December to 329,000 from 252,000. The labor-force participation rate rose several ticks to 62.9 percent. U.S. equity futures rose shortly after the data was released.
January Payrolls Have Missed Expectations 9 Of The Last 10 Times as indicated in the chart below: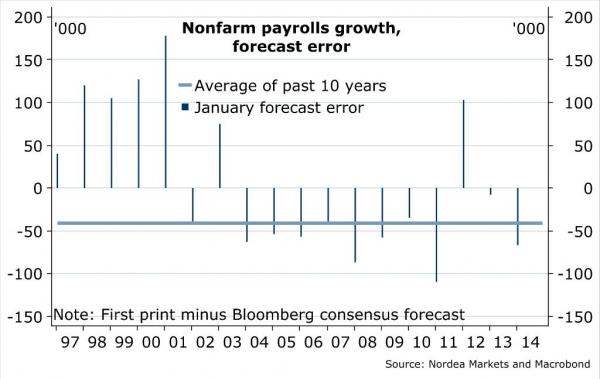 Here is what the sell-side firms were looking for in the January NFP:
Goldman Sachs 210K
HSBC 225K
JP Morgan 225K
Credit Suisse 230K
Deutsche Bank 240K
Morgan Stanley 245K
Several key earnings reports were delivered after the closing bell on Thursday that might affect the overall tone of the markets today. One such earnings report was highly anticipated and brought forward by Twitter Inc. (NYSE:TWTR) that managed to blow away expectations for the 4th quarter of 2014. Twitter shares jumped 10% after hours on heavy volume after reporting adjusted fourth-quarter earnings of $.12 a share on revenue of $479.1 million. Average active monthly users for the quarter grew 20% to 288 million from a year ago, although that was under the 295 million expected from analysts and only 4 million additional users since its Q3 2014 reporting period. Timeline views totaled 182B vs. 181B in Q3 and 148B a year ago. Twitter has argued Timeline views are an imperfect proxy of traffic, given its efforts to embed more media content within Timelines. Ad revenue rose 97% YOY to $432M, after coming in at 109% in Q3. Data licensing and other revenue rose 105% to $47M. Mobile was 88% of ad revenue up from Q3 2014, and international 34% of total revenue, which was flat quarter-to-quarter. As far as analysts are concerned; Twitter's stock price target was raised to $62 from $58 at Cantor Fitzgerald this morning. Additionally, the stock price target was raised to $50 from $40 at Wedbush this morning as well.
GoPro Inc. (NASDAQ:GPRO) shares fell almost 18% after hours yesterday on high volume. GoPro reported a profit of $122.3 million, or $.83 a share, compared with a year-earlier profit of $43.7 million, or $.33 a share. Excluding one-time items, earnings improved to 99 cents a share. Revenue surged 75% to $633.9 million. Analysts polled by Thomson Reuters expected a per-share profit of 70 cents and revenue of $580 million. Gross margin widened sharply to 47.9% from 41.9%. The company forecast first-quarter earnings of $.15 to $.17 a share on revenue of $330 million to $340 million. Analysts are looking for $.17 cents a share on revenue of $325.2 million. GoPro also said in a regulatory filing that Chief Operating Officer Nina Richardson was resigning effective Feb. 27. "We're feeling good," Chief Executive Nicholas Woodman said. "GoPro was one of the best-selling products this holiday, selling-in an average of 1,000 units per hour for the entire quarter. With this many new recruits to the GoPro movement, we're sure to see some incredible content in 2015." GoPro's fourth-quarter results topped analyst expectations.
LinkedIn Corp. (LNKD) shares rose roughly 7% after hours Thursday after the company reported better-than-expected fourth quarter profit and sales. LinkedIn said it had net income of $3.095 million, down from $3.782 million in the year-earlier period. The company said adjusted per-share earnings came to $.61, above the FactSet consensus of $.53. Sales rose to $643 million from $447 million in the year-earlier period and above the FactSet consensus of $617.4 million. The company issued 2015 guidance with adjusted earnings per share at $2.95, above the FactSet consensus of $2.74. Credit Suisse analyst S. Ju reiterated an Outperform rating and boosted the price target on LinkedIn to $331.00 (from $285.00) on Friday morning.
Pandora Media Inc. (NYSE:P) shares tanked Thursday after the internet radio company reported Q4 2014 results that missed revenue expectations. Pandora said it earned an adjusted $.18 a share on revenues of $268 million, compared with $.11 a share a year ago. Analysts polled by FactSet had expected earnings of $.18 a share for the quarter on revenues of $276.5 million. The company said the number of its active listeners rose 7% to a record 81.5 million. Shares of Pandora recently fell 21% in after hours, after ending the day down 0.7%. The company gave guidance for fiscal Q1 of revenues in the range of $220mm-225mm, vs. consensus expectations of $241.8M, and adjusted EBITDA of $35mm to -$30mm vs. expectations of $9.6 million.
Before the opening bell Friday, eBay (NASDAQ:EBAY) offered an upward revision to its 2014 earnings. The company noted a lower income tax expense, helping swing the Internet commerce company's full-year results from a previously reported loss to a profit. eBay revised both its full-year results and its fourth-quarter results, which it reported in January, to reflect an $87 million reduction in income tax expense. eBay said it underestimated the tax benefit of an intercompany transaction that happened in December. For the year ended Dec. 31, eBay posted a profit of $46 million, or $.04 cents a share, up from the net loss of $41 million, or $.03 a share, it reported in January. For its fourth quarter, eBay revised its profit up to $1.02 billion, or $.82 a share, up from $936 million, or $.75 a share.
In closing out this daily look at the U.S. marketplace, we are forced to recognize the continued and developing issues with our West Coast port operations. According to the ISM reports, our West Coast Port handled 43.5% of containerized cargo in the U.S. and accounts for where transiting cargo produced 12.5% of U.S. gross domestic product. This is no small issue that is developing through the West coast Port. According to the latest update from the 29 west coast ports that serve as the entry point of the bulk of Asia/Pac trade into and out of the US, things are about to get far worse for America's manufacturing base, because as RILA reported earlier, talks between the Pacific Maritime Association (PMA) representing port management, and the International Longshore and Warehouse Union (ILWU) officially broke down on Wednesday, and without an agreement, experts have suggested that nearly 30 west coast ports could be shut down within a week. Here is just some of what RILA reports:
"A west coast port shutdown would be an economic disaster," said Kelly Kolb, vice president of government affairs for the Retail Industry Leaders Association. "A shutdown would not only impact the hundreds of thousands of jobs working directly in America's transportation supply chain, but the reality is the entire economy would be impacted as exports sit on docks and imports sit in the harbor waiting for manufacturers to build products and retailers to stock shelves.

"The slowdown is already making life difficult, but a shutdown could derail the economy completely," said Kolb. "For retailers specifically, a shutdown will have dire consequences for those dependent on spring inventory demand."

The last prolonged port shutdown of the West Coast ports was the 10-day lockout in 2002 that was estimated to cost the U.S. economy close to $1 billion a day.

"A port shutdown of even a short duration could derail economic growth and cause long-lasting damage and job losses across the country," said Kolb. "There needs to be a greater sense of urgency at the White House, before it's too late."
There has been no formal lockout yet from this situation, but it does appear that investors will have to consider this development as part of their well-proportioned risk management going forward. The major indices are pointing to a positive open to trading so let's see if the Dow can finish the week with 5 straight positive trading sessions.
Disclosure: The author is long EBAY. The author wrote this article themselves, and it expresses their own opinions. The author is not receiving compensation for it (other than from Seeking Alpha). The author has no business relationship with any company whose stock is mentioned in this article.