Does Starbucks (NASDAQ:SBUX) give you the jitters? This is one stock that seems all but unstoppable. The total return to stockholders has been 127% in the last three years which is about 275% of what you would have received from a general index fund. Can this stock keep up the momentum or are we at a point that entry at this level is not desirable?
First let's look at a Barchart graph of the weekly price action over the past 2 1/2 years:
Click to enlarge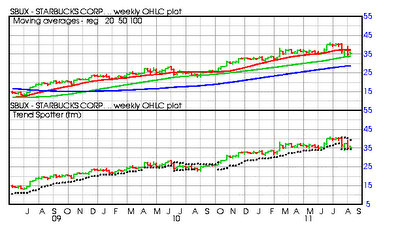 If only we knew then what we know now. Now using our general information matrix what does the future look like?
Starbucks purchases and roasts whole bean coffees. It operates approximately 16,858 stores, including 8,833 company-operated stores and 8,025 licensed stores. The company offers approximately 30 blends and single-origin premium arabica coffees. It also provides handcrafted beverages, such as fresh-brewed coffee, hot and iced espresso beverages, coffee and non-coffee blended beverages, Vivanno smoothies, and Tazo teas; and merchandise products, including home espresso machines, coffee brewers and grinders, coffee mugs and accessories, packaged goods, music, books, and gift items.
In addition, it offers fresh food items, which comprise baked pastries, sandwiches, salads, oatmeal, yogurt parfaits and fruit cups. Further, it also provides VIA ready brew coffee, bottled frappuccino beverages, Discoveries chilled cup coffee, Doubleshot espresso drinks, iced coffee, whole bean coffee, and ice creams.
The company's brand portfolio includes Tazo tea, Ethos water, Seattle's Best Coffee, and Torrefazione Italia Coffee. Starbucks Corporation sells its products in approximately 50 countries worldwide. Starbucks Corporation was founded in 1971 and is based in Seattle, Washington (Yahoo Finance profile).
Recent price action - hourly price movement over the last month:
Click to enlarge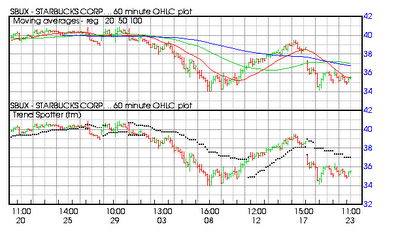 Barchart technical indicators:
When there is a stock that has been on your watchlist for some time a temporary market dip might be an opportunity to enter into a position or maybe add to your present position.
Barchart 80% short term technical sell signal - might be just a pull back signal.
Trend Spotter sell signal.
Below its 20, 50 and 100 day moving averages.
13.42% off its recent high.
Relative Strength Index 42.47 and still falling.
Barchart computes a technical support level at 34.65.
Recently trading at 35.43 which is below its 50 day moving average of 38.07.
Wall Street is still high on this stock and doesn't have any sell or under perform recommendations for clients.
Brokerage analysts predict sales will still grow by 8.50% this year and another 10.30% next year.
Earnings are estimated to grow by 18.80% this year, 19.70% next year and continue to increase annually by 17.40% for the next five years.
Based on these numbers brokerage firms currently have in place nine strong buy, seven buy and 10 hold recommendations for their reps to push to clients.
The 23.09 P/E ratio shows the market is willing to put a 43% P/E premium over the rest of the market for this growth rate.
The stock does pay a 1.48% dividend which is only 30% of the projected earnings.
Same store sales have been increasing 7.00% year over year.
For the first time overseas has become the most profitable segment.
The company has announced plans to triple locations in China to 1,500 by 2015.
One of my favorite stocks is Green Mountain Coffee Roasters (NASDAQ:GMCR) and SBUX has entered into a new distribution agreement with the company.
A new marketing campaign of having high -end hotels and restaurants advertise on menus that they serve Starbucks coffee will give the company not only a bigger distribution sector but a lot of co-op advertising.
General investor interest:
As gauged with the readers of Motley Fool this is one of the most widely followed stocks with 7,362 readers voting 78% that the stock will still out perform the market.
The more experienced All Stars are even more optimistic with a 87% vote for the same result.
Summary: Starbucks is selling at a 43% premium to the market but the premium may be justified. If the sales and earnings consensus is met, savvy investors who buy on this dip could still see between 10.50% to 14.50% annual return over the next five years. The big question is buy now or wait. My prediction is those that wait will regret it.
Disclosure: I have no positions in any stocks mentioned, and no plans to initiate any positions within the next 72 hours.