It was Albert Einstein who once said, "Any intelligent fool can make things bigger and more complex... It takes a touch of genius --- and a lot of courage to move in the opposite direction."
Years ago, the leadership team at a small but innovative firm in a northern suburb of Atlanta, Georgia, knew they had to set off in that direction.
Their technology was nothing new. In fact, shock wave devices, which utilize acoustic pressure waves, had been used in urology to break up stones in the kidney, bladder, or ureter for about 30 years. In the last decade, however, the technology gained FDA approval to provide non-surgical alternatives for treating severe heel pain (chronic plantar fasciitis) and other chronic conditions like tennis elbow (epicondylitis).
The company owned the rights to the effective, but bulky OssaTron-- the first shock wave unit developed especially for those types of orthopedic applications. It was fully aware that the same technology had been shown in Europe to promote healing in several wound-healing applications. Management wanted to go after the multi-billion dollar market opportunities available in wound care markets like those in the diabetic foot ulcer treatment space, but they knew that in order to best commercialize and seek the full potential of this technology, they were going to have to make the device smaller, smarter and more accessible to patients; especially to those who were not responding to traditional wound healing procedures, and to the physicians who look after them.
As a result, SANUWAVE Health (OTCQB:SNWV) is now positioned to become one of the leaders in the emerging field of regenerative medicine - not by harvesting or employing stem cells or creating living tissues, but by using highly effective, non-invasive medical devices, which have been perfected to activate a biological response for the repair and regeneration of tissue, musculoskeletal and vascular structures.

SANUWAVE's patented medical device technologies are set to address multiple large healthcare markets, exceeding $10 billion in total. In fact, the disruptive technology appears ready to challenge current standard of care leader Kinetic Concepts' (NYSE: KCI) competitive product, which generates >$1B in U.S. revenue.
The company has just submitted to the U.S. Food and Drug Administration (FDA) the third and final module of its Premarket Approval (PMA) application for the dermaPACE® device for the treatment of diabetic foot ulcers (DFU). This submission contained the PMA application, data from the Company's recently completed pivotal Phase III, Investigational Device Exemption (IDE) clinical trial, proposed product labeling, and a summary of safety and effectiveness. (See: News Release About FDA Submission - pdf)

Given the superior trial design, several Wall Street Analysts who follow the company firmly believe that the strong data that was submitted will result in a positive response and approval from U.S. regulators.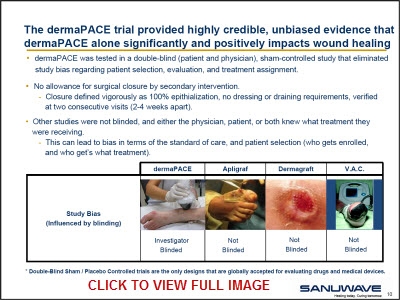 Adding to the positive sentiment, the company has just announced (pdf) that the American Medical Association (AMA) has released two Current Procedural Terminology Category III codes for Extracorporeal Shock Wave Technology (ESWT) in wound healing: 0299T and 0300T.

Pending approval by the FDA of the Premarket Approval application, SANUWAVE's dermaPACE® would be the first and only ESWT device in the U.S. capable of utilizing these codes.
CPT Category III codes are a set of tracking codes established by the AMA that permit data collection for emerging technology, services and procedures such as dermaPACE®, which has been submitted to the FDA as a treatment for diabetic foot ulcers. The new codes were released on July 1, 2011, and will be implemented on January 1, 2012.
At least two analysts have been calling for the stock to out-perform the market, but their advice has been lost in the shuffle of today's volatile markets and has fallen on deaf ears.
We believe the firm's strong, yet very conservative management team has been very busy developing and readying the product for U.S. commercialization, but will become more aggressive in telling SANUWAVE's story. Officials have begun showing up at conferences, and will continue presenting (pdf) their data and company to both the medical and investment communities. The company also recently announced that second quarter revenue increased by 40% and that management had achieved a number of important milestones in support of their goal of commercializing dermaPACE® in wound healing.
By multiple measures, the stock appears to be extremely undervalued and given the extremely low float (only 20.9 million shares outstanding), now appears poised for a run. Like the other analysts who have already assigned price targets, we would expect at least a double from the current price levels with more volume and price movement as we get closer to the actual FDA approval date.
In a recent coverage report dated August 19, Laura S. Engel, CPA of Stonegate Secutiries says a DCF (discounted cash flow) model shows a valuation range of approximately $5.31 - $6.79/share with the mid-point of the range at approximately $5.99. She also underscores the importance of SANUWAVE's intellectual property portfolio, currently comprising more than 50 issued and pending patents surrounding its PACE® technology. The portfolio covers a broad range of methods of use, technologies, and devices for treating a variety of specific and non-specific medical conditions with acoustic pressure waves in the high energy "shockwave" spectrum. SANUWAVE's management plan calls for the company to go after multiple, large U.S. markets, exceeding $10 billion in total.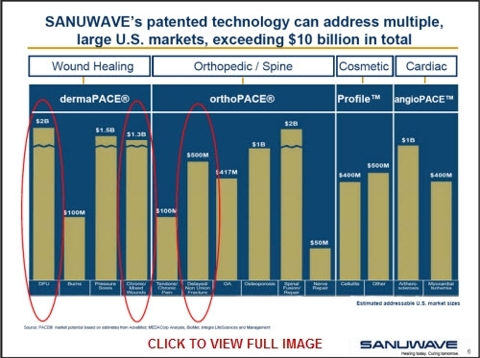 Until then, the task at hand involves going after patients experiencing chronic wounds with the technology (see the slide below). The market presents a growing problem, which is rising significantly as the U.S. population ages. The latest figures indicate that 27 million people in the U.S. have diabetes and that 79 million are pre-diabetic. Since the members of that group report having in excess of 1.5 million diabetic ulcers annually and 25% of diabetics will acquire a non-healing ulcer in their lifetime, these compelling figures foreshadow just how important this treatment technology might become.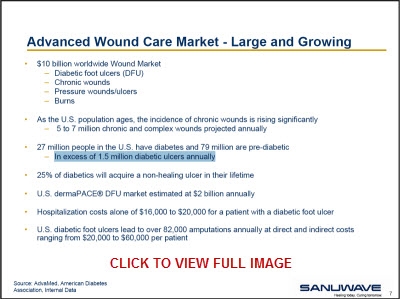 Based on the totality of the available data set from the most recent clinical trials and the rigorous design, Analyst Suraj Kalia, CFA of Rodman & Renshaw says "we cannot help but think that dermaPACE® 'could' significantly cut down on treatment times, therefore presenting a compelling cost-effectiveness value proposition." He adds, "If and when approved, this will be the first device-based therapy with a PMA approval. Even a 4% – 5% market share gain could yield revenue north of $80 million over the next 5 years."
Links:
Healing Wounds with Physics and Shock Waves

Sanuwave's Novel Wound Care Device Could Be Big

Sanuwave: Look for Stock to Outperform


Disclosure: I have no positions in any stocks mentioned, and no plans to initiate any positions within the next 72 hours.