This is an update to my "Prospect Capital: What Comes Next?" series. Prospect Capital (NASDAQ:PSEC) cut its upcoming February dividend, as suggested in many of my "PSEC Articles" and the other parts of this series:
The following are the dividend coverage results for the last two quarters. I have also included a 'pro-forma' coverage view using the reduced dividend.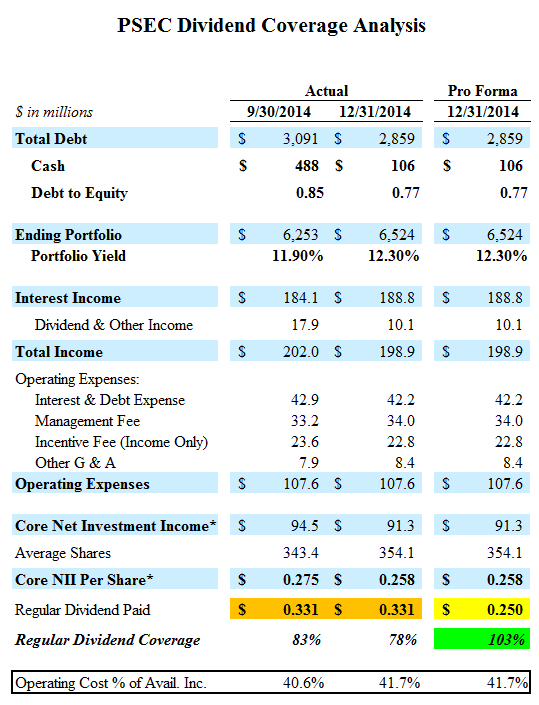 In Part 7 of this series I discussed various ways to stress test the reduced dividend using different amounts of non-interest income and portfolio yields. I have included the most recent results in the table from Part 7 that uses a debt-to-equity ratio of 0.85, a stable portfolio asset yield of 11.9% and a lower yield of 10.9% along with various levels of non-interest income to determine the impacts on dividend coverage. Each of these scenarios assumes a full quarter of benefit from interest income but also a full quarter of interest expense, base management and income incentive fees.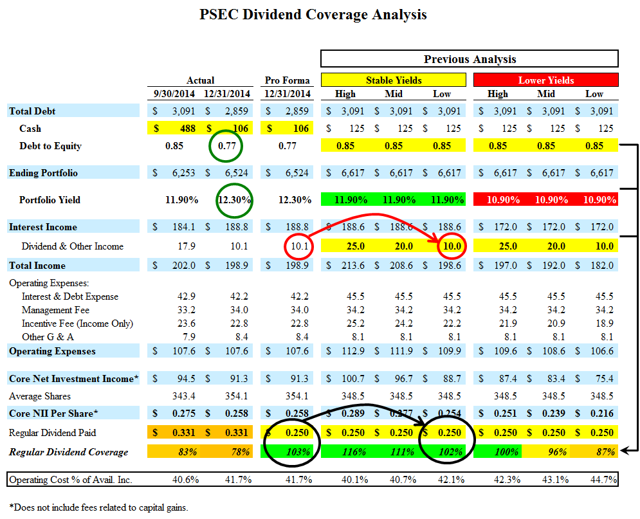 First of all, I would like to point out how close the results came to my 'stable yield' with lower dividend and other income scenario. However PSEC had a slightly smaller portfolio with a higher portfolio yield of 12.3%. This is a good thing and the company has a bit more room to use leverage to increase net investment income ("NII"). I will update this analysis in upcoming articles but basically it is showing that the new dividend is sustainable even with lower amounts of non-interest income as long as the yield from investments remains stable (or increases).
For more information about BDC industry trends including dividend coverage please see my "BDC Research Page" and for information on specific BDCs please visit my "Index to BDC Articles".
Personal note: I have updated my positions to reflect changes in my holdings, but please keep in mind that some of the positions are very small and mostly for research purposes.
Disclosure: The author is long AINV, ARCC, BKCC, FDUS, FSC, FSIC, GBDC, GLAD, HTGC, MAIN, MCC, NMFC, PFLT, PNNT, PSEC, TCAP, TCPC, TICC, TSLX.
The author wrote this article themselves, and it expresses their own opinions. The author is not receiving compensation for it (other than from Seeking Alpha). The author has no business relationship with any company whose stock is mentioned in this article.