I consider that this will be my first "official" update of the FMBP as I add cash for the companies that have gone ex-dividend in late January and the month of February. With the goal of this portfolio to be completely focused on dividends and income growth, which to me go hand in hand, I will continue to avoid showing the current share prices and the current total portfolio value.
The most recent articles prior to this one, for those who would like to catch up, are here, and here.
To go back to where the portfolio was launched on 9/4/2014, you can start right here.
I fully understand that many investors have their own plan and will argue that by not showing those results, that we do not know if the portfolio is doing well or poorly. To me, and most other dividend growth investors, it simply does not matter.
I want the income to grow, and pay the bills. Current share prices and total portfolio value are nothing more than numbers on a piece of paper. For inexperienced investors it may even result in allowing fear and panic to dictate how they may jump in and out of stocks which will only mean that a perfectly acceptable strategy will be derailed.
Adding Dividends To Cash Reserves Is As Passive As Investing Gets
I have already bought the shares of the stocks I want in this portfolio, and have done absolutely nothing aside from shifting shares of stock from one stock to another one, for the sole purpose of increasing income.
The portfolio consists of the following stocks: Exxon Mobil (NYSE:XOM), Johnson & Johnson (NYSE:JNJ), Coca-Cola (NYSE:KO), Procter & Gamble (NYSE:PG), AT&T (NYSE:T), Chevron (NYSE:CVX), Walgreens Boots Alliance (NASDAQ:WBA), Apple (NASDAQ:AAPL), and General Electric (NYSE:GE), HCP Inc. (NYSE:HCP), Ford (NYSE:F), and ConocoPhillips (NYSE:COP).
I am sticking with mainly dividend aristocrats and potential champions of the future, but will not hesitate to grow income by using pure portfolio money management alone. When any of the stocks owned declare a dividend, I will add the amount of cash earned in the month the stock goes ex-dividend (Ford announced very late in January and its dividend is included here).
As dividend growth investors have come to understand, this is perhaps the best time of the month as we cash those checks. For my purposes, I will simply add the cash to my cash reserves and build that amount to redeploy into more shares of an existing stock or a new dividend champ as soon as I find one I think will be a dividend winner for me.
How Tough Is This?
For me, it does not get any easier (or better) than this. The portfolio is set and my income is being generated, and now my cash reserves have grown to be used to grow my annual income that much higher.
Here is the February update chart of the FMBP: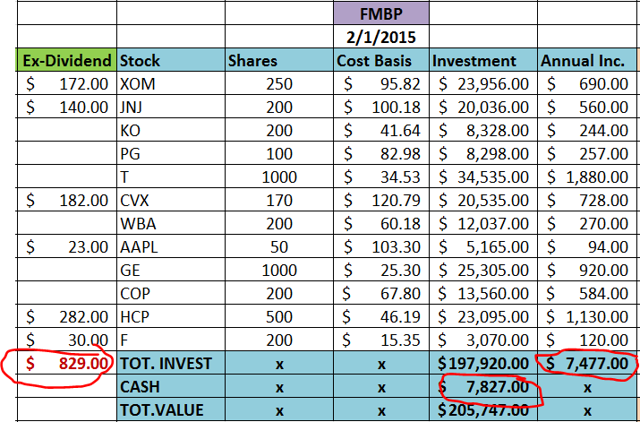 I have circled the most important numbers for me, as you can see.
The cash received in February from dividends.
The total cash reserves to be used as quickly as possible to increase my annual income.
My current annual income which has been increased in just one month by 5.50% with my latest addition of HCP.
My stated goal for 2015 is to increase my annual income by 10-15% PLUS dividend increases. Unless something awful occurs, I should reach that goal quite easily, with simple portfolio management.
The Next Addition To The Portfolio
I have several stocks in mind, but have not decided yet. Now that you are fully aware of what the portfolio consists of, what dividend champ would YOU add to the FMBP to increase my income?
Let's help each other here.
Disclaimer: The opinions of the author are not recommendations to follow his strategy, or buy or sell any security. Please do your own research and decide for yourselves what you feel is right for you.
Disclosure: The author is long AAPL, COP, CVX, F, GE, JNJ, KO, PG, T, WBA, XOM. The author wrote this article themselves, and it expresses their own opinions. The author is not receiving compensation for it (other than from Seeking Alpha). The author has no business relationship with any company whose stock is mentioned in this article.