With Google's (NASDAQ:GOOG) ongoing patent buying spree of intellectual property kicking into high gear when they first bought over 1000 IBM patents and then this past week bidding for Motorola Mobility (NYSE:MMI) for $12.5B, the long case for intellectual property (IP) stocks continue to flourish.
Whether it's Eastman Kodak (EK), Interdigital (NASDAQ:IDCC), Inc., VirnetX Holding Corporation (NYSEMKT:VHC), or a host of others, all have at one point in recent weeks been the discussion of speculation with respect to who might be interested in owning their respective patent portfolios. Considering all own patents relevant to the wireless mobile space, the next great technology frontier, it only seems to make sense.
In recent months and for the first time in history, intellectual property has begun to be defined as an actual asset class. With all patents not being equal and even fewer truly foundational patents existing, the supply/demand imbalance for certain patents has shifted favorably towards those fortunate companies who possess them. This fundamental change in how IP is viewed in conjunction with recent rulings such as the Bilski Ruling and the Supreme Court's decision on the i4i v. Microsoft (NASDAQ:MSFT) case only further enhance patent holder rights and the respective values of those who own them. Recent IP related transactions indicate that when it comes to preserving market share and protecting your business from the competition, price doesn't matter, it's paramount to do or die.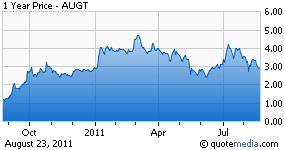 While most investors have heard of the aforementioned companies above having received considerable attention in recent weeks, the biggest gains for investors inevitably always come from being ahead of the crowd versus being mired amongst them. One company that I believe could soon be discovered by the masses for its IP is Augme Technologies (AUGT.OB). While the company is already making a name for itself in the mobile marketing space with recent acquisitions of JagTag and Hipcricket, in addition to having a client list which resembles a who's who list of Fortune 100-500 clients, many aren't fully aware of its patent portfolio.
Despite the company's impressive and rapidly growing mobile business, whose foundation is built upon its patents, far distinguishing it from those who merely may be cited as "patent trolls," the company has quietly amassed a team of some of the greatest IP talent known to exist. In just the last nine months, the company's patent portfolio has attracted the attention and commitment of Goodwin Procter, one of the preeminent patent law firms; Donald Stout Esq., Founder of NTP Holdings known for their landmark victory over Rim (RIMM) Blackberry for $612 million; Fred Dufresne, recipient of significant industry accolades and who was named by Interactive Week as "one of the most influential people" involved in the creation of the Internet; and John Cronin of ipCapital Group who spent over 17 years at IBM (NYSE:IBM) and became its top inventor with over 100 patents and 150 patent publications. He created and ran the IBM Patent factory which was essential in helping IBM become number one in U.S. patents and was part of the team that contributed to the start and success of IBM's successful licensing program. He was also retained by VirnetX to create its initial licensing strategy and is credited by some as having played an instrumental role in their $200 million settlement with Microsoft.
So what exactly are these well-known experts saying about Augme's patent portfolio?
"I am excited to become a member of the Board of Directors of Augme Technologies and be a part of the growing momentum that Paul Arena and his team have built for the Company."
"Augme's intellectual property rights portfolio continues to expand, and I believe there is great potential for patent licensing opportunities with a vast number of existing technology companies. Augme's technology offers significant advantages for a number of technologies that are prolifically utilized on the Internet and in the digital media marketplace, and I am pleased to be associated with such a leading-edge company."
"When I realized how the power of Augme's technology platform was designed to deploy in such a lucrative emerging space as mobile marketing, and how the Company combined its platform with fundamental IP and a desire to expand its IP ownership in the space, I knew I had to be part of this revolution," said John Cronin, Managing Director and Chairman of ipCapital Licensing Group. "We believe Augme's current technology and future advancements and IP assets will be applicable across dozens of market segments."

"Augme Technologies has built an impressive patent estate that locks up key competitive advantages and opens up numerous licensing opportunities for the company,"
So while most people are not necessarily IP experts, sometimes a lot can be learned from observing exactly where some of the experts are spending their own time and resources. It's also worth noting that others may also be involved in some capacity with the small company. For instance, Augme recently announced that George Munoz had joined their advisory board. Some may recall Mr. Munoz as the former assistant Treasury secretary and chief financial officer of the United States Treasury Department, appointed by President Bill Clinton.
Augme, much like VirnetX, is not taking others' believed infringement lightly. VirnetX, once a small company too, has proved, "It's not the size of the dog in the fight, it's the size of the fight in the dog." Augme is currently prosecuting for infringement of their patents against AOL (NYSE:AOL), Yahoo (YHOO), Gannett (NYSE:GCI), Lucid Media (OTC:LUCFF) and Pandora (NYSE:P), all in varying stages of litigation with the first suit extending back to 2007 against AOL. While the wheels of justice often turn slowly, thanks to Goodwin Procter and their top talent-laden team of experts, those wheels are now gathering speed. The company just attended its Markman hearing with Yahoo on August 11th and now awaits a ruling. Ironically as many may remember, it was a successful Markman hearing ruling for VirnetX in July of 2009 that led to the stock more than tripling, VirnetX shares eventually topped out at over $40/share from a low of around a dollar. The Markman hearing in the Augme v. Yahoo Inc. case may be very significant because it can go a long way towards accelerating the prosecution of the additional cases, since this ruling has the potential of being adopted by other courts, essentially setting precedence on claims terminology critical to the claims construction process.
Not all companies are like Google and can afford to spend billions on IP just to defend themselves against other companies with strong IP. Many will want to be able to monetize their purchase and actually get a return on their investment that is quantified in dollars. Those companies that already have a strategy in place and are far down the litigation path will turn out to provide the most value for an acquiring company. While Augme is an emerging leader in the multi-billion dollar mobile marketing arena, they have also assembled a top tier team to protect and monetize their intellectual property whose true potential value has yet to be realized.
Disclosure: I am long AUGT.OB.