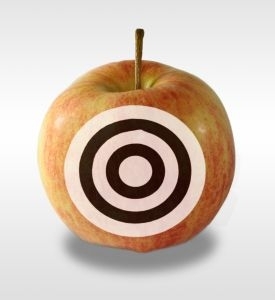 Watching the stock market move up nicely and perhaps confirming a double bottom (see "
Double Bottom? This Powerful, Positive Indicator Could Be Forming
"), I decided to do an unusual screening. With stocks having been beaten down and growth forecasts being dismissed, why not screen for the perfect growth stock--the company that makes an inordinate amount of money, has high growth built on large sales increases with real profitability not dependent on a short-term burst or the "clever" use of financial leverage -- and whose stock is "cheap."
So, I opened up my FinViz.com screener and started loading in all the desirables. Step-by-step, the universe of stocks dwindled down, until I was left with only one: Apple Inc. (
NASDAQ:AAPL
).
So, was this a surprise? Not really, since Apple is one of my five growth stock positions -- the others are Boeing (
BA
), Caterpillar (
CAT
), JPMorgan Chase (
JPM
) and KKR (
KKR
). However, it was a reminder of how outstanding Apple's growth and profitability is, how attractive its stock valuation is and how strong its stock has been through this rocky market period.
The other surprise
Until the very last hurdles, my screens had produced a short list of 14 companies, including Apple. However, the last two hurdles proved too much for 13. These hurdles were the stock price above the 200-day simple moving average
and
within 15% of its 52-week high. When the stock market begins to turn, leading stocks have already begun to show relative strength – like Apple. And, in this case, only Apple. The other 13 stocks didn't barely miss, either – they were well below their 200-day averages and well more than 15% below their highs. (The 13 companies are listed at the end of this article.)
The hurdles and how Apple measured up
Starting with all
4,100+ U.S. stocks (excluding exchange traded funds), I applied the following screens:
Financial management (growth companies should bootstrap their capital needs)
Long-term debt/Equity ratio <0.1 (meaning debt < 9% of capital)
Apple = 0%
Dividend payout = 0% (growth companies should retain their earnings)
Apple = 0%
Profitability (on sales
and equity)
Net profit margin > 15%
Apple = 24%
Return on equity > 15%
Apple = 42%
Positive past growth (don't want cyclical growth companies)
Sales growth over past 5 years > 0%
Apple = 36%
Earnings growth over past 5 years > 0%
Apple = 58%
Good earnings growth now and forecast
EPS growth this year > 10%
Apple = 67%
EPS growth next year > 10%
Apple = 17%
EPS growth next 5 years > 10%
Apple = 21%
Wall Street positive (want analyst support)
Analyst recommendation = "Buy" or better
Apple = 1.6 (1="Strong buy" and 2="Buy")
Stock valuation (want high growth, but not high price)
Current price/earnings ratio (P/E) based on trailing 12-months earnings < 20
Apple = 14.8
Forward P/E based on next 12-months earnings forecast < 15
Apple = 11.6
Stock technical picture exhibits strength (especially important at this point in the stock market cycle)
Price above 200-day simple moving average
Apple = 9% above
Price not more than 15% below 52-week high
Apple = 8% below
The Bottom Line
Apple meets all the hurdles (and more) that investors would like from a growth stock. Surprisingly, it is the only company whose stock has also held up in the recent dismal market. This kind of relative strength should provide added confidence to shareholders.
The following shows the other 13 and the two hurdles that excluded them
Disclosure: I am long AAPL. Long U.S. stocks and U.S. stock funds