The markets have spooked away some speculators, but smart investors know that it's time to buy when everyone else is selling.
Perhaps this is why we are seeing so much insider buying activity across the board right now; more than any time since 2009.
Open-market insider buys filed at the SEC often provide some bullish clues and one of this week's louder whispers may be coming from the directors at Neoprobe (Amex:NEOP), the big board listed biomedical firm that focuses on surgical and diagnostic oncology products.
Four directors at the company have been buying shares in the open market since the company submitted a New Drug Application (NDA) for Lymphoseek (tilmanocept) to the U.S. Food and Drug Administration (FDA). Lymphoseek is a proprietary radioactive diagnostic tracing agent being developed for use in connection with gamma detection devices in a surgical procedure known as Intraoperative Lymphatic Mapping.
The stock was trading well over $5 in May, but shares have been beaten down for a number of reasons, including the actions of one fund that was reportedly short the stock.
Shares of the company appear ready to move higher, but only if they can break some medium resistance between $2.76 and $2.79. From a purely technical standpoint, it will be interesting to see if the stock has enough juice to do that since there is very little volume here. Still it's worth putting on your watch list, because if prices manage to break past those levels it could get interesting. Like most other stocks that start to trickle up in advance of FDA decisions, this one appears to be growing some legs.
This filing is expected to be followed 60 days later by FDA acceptance or rejection. That puts us on the clock for an early October trade catalyst response from the FDA.
Neoprobe seeks clearance to market Lymphoseek in the United States and the candidate has undergone extensive clinical evaluation over many years by nearly thirty investigators in over five hundred patients according to Dr. Frederick O. Cope, Neoprobe Senior Vice President, Pharmaceutical Research and Clinical Development, of Neoprobe.

In addtion, the firm appears to be re-inventing itself after closing a deal to sell its hand held gamma radiation detector business to Devicor Medical Products in a $30 million transaction, plus $20 million in pledged royalties. That product was Neoprobe's chief source of revenue and shedding it allows the company to focus on the development of radioactive diagnostic drugs.
In a time when money isn't flowing like it used to, NEOP just put a nice chunk of change in its piggy bank and placed a big bet on what type of business it wants to become. The projected annual sales for Lymphoseek could be $300 million and perhaps even more if it is adopted for more types of cancer than the initial breast and melanoma tumors.
On a similar note, smart money is starting to trickle into the low priced emerging stocks that have remained mostly unaffected by the market volatility.
That ir precisely the type of volume and activity we're noticing at Sanuwave (OTCQB:SNWV); the stock play features one of the most intriguing medical devices we've seen for some time.
The shockwave treatment device promises the opportunity for big revenues from various markets with potential applications for treating Wounds, Orthopedic Pains and Fractures, Spinal Injuries, and even Arthero-sclerosis and Myocardial Ischemia. Perhaps more importantly, the device makes the company a serious buy-out candidate if it is able to land the FDA approval as expected.
Officials at market leader Kinetic Concepts (NYSE:KCI), a multi-national company valued at a market cap of $4.85 billion, can't possibly ignore the fact that Sanuwave's dermaPACE® device for the treatment of diabetic foot ulcers is a big threat to their own V.A.C product. KCI generated $1 billion in U.S. revenue in 2010, healing the same types of wounds that dermaPACE® treated exceedingly well during the recent double-blind clinical studies.
The largest segment of KCI's business is dedicated to wound care and primarily to negative pressure wound therapy for the treatment of traumatic wounds, pressure ulcers, chronic wounds and diabetic ulcers.
In fact, KCI's V.A.C.® Therapy has treated more than three million patients in more than 50 countries worldwide, but it can't treat as many different ailments as quickly Sanuwave's technology can.
KCI has remained the leader in wound healthcare by finding ways to gain profitable market share, not losing it. So it seems logical that sometime after FDA approval of this technology, the San Antonio based firm would look to acquire Sanuwave for a reasonable price; especially since it is currently valued at far, far less than any of its competitors with a market cap near $67 million.
Adding to the intrigue here is the fact that Christopher M. Cashman, the current CEO of Sanuwave left KCI to lead the emerging company after years as President of Therapeutic Surfaces at Kinetic Concepts. While at KCI, his role was to oversee KCI's US therapeutic surfaces business, and to guide KCI's global therapeutic surfaces strategy. At Sanuwave he has helped guide one of the strongest teams anywhere on the OTCBB exchange.
(Click chart to enlarge)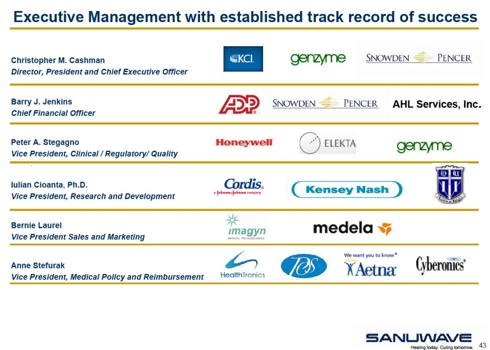 Publications like Wounds International,Pharmacy Choice and others have taken notice of the medical technology, but until recently most of the healthcare investment community had not. That may be changing now.
On Tuesday, the company shared very positive news when it let investors know that the United States Patent and Trademark Office issued a patent that covers the treatment of a variety of orthopedic conditions, such as tendinitis (chronic joint inflammation and pain), osteoporosis (brittle bones with an increased risk of fracture) and actual bone stress fracture healing.
At June 30, 2011, the company announced a balance of cash and cash equivalents totaling $7,773,719 after announcing financial results for the second quarter which were very much in-line with analyst estimates.
Disclosure: I have no positions in any stocks mentioned, and no plans to initiate any positions within the next 72 hours.