The first batch of global sector PMI™ data from Markit for 2015 saw a number of sectors register falling input prices, most notably chemicals. The beverages sector registered the strongest increase in output, but banking activity declined for the first time in over a year-and-a-half.
Among 23 sectors at the most detailed level, ten registered falling input prices in January. Of these, the steepest rate of decline was seen in chemicals, reflecting that sector's exposure to oil prices. Of the remaining sectors, seven were manufacturing-related, with general industrials, beverages and metals & mining showing sharp falls. Banks and real estate also posted marginal declines in input prices. Meanwhile, a further ten sectors registered slower rates of input price inflation in January.
Further evidence of deflationary pressure was provided by output prices. Ten sectors reported lower charges in January, with the steepest decline seen in metals & mining, followed by technology equipment, insurance and chemicals.
Global Sector PMI: sectors ranked by input costs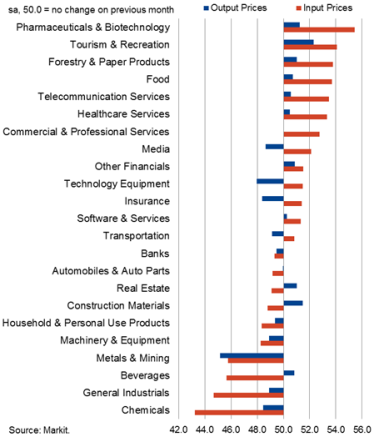 Beverage firms lead output rankings as banking contracts
The rate of growth in beverages output accelerated for the fourth month running in January to the fastest since August 2013, pushing the sector to the head of the global output rankings during the month. Food producers also fared well, ranked fifth overall.
Banking was the second-worst performing sector in terms of business activity growth in January, recording a decline for the first time since November 2013. The only other sector to record lower activity was media, where a fifth successive contraction was registered.
Global Sector PMI: beverages and banks