The idea of a recovery without the support of the housing sector is a novel one. In the past, individuals had been able to count on the equity of their homes to provide the perception of wealth, which ultimately translated into spending.
In the current recovery however, the housing market has been nonexistent. The demand simply hasn't been there. During the explosive bubble of the early 2000s, the housing market was ever expanding. The economic data was always better than the next until the market collapsed halfway into the first decade of the 21st century. Since that time no amount of government stimulus has been able to provide a catalyst towards a rebound.
The economic data below shows three major data points that provide insight into the strength of housing. The three are as follows; Housing Starts, New Home Sales, and Existing Home Sales. The medium term trends of the three have shown little activity. The buyer simply hasn't returned. Although periodically the data comes out favorably, until there is a distinct trend developing, it carries little weight.
images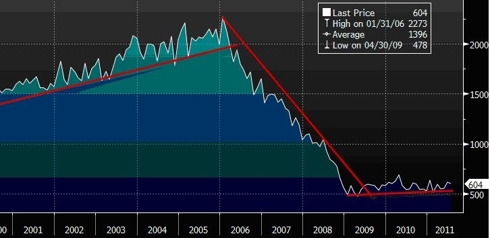 Housing Starts
New Home Sales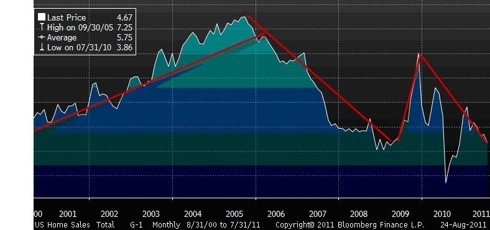 Existing Home Sales
Also, considering the longer term charts of new home sales and housing starts, it confirms our current period of limited activity. The housing glut attributed to the many years of production has weighed on markets, but the question is now, "When does it pick up?"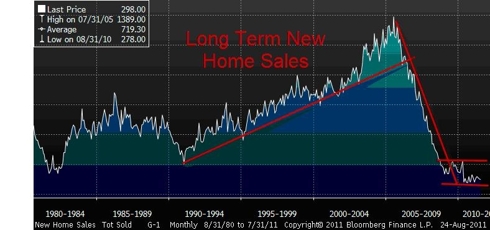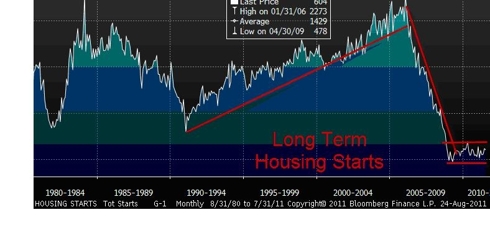 This data culminates to the fact that firms related to the housing sector have too felt the downturn. The HGX or Housing Sector Index has been on a steady decline since the housing collapse.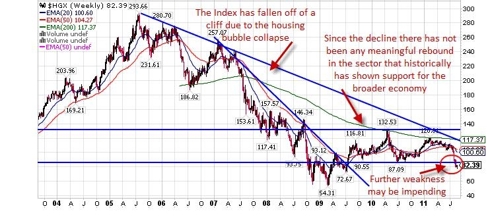 Firms related to the sector have also been underperforming the S&P 500 since the crash. This is a vast difference to their relative performance earlier in the decade. With the poor economic factors weighing on these firms, it seems unlikely that further equity stimulus will support a significant price appreciation; rather, it seems that the only recovery will come from optimistic economic outlook/data.

Lately, the index has vastly underperformed the equity indexes even in poor times. The deterioration of the housing sector over the past 2 months provides little confidence to a market pick up.

What this article hopes to conclude is that perceptions are not tangible. Lower interest rates can only go so far, but home buyers need more than just attractive mortgages. "Home buyers without jobs" is an oxymoron that alludes to the fact that unemployment rates must fall. The global economy as a whole influences every facet of every economy here and abroad.
Ultimately, the lack of jobs and glut of homes has global roots that are not so easily corrected. The further appreciation of equities and commodities do not seem to translate into a healthier economy, rather a healthier economy has the ability to lead to both of the former.
Disclosure: I have no positions in any stocks mentioned, and no plans to initiate any positions within the next 72 hours.