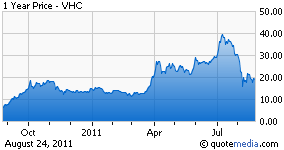 Right now we are witnessing a frenzy to buy mobile patent portfolios: Nortel and Motorola Mobility (NYSE:MMI) just sold their portfolios; Virnetx (NYSEMKT:VHC), Interdigital (NASDAQ:IDCC), Research In Motion (RIMM), Kodak (EK) and Nokia (NYSE:NOK) all have portfolios that are highly valuable. Qualcomm (NASDAQ:QCOM), Nokia, Apple (NASDAQ:AAPL) and Google (NASDAQ:GOOG) could be bidding against each other at the Interdigital patent auction that begins right after Labor Day. Why are mobile patent portfolios suddenly in such demand?
The main reason is that 4G will begin rolling out in a big way in 2012 and the major players need strong patent portfolios in order to profit. The only way these companies can protect their innovations is with strong patents. The most efficient way to obtain these patents is simply to buy them.
Despite the advertisements on TV, 4G is still a work in progress. In many cases, what carriers are calling 4G is really just 3G on steroids. For example, the iPhone5 that is being released in September or October, will probably not be a 4G phone. Once the technology and infrastructure are in place, Apple will release a 4G phone. I would expect that to happen in the third quarter of 2012.
4G infrastructure is building out right now and by the end of 2012, most of the major metropolitan areas in the United States should have full-blown 4G service. More people use smart phones and tablet PCs as their primary means of media consumption and computing and they want equal or better functionality than a conventional PC with broadband connectivity can provide. For that reason, the major carriers have started increasing investment in 4G networks that offer the ability to quickly load websites, stream HD movies and live TV shows without buffering, video chat, download songs and upload photos to social networking sites, play online games and download business presentations and conduct work in the cloud.
As with all new deployments, the first order of business was to set 4G specifications. That has already been done. The organization that oversees this important job is called 3GPP, or third-generation partnership project. This organization has been around for about 13 years and their membership includes most of the big players in the mobile world: Microsoft (NASDAQ:MSFT), Qualcomm, Cisco (NASDAQ:CSCO) etc. Their primary job is to set technical specifications so that all cellular products will work together. The specifications are developed by members choosing what will work best for the entire network. It's a fair and equitable system that has proven to work extremely well.
With all 4G's advantages comes a potential problem: security. With hundreds of millions of handheld computers surfing the web, security becomes essential. 4G cellular signals are easy to intercept, giving hackers access to all 4G transactions. That's why 3GPP members voted for stringent security specifications designed to protect all parties on 4G networks.
Independent of any interaction with Virnetx, 3GPP decided to use SIP, or session initiation protocol, as the primary protocol for all 4G IP-based communications. SIP is the method that 3GPP decided would be the most useful way to secure Internet communications. SIP is what is used to initiate real time communications on the web. Since 4G will basically turn smart phones into handheld computers, data communications will become more important than making actual phone calls and security breaches could cause tremendous damage.
Now here's the good news for Virnetx shareholders. Virnetx just happens to own the IP that provides security for the SIP protocol. Once 3GPP agreed upon the specifications for 4G, Virnetx informed them that their software clearly met the security specifications. 3GPP examined the Virnetx software, then verified that their software did indeed meet the specifications.
As the 4G buildout gains momentum, manufacturers will begin to implement the latest series 10 security requirements as specified by 3GPP. When manufacturers read 3GPP security specification 33, they will see Virnetx as the holder of the IPR against those specifications. Manufacturers will need to license with Virnetx in order to implement these mandatory security specifications, or else face litigation.
At this point no other software developer has shown that they can meet these security requirements. How could they? Virnetx owns the IP.
Given the fact that Virnetx is in somewhat of an advantageous position, 3GPP asked them to declare fair and reasonable nondiscriminatory pricing (FRAND), which they did. Remember, 3GPP consists of companies like Microsoft, Qualcomm, Cisco etc. They didn't want Virnetx to hold the entire industry hostage, so Virnetx and 3G PP negotiated a royalty rate that ranges between 1% and 5%. Apparently the 3GPP members felt that was fair and reasonable, when compared to industry standards. If Virnetx can capture 1% to 5% of a $200 billion a year industry, that's incredible.
It should be noted that Virnetx is not a member of 3GPP, although they have spent considerable effort developing a good relationship with this organization. The specifications that 3GPP voted for just happened to be the standards that Virnetx patents met.
At first I thought Virnetx simply got lucky, but then I realized they had the foresight to purchase and develop patents that later could become industry standards. Companies make money by looking ahead and Virnetx certainly executed well in this case.
Virnetx appears to be sitting on one of the most valuable patent portfolios in the tech world. According to my sources, the top three patent portfolios are owned by IBM, Qualcomn and Virnetx respectively. Kendall Larson, the Virnetx CEO is a bit more conservative and believes that his patent portfolio is number five worldwide.
While the size of a company's patent portfolio is important, a more important factor in future patent acquisitions will be on patents that are foundational, have demonstrated licensing potential and cannot be worked around. In other words, quality will trump quantity.
This is where Virnetx shines. 4G Internet security is not only foundational, it is mandatory, based on the specifications 3GPP has declared. There have been many attempts to work around Virnetx patents, but no one has succeeded. Remember, Microsoft has the best and the brightest software engineers in the world and they were unable to work around Virnetx patents. There have been many other companies that have tried and failed. Also, with the Microsoft case Virnetx demonstrated they were able to obtain licensing fees to the tune of $200 million.
Licensing potential is only part of the value of a strong patent portfolio. Google's, acquisition of Motorola Mobility provides it with more than 17,000 patents that can be used to protect Google's Android OEM partners from patent litigation actions brought on by competitors. Motorola Mobility's patent portfolio is valued at about $4 billion, which is more than the licensing value of the portfolio. Google purchased this portfolio for protection, as well as licensing revenue. I would expect future patent portfolio sales to add this "protection premium" into the price. In some cases the protection could be more valuable than the licensing revenue.
Virnetx is in an excellent position in this IP firestorm. As they build value through litigation and licensing agreements, their negotiation strength will only increase. Right now the choice facing the big mobile players, is whether they would rather license with Virnetx or just buy their portfolio. Given the recent portfolio acquisitions, I wouldn't be surprised if Virnetx received buyout offers in the near future. Or Virnetx could do what Interdigital and Kodak did, simply put their portfolio on the auction block.
There is one other element that the market is ignoring: when Virnetx shares were trading at $40, none of the insiders sold. That's remarkable! I sold all my shares, (I have since reestablished a solid position ). Even if I was working for the company I would have sold, unless I believed that my shares would be worth more in the future. It's clear to me that management believes their shares are worth more than $40. They understand the whole picture much better than we ever could and if they didn't sell at that level, I am a buyer.
Disclosure: I am long VHC.