The US Apparel Store industry was the poor performer in the consumer products sector going into 2014 with a glut of competition, excess store inventories, heavy discounting, and reduced mall traffic resulting in dismal earnings and top executive position vacancies.
The category was ripe for consolidation and market exits which begun happening. As had been alluded to over a week ago, a stronger USD, tighter inventory positions, and lower cotton prices could provide much needed tailwinds to the sector. Many companies have been able to rebound from their low prices, offering returns above the S&P 500 over the past 52 weeks. For example, an investor with a position in American Eagle Outfitters (NYSE:AEO) experienced a 50% appreciation since last year's low.
This article is an exploration into the relative value of the 25 companies in the US Apparel Store industry with over $300M in market cap as of 2/6/15. (Note: this analysis does not include department stores). Also, it will help identify which Apparel Store stocks offer sustainable dividends.
While there are signals that earnings should improve, the purpose of this article is to discern if there is further room for outperformance versus the overall market in the industry. Below is the list of the constituents:
| | | |
| --- | --- | --- |
| Market Cap, $M | Ticker | Company |
| $26,690 | | *L Brands, Inc. |
| $19,790 | | *Ross Stores Inc. |
| $17,580 | | *The Gap, Inc. |
| $14,980 | | *Nordstrom Inc. |
| $4,790 | | Urban Outfitters Inc. |
| $3,110 | DSW | *DSW Inc. |
| $2,830 | | American Eagle Outfitters, Inc. |
| $2,640 | | *Chico's FAS Inc. |
| $2,450 | | *The Buckle, Inc. |
| $2,300 | MW | *The Men's Wearhouse, Inc. |
| $1,970 | | Ascena Retail Group Inc. |
| $1,790 | | *Abercrombie & Fitch Co. |
| $1,750 | | Genesco Inc. |
| $1,590 | | Guess' Inc. |
| $1,550 | | ANN INC. |
| $1,260 | | *The Children's Place, Inc. |
| $1,220 | | The Cato Corporation |
| $1,160 | | Express Inc. |
| $708 | | *Stein Mart Inc. |
| $674 | | Francesca's Holdings Corporation |
| $658 | | *Stage Stores Inc. |
| $614 | | Boot Barn Holdings, Inc. |
| $497 | | *Shoe Carnival Inc. |
| $388 | | Tilly's, Inc. |
| $375 | | Citi Trends, Inc. |
| $113,365 | | Total |
| $1,750 | | Median |
Source: Finviz.com. Asterisk (*) next to company name denotes dividend-paying companies with payout ratio below 50%.
The combined total market cap is $113B, with a median at $1.75B. L Brands (NYSE:LB), Ross Stores (NASDAQ:ROST), The Gap (NYSE:GPS), Nordstrom (NYSE:JWN), and Urban Outfitters (NASDAQ:URBN) round out the top 5 in sequence.
Relative Value: High Earnings Yield and Low Normalized Price
A favorite value metric of mine is looking for strongest earnings yield. As the industry is recovering from a dismal 2014, with the exception of GES, every company in the list is expected to deliver earnings improvements this year.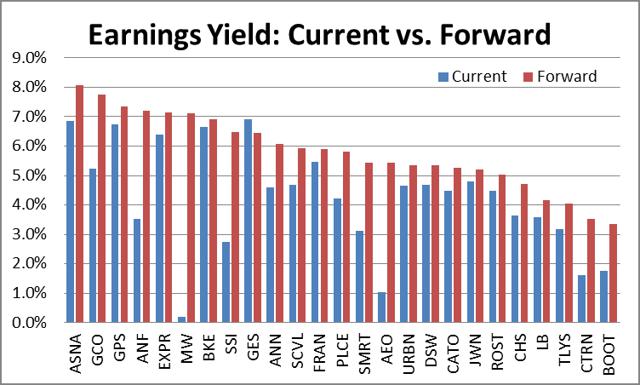 Source: own using Finviz.com
The median current and forward earnings yields for the group are 4.5% and 5.8% respectively. The chart below goes a step further and compares how far the market price has bounced off its recent 52-week low. These two screens together can show above-average earnings yields (expectations) for companies that have not already made a significant increase off its recent low. I like to look compare performance to the S&P 500 as a benchmark as well. The low for the S&P 500 index in the past 52 weeks was also the price one year ago and it is currently 14.4% higher. Many of the Apparel Store industry stocks (21/25) now trade well above their lows set in the past 52-weeks, however only 9/25 outperformed the S&P 500 on a YoY basis.
The blue section shows the seven stocks of relative value: above the median forward earnings yield (5.8%) and within 20% of their 52-week low price. The companies remaining are Express (NYSE:EXPR), Genesco (NYSE:GCO), ANN (NYSE:ANN), The Gap, Ascena Retail Group (NASDAQ:ASNA), Guess? (NYSE:GES), and Abercrombie & Fitch (NYSE:ANF).
The red rectangle shows three companies that may have gotten too hot: they now trade 50% above their recent lows, yet offer below 5% in earnings yield. These three stocks are L Brands, Tilly's (NYSE:TLYS), and Citi Trends (NASDAQ:CTRN). I would recommend veering clear of these three.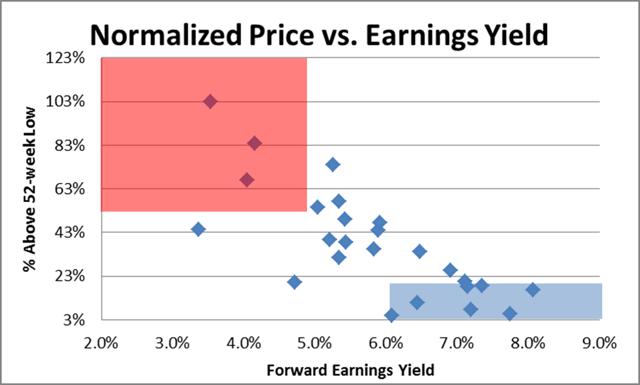 Source: own using Finviz.com
Dividend Payers
Of the 25 companies, 17 are currently paying a dividend. To analyze payout ratio, I used the forward earnings figures which is a less conservative, but more normalized measure. Four companies have payout ratios over 50%: Guess?, American Eagle, Boot Barn Holdings (NYSE:BOOT), and The Cato Corporation (NYSE:CATO) and given the cyclicality of the industry, I would not consider their dividends very safe. The list of 13 dividend-paying companies are starred in the first table.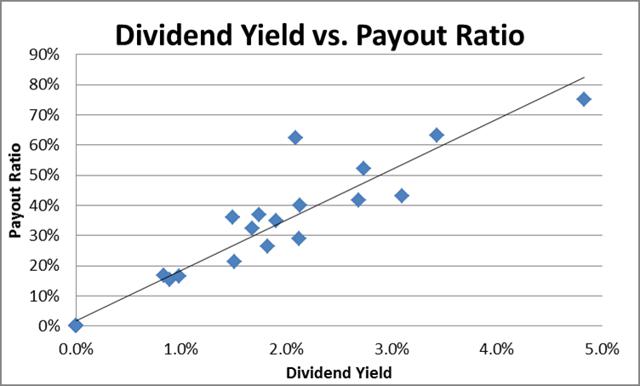 Source: own using Finviz.com
Abercrombie, The Gap, and wrap-up
For dividend investors looking for relative value in the Apparel Store industry, the list is limited to a pair of longstanding companies: Abercrombie and Fitch and The Gap.
Abercrombie & Fitch is going through a transition with CEO Mike Jeffries stepping down at the end of last year. It is currently 40% below its 52-week high price and is valued at 1.3x book value, 0.5x sales, and 8.8x free cash flow with a reasonable debt-to-equity ratio at 25%. For long-term investors willing to stomach a turnaround scenario, Abercrombie & Fitch is worth a closer look.
The Gap itself is going through its own rounds of executive shakeups. See SA release linked here. The company is more leveraged at nearly a 50% debt to equity ratio, its price is 6.3x book value and 1.1x sales, and the free cash flow multiple is 22x.
Based on the high level ratio comparisons, I would suggest spending more time giving the Abercrombie turnaround story more analysis. Current prices for the balance of the companies listed have elevated to or above fair values even after considering significant earnings growth.
Disclosure: The author is long AEO. The author wrote this article themselves, and it expresses their own opinions. The author is not receiving compensation for it (other than from Seeking Alpha). The author has no business relationship with any company whose stock is mentioned in this article.