First, I'd like to make a timely (and political, sort of) comment. We have an impending hurricane threatening the SE US. I've lived in the SE most of my life: Northern by birth, Southern by the grace of God. Anytime a natural disaster is coming Wal-Mart (NYSE:WMT) always anticipates what its customers will need to recover and has those items already in transit before the storm ever hits. The company can only do that because it has one of the most complete and comprehensive inventory control and logistics systems on this planet. This is what gives Wal-Mart the competitive advantage over all other retailers. It knows what customers need and want and can purchase and get it on the shelves at the lowest possible cost. How does it keep doing this?
I also want to give a shout out to the power companies and Home Depot (NYSE:HD) for their effective proactive disaster recovery programs. Maybe we could eliminate FEMA and outsource those functions to a partnership of Wal-Mart, Home Depot and the power companies. Rant finished.
So what's in store for Wal-Mart and should you invest in it? First for those of you who have never been in a Wal-Mart store, the company profile:
Wal-Mart Stores, Inc. operates retail stores in various formats worldwide. The company''s Wal-Mart U.S. segment offers meat, produce, deli, bakery, dairy, frozen foods, alcoholic and nonalcoholic beverages (beer and wine where permitted), and floral and dry grocery; health and beauty aids, baby products, household chemicals, paper goods, and pet supplies; electronics, toys, cameras and supplies, photo processing services, cellular phones, cellular service plan contracts and prepaid service, and seasonal merchandise; fabrics and crafts, stationery and books, automotive accessories, hardware and paint, and sporting goods; pharmacy and optical services; shoes, jewelry, and accessories, as well as apparel for women, girls, men, boys, and infants; and home furnishings, housewares and small appliances, bedding, home décor, outdoor living, and horticulture products through discount stores, supercenters, and neighborhood markets, as well as through walmart.com.
The company also provides financial services and products comprising money orders, wire transfers, check cashing, and bill payment. Its Wal-Mart International segment includes various formats of retail stores, discount stores, supermarkets, supercenters, hypermarkets, restaurants, apparel stores, Sam's Clubs, and online retail operations. This segment also operates banks that focus on consumer lending, as well as consumer credit products.
The company''s Sam's Club segment offers merchandise comprising hardgoods, softgoods, and selected private-label items under the Member's Mark, Bakers & Chefs, and Sam's Club brands through warehouse membership clubs in the United States, as well as through samsclub.com.
It operates stores in the United States and Puerto Rico, as well as in Argentina, Brazil, Canada, Chile, Costa Rica, El Salvador, Guatemala, Honduras, Japan, Mexico, Nicaragua, the United Kingdom, China, and India. The company was founded in 1945 and is based in Bentonville, Arkansas. (Yahoo Financial profile)
How has the price held up during the recent market softness? Look at this chart provided by Barchart of the price compared with the 20-, 50- and 100-day moving averages over the past 6 months and I think you'll agree that it's recovered nicely and is just about where it was 6 months ago:
(Click chart to enlarge)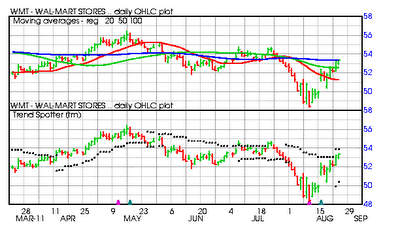 Barchart technical indicators:
Barchart 40% short term technical Buy signal getting stronger
Trend Spotter technical Hold that should flop to a Buy near 54
Trading above its 20-, 50- and 100-day moving average
4 new highs in the last 5 days and up 3.53% for that period
Relative Strength Index is 59.26% and rising
Barchart computes a technical support level at 52.59
The stock recently traded at 53.37 which is above its 50 day moving average of 52.29
The price is only 5.89% off its one year high vs. 19.13% off for the market as measured by the Value Line Index
Fundamental considerations:
Wall Street brokerages houses have this stock as a core holding in both their conservative and growth model portfolios
Analysts predict sales will increase by 4.60% this year and another 4.80% next year
Earnings are estimated to grow by 9.60% this year, 9.40% next year and continue by 10.41% annually for the next 5 years
How good are these forecasts? The stock has enjoyed a 100 score out of 100 for earnings predictability and another 100 for stock price stability
Management is focusing on increasing same store sales and now has 2/3 of the stocked items in groceries and consumables - that's where the repeat shoppers are
The balance sheet is rock solid and the company deserves it A++ financial strength rating
The dividend rate at today's price is 2.74% and is only 30% of projected earnings
I think one of the most amazing considerations is that at today's P/E ratio the stock is selling at a 25% discount to the overall market
General investor interest:
As measured by the readers of Motley Fool interest is high with the stock in the top 25 for inclusion on a watch lists
The 7,007 readers expressing an opinion vote 89% that the stock will beat the market
The more experienced and savvy All Stars are more positive with a 93% vote for the same result
Fool notes that the last 31 articles published by Wall Street columnists have all been positive
Summary: Wal-Mart will make money and the only question is how much? The company is predicted to make increases in both sales and earnings and analysts have noted that these projection appear to be rock solid. I'm advising a buy because the growth projections for sales and earnings are better than the growth projections for the economy as a whole and the stock is trading at a 25% discount to the P/E ratio of the market as a whole. If it all comes together investors buying in today should see a total return between 11% - 13% annually over the next 5 years.
Disclosure:
I have no positions in any stocks mentioned, and no plans to initiate any positions within the next 72 hours.