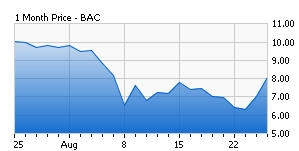 Investors in Bank of America (NYSE:BAC) were (at least briefly) elated Thursday as shares rose to nearly $9 following the news that Warren Buffett was making a $5 billion investment in company. At the time of my writing, Bank of America shares have already fallen back under $8 and continue to slide. I would be a little surprised if any portion of this bounce sticks, as a closer look at the details of this deal indicate that this was a deal made from desperation rather than convenience.
My first concern stems from the fact that Bank of America CEO Brian Moynihan has told investors, repeatedly, that no new capital was needed. For example, last month, the Wall Street Journal's deal blog reported:
Bank of America Chief Executive Brian Moynihan remained adamant Tuesday the bank has no intention or need to raise capital to meet new global standards.

Moynihan went right to the "important" topic in his introductory remarks, saying again, "we don't need to raise capital" and said its capital, under current standards, was better than expected in the quarter.
Many market participants had doubted Moynihan's claims, such as Jefferies' analyst Layla Peruzzi. The Wall Street Journal's deal blog stated earlier this week that:
But Jefferies believes the markets will likely force Bank of America to raise capital. "Our traders and desk strategist think the reality is that the market is forcing BAC into a capital raise and the lower stock price goes, the worse it gets," says Jefferies' Layla Peruzzi.

"The math they came to get BAC to Basel I [tier-1 capital] in line with [Citigroup's (NYSE:C)] they need about $40-$50bn," says Jefferies' Layla Peruzzi in a note.
So CEO Brian Moynihan claimed no capital raise was needed. Some equity analysts figured up to $50 billion was needed. By executing a capital raise shortly after critics predicted one was necessary, it is clear that Bank of America skeptics' arguments carried this round.
The question we must answer is simple: Why did Moynihan change his position? Is this really such a good deal; Buffett just picked up the phone and wanted to invest in Bank of America like the press release stated, or was Bank of America desperate for capital? I argue the latter.
Buffett is getting an incredible rate of return on his investment. For starters, take the preferred stock. Buffett gets a guaranteed 6% annual return on his preferred shares. This is an insanely high cost of capital for Bank of America in today's ultra-low interest rate environment. At a time when people willingly buy 1% CDs at their local banks and the Fed is running a ZIRP policy, a safe and sound bank should not be forced to pay 6% on its capital. Banks make money by lending at higher interest rates than they pay to their creditors. Bank of America cannot safely generate a 6% of higher yield on the money Buffett is lending it. And if you, as a financial institution, are paying an interest rate higher than PIIGS countries such as Spain and Italy are paying on their 10-year debt, something is clearly wrong.
Second, Bank of America has to pay a 5% premium to redeem these shares. Thus, not only is Buffett getting a guaranteed abnormally high interest rate, but he is also getting a surefire 5% capital gain for his investment.
Third, and even better yet for Buffett, he gets 700 million warrants convertible to stock at $7.14/share for free to sweeten up the deal. As of this morning, with the stock opening in the mid-$8 range, he was already showing a more than $1 billion profit. Doing the math, we see that if that price holds up for Bank of America shares, Buffett will have gotten $5 billion worth of preferred stock paying a 6% yield for less than a $4 billion investment after disposing the warrants. If Bank of America recovers to $15/share, the warrants alone will be worth $5 billion, and the preferred shares would have a cost basis of zero!
Clearly Buffett got a incredibly favorable deal here. Just about any private investor would take the opportunity to buy preferred stock paying a guaranteed interest rate nearly 6% above short-term T-bills that also offers tons of free warrants. With the government seemingly prepared to offer a backstop to Bank of America should it fail, there is exceptionally little downside to Buffett's purchase. Even if Bank of America goes into bankruptcy, Buffett's preferred shares are senior to common shareholders and as such are much more likely to be made whole.
For Bank of America common stock shareholders, it is hard to see any upside here. If the stock recovers, you will be significantly diluted by the 700 million warrants. If the stock goes sideways, Bank of America will be saddled with high cost capital that will weaken its ability to catch up with competitors. And if the company tanks, suddenly another creditor - Buffett's preferred shares - have jumped in front of you in the capital stack, reducing your chances of getting any recovery from bankruptcy.
If Bank of America were healthy and fundamentally sound, you would think they would have told Buffett to just go buy common stock on the open market. Bank of America's willingness to accept a no-win deal with Buffett shows its desperation to secure capital, just as Jefferies had predicted. If Jefferies' Layla Peruzzi is right and Bank of America needs $40-50 billion in capital - and this is the best terms they can get for the first $5 billion - it is going to be a very long autumn for Bank of America.
Disclosure: I have no positions in any stocks mentioned, but may initiate a short position in BAC over the next 72 hours.