Until recently, most people didn't even know what oil shale plays were. Many still don't. However, technological advances have made previously unrecoverable oil in oil shale plays recoverable today. Now what used to be nearly valueless oil shale fields throughout the U.S. and Canada have become some of the most valuable real estate in those two countries.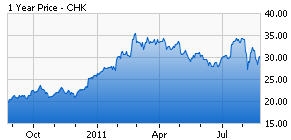 A brief description of Chesapeake Energy's (NYSE:CHK) "best assets in the business" holdings:
Natural Gas Plays
1,750,000 net acres in the Marcellus Shale (#1)
495,000 net acres in the Haynesville Shale (#1)
190,000 net acres in the Bossier Shale (#1)
220,000 net acres in the Barnett Shale (#2)
350,000 net acres in the Pearsall Shale
Total net acres = 3,005,000 net acres
Unconventional Liquids Plays
2,035,000 net acres in the Anadarko Basin (#1 including the Granite Wash, Cleveland, Tonkawa,, and 1,000,000 in the Mississippian Lime formation)
500,000 net acres in the Eagle Ford Shale (#2 with 80% in the wet gas and oil phases)
320,000 net acres in the Bakken/Three Forks (top 10)
835,000 net acres in the Permian Basin (Top 5 - Avalon, Bone Spring, Wolfcamp, and Wolfberry)
595,000 net acres in the Powder River (Niobrara) and DJ Basin - #3
1,250,000 net acres in the Utica Shale (#1)
320,000 net acres in other plays
Total net acres = 5,855,000
Other Conventional and Unconventional Plays
Total net acres = 6,520,000
Grand total of all net acres = 15,380,000
In addition to all of this, CHK has approximately 15 million acres of 3D seismic data on acres it doesn't own or control. It seems reasonable to think that CHK will control at least a sizeable fraction of this acreage in the not very distant future. It is already planning on expanding several of its holdings such as the Utica.
The natural gas plays are great assets. They are very valuable. However, CHK has been concentrating on developing its oil plays as oil has been a much more lucrative venture lately. I will try to quantify some of CHK's oil holdings.
80% of CHK's holdings in the Eagle Ford are in the wet gas and oil phases. In these phases the EUR per well has been about 500,000 BOE. A typical spacing in the Eagle Ford has been approximately 125-140 acres, although some are experimenting with a spacing as low as 40 acres. If you estimate approximately 75% of the acreage is drillable, then CHK has approximately 300,000 acres of drillable acreage. Using a spacing of 125 acres/well, CHK would have 2,400 drill sites that would yield on average about 500,000 BOE EUR per well (or 1.2B BOE of recoverable oil). This is just a ballpark figure.
CHK has lease holdings of 320,000 acres in the Bakken/Three Forks. Using a 75% drillable site estimate, this would amount to 240,000 of drillable acres or 1920 drillable sites. Bakken EURs range from roughly 300,000 BOE to 700,000 BOE, although there are higher figures. Taking 500,000 BOE EUR as an average value, CHK may have 0.96B BOE of recoverable oil in its Bakken holdings.
From the seismic and the few wells drilled so far, CHK is estimating that the Ohio Utica is as rich or richer than the Eagle Ford. Based on this assumption, CHK should ballpark have 7500 drillable sites. These would yield 3.75B BOE in recoverable oil.
CHK has done little drilling work in the Mississippian, but SandRidge Energy (NYSE:SD) has. It gets EURs of 300,000-500,000 BOE on wells that cost it only $3.5 million per well to drill. SD got about 4,000 drill sites from 750,000 net acres. From 1,000,000 net acres CHK should get about 5,000. This would yield about 2B BOE of recoverable oil using an average EUR of 400,000 BOE per well. I should note that SandRidge Energy estimates it gains $5.86 million in NPV for each well it drills in the Mississippian. CHK's approximate 5,000 well sites would yield $29.3B in NPV gained by CHK, if it drilled all its sites in the Mississippian.
Thus far I have made ballpark estimates for about 3 million net acres of CHK's oil plays. The total recoverable oil has amounted to nearly 8B BOE. At a ballpark of $100/barrel, this amounts to $800B. If you figure just one tenth of this represents the present value, CHK has a present value of $80B taking into account only about 50% of its oil play assets and none of its natural gas assets. Accounting for the rest should give you a company valuation in excess of $150B. The current market cap is only $19.16B. The enterprise value is only $30.12B. This company is realistically worth many times more. Plus more oil could soon be recoverable from the above described sites. The actual amount could double, triple, or quadruple depending on well spacing optimization and likely improved recovery techniques over time.
The price of natural gas could start to appreciate rapidly. We are already seeing the beginnings of trade possibilities with the growth of LNG facilities. Reason says this will lead to price appreciation. CHK might turn out to be a $1T company before too long. At approximately $20B in market cap currently, it is trading at a huge discount to its "real" value. This company is a huge buy. It could get hurt by a severe recession or depression in the U.S. and worldwide, but in all likelihood it will become tremendously successful. Get into this stock before the general populace wakes up to the reality of the great oil shale boom.
Disclosure: I am long CHK.