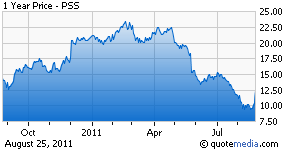 Earlier, Collective Brands (NYSE:
PSS
), one of our best ideas, reported second quarter earnings that beat most analysts' estimates and announced a plan to unlock shareholder value. Sales were up nearly 5% and net of a large goodwill impairment, earnings came in at $0.16 a share. We will look to add to our position in Collective Brands in our
Best Ideas portfolio
in the weeks ahead.
The numbers weren't the big news. Collective announced it will pursue "strategic initiatives to unlock shareholder value" which we speculate involves a sale of the company, possibly to a private equity firm, or a spin-off of the successful PLG group. We've thought that a sum of the parts evaluation shows the true value of Collective, but we underestimated management's willingness to deliver, and are very pleasantly surprised. We are maintaining our fair value of $24, but will be creating a sum of the parts valuation to provide an alternative valuation.
It's also important to note that the stock's price action was probably fueled by takeover speculators and a short squeeze, since nearly 30% of the float was short. Collective announced a shareholders' rights plan to protect them in the face of a takeover.
Payless Domestic Continues To Struggle
Much like the last eight quarters or so, Payless Domestic posted weak results; however, management seems committed to finally turning things around. Former CEO Matt Rubel came from a fairly high fashion background, leading both Tommy Hilfiger and Nike's (NYSE:
NKE
) Cole Haan unit. In retrospect, his idea to make Payless more fashion forward, but at a higher price-point, clearly didn't resonate with customers. As a result, management laid forth a plan to undo the damage.
Payless plans to lower price-points, shutter unproductive stores (approximately 475 over the next three years), and is conducting extensive market research in an effort to reconnect with its former core customers.
Management briefly touched on how hard its consumer has been hit, supporting our thesis that the lower-end hasn't yet really recovered from the Great Recession. We saw this really damage Big 5 (NASDAQ:
BGFV
) in its second quarter, and think that it could take a while to reverse the trend. Unemployment for under-educated Americans continues to significantly outpace that of the educated population. High fuel and wage stagnation aren't making things any better, but that also means that things, aside from deflation, cannot get much worse for Payless' key demographics.
For the time being, refocusing on a value proposition is a strong move for Payless Domestic and should help the company stall its negative same store sales trend.
PLG Enjoying Product Success
PLG, which consists of heavy hitters like Saucony and Sperry, performed tremendously well, with wholesale revenues up 25% and retail up over 8%. Though the company didn't share much specifically, we know from our own research that the Sperry brand is absolutely on fire, expanding via new product offerings and distribution channels.
Management did provide some information on Saucony, which they continue to say is doing well both internationally and domestically. We were glad to hear new developments are surfacing in lightweight running and training, which is almost entirely dominated by Nike Free.
Overall, we liked management's candid tone, and admission of previous inventory blunders. Although a good portion of the problem is likely out of their control, they seem to be taking proactive steps in boosting long and short term profitability. The company continues to pay-off long-term debt and gobble up shares that were trading cheaply, though they've already bought back the maximum amount authorized.
Our thesis may take longer to play out thanks to the stock getting severely knocked down with the broader market sell-off, but we think an operational turnaround is underway. We also think that Collective would fetch a fairly sizable premium in a takeover, which we will revisit at a later date.
Disclosure: I have no positions in any stocks mentioned, and no plans to initiate any positions within the next 72 hours.
Additional disclosure: Collective Brands is included in our Best Ideas portfolio.