In an article titled, "What Goes (Straight) Up ...", KITCO.com analyst John Nadler said the bears are seeking to test the 1680 to 1650 level, and that a bounce from there would not be surprising. He also made an allusion to memory of the large decline in 1980 (which was about 45%).
In an interview with The Street, titled "Expect a 35% Correction in Gold," he said that a 35% decline was possible, and that something in the 1480 area might be a bottoming level.
If gold did go down 35%, that would put the share price of GLD at about 120 versus its peak at 184.82.
This chart presents the prices of GLD for the past year, along with its 200-day average (tan line); 5%, 10% 15% and 20% offsets from the 252-day trailing high (in red lines), and the 35% offset (in bold blue).
Click to enlarge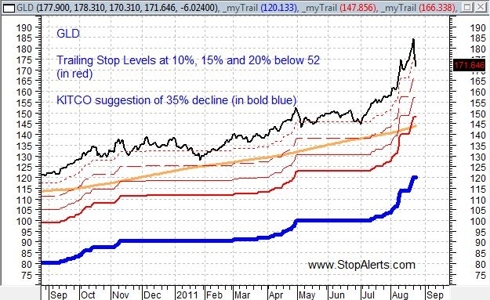 A 35% decline would essentially match the 2008 decline, as shown on this chart of GLD versus a 35% trailing offset to the 252-day trailing high.
Click to enlarge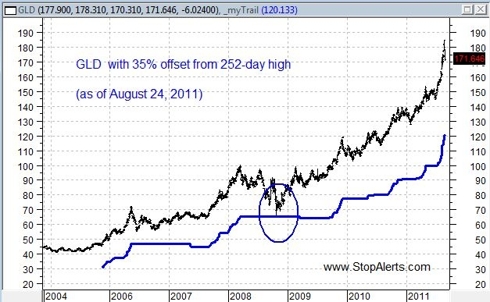 We certainly hope we are not facing a new 2008 market event, but if we did, and if gold moved down with stocks, a 35% decline would be plausible.
Also today in another The Street interview titled "Gold: Correction or Bear Market," David Banister of TheMarketTrendForecast.com said the parabolic blow-off top was bound to create a strong correction - and that a rally is due from here, but that new lower levels in the high 1500s to low 1600s are likely. Longer-term, he thinks gold has a long way up to go. He recommends waiting for a better entry point than today.
Today's 3% rebound is helpful in the positive direction, but large up and down sea-saw swings in markets seem to be relatively common in the current environment, particularly as investors place speculative bets on the next utterance from a central banker or government official.
See our article from yesterday (Gold Trailing Stops And Linear Regression Price Projections), providing additional chart information on GLD.
Relevant Securities: GLD, IAU, SGOL
Disclosure: QVM has long positions in GLD in some accounts and has written far out-of-the-money PUTs on GLD in the company account; and does not have positions in any other mentioned security as of the creation date of this article (August 25, 2011).
Disclaimer: This article provides opinions and information, but does not contain recommendations or personal investment advice to any specific person for any particular purpose. Do your own research or obtain suitable personal advice. You are responsible for your own investment decisions. This article is presented subject to our full disclaimer found on the QVM site available here.