There has been audacious fraud committed by some Chinese companies, especially small cap companies that went public via reverse mergers. Short sellers have done a tremendous service to the investing community by discovering these malfeasances and bringing them to the public's attention, and those on the short side, myself at times included, have profited handsomely for their efforts. As these trades have shown substantial returns, more money and new "research analysts" have flocked to the "Short China Small Cap" theme.
After a year and a half of intense vetting by dozens of short-sellers, the low-hanging fruit of shorting has been picked. I am now sorting through the carnage to find companies that have been unduly decimated. Placing bets on a number of these companies provides a tremendously attractive risk-return profile. Lihua International (NASDAQ:LIWA) is one of the companies that I am betting on.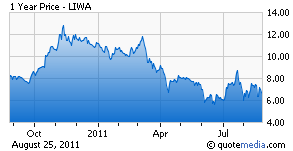 Lihua makes pure copper replacement products including copper clad aluminum and copper wire from scrap copper used in electronic motors and home appliances, and copper anode which is the basic building block for many copper products. Revenues have grown from $50 million in 2008 to $350 million in 2010, and should exceed $1 billion, yes with a B, next year. Revenues have increased due to increases in capacity, higher copper prices and higher ARPU product mix. Net income has grown from ~$11 million in 2008 to $40 million in 2010, and will be > $55 million this year.
Being fearful when others are greedy and greedy when others are fearful only works when the business is real. There are a few things that give me great comfort that LIWA is what it says it is. First, LIWA makes a product that is easy to understand and is fungible. Lihua has one large manufacturing facility in Jiangsu Province. It is real, I had a Chinese friend of mine visit recently.
Second, LIWA's SAIC documents match its SEC filings. A commonality among all discovered Chinese frauds is inconsistencies between the two. Lihua was the first Chinese company to proactively upload its SAIC documents and reconciliations on its investor relations website.
Third, and most saliently, Lihua's Audit Committee recently had Lihua's cash balances verified through John Lees and Associates ("JLA"), a third-party forensic auditing firm that specializes in fraud in China. JLA is similar to an Evercore Partners. While relatively unknown to the general public, JLA is a highly reputable and ethical boutique within the market in which it operates. JLA's clients include HSBC, Standard Chartered, prestigious private equity funds, governments, the Securities and Futures Commission of Hong Kong, etc.
JLA verified Lihua's cash balances and several quarters of cash flows by obtaining bank statements directly from main branches, not from the local branches and managers where Lihua opened the accounts and could have possibly have been in cahoots with, and reconciled the cash balances with Lihua's ledgers and SEC financial statements. Lihua is the only Chinese company that I know of that has voluntarily gone through a third party forensic audit of its cash balances.
Lihua's CEO didn't know that its Audit Committee would perform this check nine months ago. There was zero chance that Lihua's Management could have fudged this inspection. Ask yourself this question: Did Lihua's CEO borrow, for nine months, $90 million from his buddies, put it through LIWA's books and pay VAT and income taxes, just in case there would be a forensic inspection by the Board? Quite unlikely.
The money and the transactions that show how the money got there are undeniable proof that Lihua has a real, highly profitable business. Shorts may try to distort, they may play the China headline risk game to scare investors, they may scream fire in a crowded theatre, they may, in the short term, sell 100,000 shares via a market order in the last 10 minutes of trading to manipulate Lihua's stock price. But in the end, they have not and can not refute that Lihua has a real business. If they could have, it would have came out a long time ago. The fundamental value of Lihua cannot be held down forever.
As we speak, Lihua is putting the finishing touches on a massive new facility which will increase substantially its capacity. It will house several new smelters and a research center. It will also be home to new copper clad aluminum products. By now, LIWA probably has close to $100 million of cash. This cash is denominated in RMB, a currency that has appreciated approximately 8% versus the USD over the past year. Many market participants are expecting further RMB appreciation going forward.
In 2011, LIWA will earn close to $2 per share. In 2012, $3 per share. LIWA's accounts receivables and inventory, which is copper and is as good as gold, total about $2 per share.
A business with high visibility and quality of earnings, growing 50% a year with $3 in verifiable net cash and positive cash flow should have a floor price of $3. A ridiculously low P/E of 5 on next year's earnings gets you a $15 stock. At $6.30, LIWA presents one of the best risk/return opportunities in the market today.
Disclosure: I am long LIWA.