I never changed the basic ideas I wrote in my first article, even if the market has gone on the opposite direction. Furthermore, at this point there are some key elements that will enforce my bearish view on Apple (NASDAQ:AAPL). I try to explain these points in this article.
Apple released some revolutionary tech gadgets that came into our life: A wonderful smartphone, tablets, and perhaps new types of TVs in the coming months.
But the business context is now tougher than months ago: A lot of competitors, and consumer spending in strong contraction all over the world, even on tech items. Apple's fear now is rising. The ban of Samsung devices selling from Europe means that Apple has found some difficulties to tackle the competition which is slowly gaining market share. Google's (NASDAQ:GOOG) Android based devices are getting more and more popular, with tons of applications, and people feel that the Android platform is more flexible than the proprietary Apple platform.
Samsung is very well positioned with its smartphones and tablets, and HTC also has a great popularity with its Android based smartphones. Nokia (NYSE:NOK) is still an outsider, fighting for survival in the smartphones market, but keeps going on with the OS of the giant Microsoft (NASDAQ:MSFT). Google has bought Motorola (NYSE:MMI) hardware and it can leverage this new hardware asset with its complete services based platforms: Search engine, mail, Android operating system, and finally a new social network. Dell (DELL) is trying to enter this market niche with some new tablets. Only one competitor has gone out of this market: HP (NYSE:HPQ), withdrawing its brand new tablet the TouchPad.
Not to mention the antitrust problems that Apple could face in the future, similar to those ones faced by Microsoft years ago. It is clear that a proprietary platform selling items with a high markup is not very comfortable for some enterprises like big online stores (e.g.: Amazon (NASDAQ:AMZN), newspapers (e.g.: Financial Times, Wall Street Journal) and music majors (e.g.: Sony BMG(NYSE:SNE)).
In conclusion, now the mobile applications of the competitors are quantitatively and qualitatively similar to the Apple ones, and the room for iPhone and iPad will be necessarily smaller in the future.
For the Apple PCs, as I said in my previous article:
Only the Apple PCs are holding its competitive advantage: Apple PCs are characterized by high quality, high usability and strong performances, especially in media management (e.g. photo retouching, video making, music making, etc.). No other PC competitor has reached this level of excellence. But unfortunately, the PC market is affected by a revenues decrease effect for all PC makers, and this is a problem that Steve Jobs knows well.
From a technical point of view, what we have seen from my previous article to now was a last extension of a well built bull market. The new top at about $400 should not be touched again. Now, the break of $350 could drive Apple to next support at $310, first target. Then, the break of $310 could plunge the stock to the next support at $240, or near the previous top at $215.
That is why I am still strongly bearish on Apple. I think that at this level it is better to sell Apple rather than buy it. I expect that this bear movement will be quick, with high volatility and high volumes, similar to the new one experienced on Nasdaq.
click on image to enlarge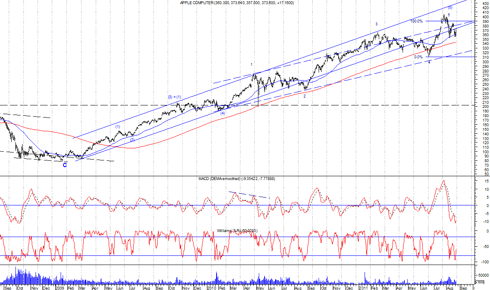 Disclosure: I have no positions in any stocks mentioned, but may initiate a short position in AAPL over the next 72 hours.