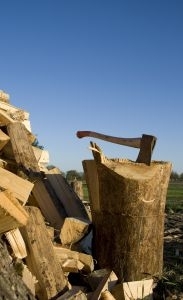 Bank of America's (
NYSE:BAC
) situation is taking on the aspects of a Greek tragedy – or a farce. Despite Warren Buffett's official statement that Bank of America is a well-run company, his way-too-small $5 billion in preferred stock with juicy terms is unfavorable to the bank. (A good explanation is in the Seeking Alpha article, "
Buffett's Deal With Bank Of America Is Absolutely Terrible ... For Bank of America, That Is.
")
On Wednesday, Henry Blodget said Bank of America is $200 billion short in capital. (Remember Blodget? He was the analyst at Merrill Lynch – now Bank of America Merrill Lynch – who was kicked out of the industry and had to pay millions in fines and disgorgements for allegedly having two opinions: One for the public and one issued privately.)
BofA's response to the $200 billion amount by wunderkind CEO Brian Moynihan was "Unh, unh! No way! We're fine!" (His audience was the understandably nervous employees.) In this day of instant electronic video and audio, Brian sent a memo to his 280,000 "teammates."
But we shouldn't express amazement at his reaction. Moynihan was a favorite of weak former-CEO Ken Lewis, who claims he bought Merrill Lynch because government leaders "convinced" him it was important to do so.
After taking over, Moynihan has one-upped Lewis, taking actions that exhibit hubris, not skill.
Paid back the entire $45 billion in TARP funds, saying the bank could go it alone. Meanwhile, uncharacteristically realistic Citigroup (C) repaid $20 billion, converting the other $25 billion into common stock – i.e., critically needed capital.
Took a China trip with fanfare about expanding the bank's presence there, even as the bank struggled with deteriorating fundamentals in a highly uncertain U.S. environment.
When asked about divestiture to raise needed capital, said there were no meaningful components to

sell, claiming everything is meshed together and so everything is important to the bank's future.

Tried to be allowed to pay out needed capital as dividends, but was rejected by Fed officials who were more realistic.
Capital took a hit when the bank agreed to pay a negotiated $8.5 billion

fine relating to misstatements about Countrywide's securities issuance.

And now, we have his employee-reassurance vision of a financially strong bank that is steadily making its own way back by doing the right things – e.g., treating customers well.
Investors have noticed this lack of leadership, rewarding the stock with a downward trend. Forget Citigroup and its 1:10 reverse stock split. Bank of America is the in the throes of a shortage of capital, management skill and investor support.
Click to enlarge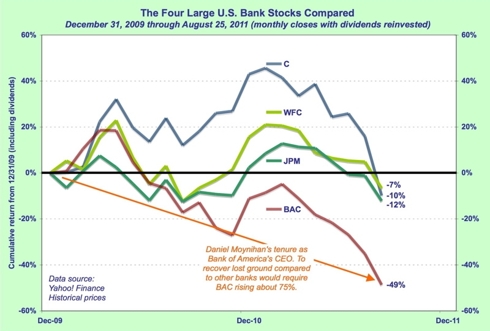 JPMorgan (JPM) To The Rescue?
How about the rumor that JPMorgan Chase CEO Jamie Dimon would like to buy Bank of America? Here, BofA's response sounds accurate, calling the rumors "baseless" and saying they "don't even make practical sense." But not because BofA is financially sound. Rather, there is no reason that Dimon would want to buy such a massive problem with weaker, duplicative operations. However, there is another route ...
Dismemberment A Good Possibility
Bank of America could solve part of its capital problems by shrinking its asset size to match its shrunken market capitalization (now only $70 billion, 15% below Citigroup's and half of JPMorgan's). The challenge would be to sell assets that decrease capital requirements more than they decrease capital (e.g., by creating added write-offs or losses).
The other route is dismemberment – i.e., selling or spinning off companies or divisions. If taken far enough, these divestitures could have the added benefit of driving the remaining bank down out of the "too big to fail" category, with its higher capital ratio requirements.
Could Moynihan's ego take it? Probably not. However, reality likely will drive BofA's board to act – perhaps jettisoning the CEO along with Merrill Lynch, etc.
Who wins if the bank goes this route? Obviously, JPMorgan and Wells Fargo (
WFC
), as the better capitalized major banks, could pick up some strategic pieces. From an investment standpoint, private equity firms could be interested. For blocks of assets, institutions and funds could be buyers. One thing is certain – unlike when Bank of America paid up for Merrill Lynch, there probably will be no sugar daddy bids for BofA's assets. Warren Buffett has proven that.
The Bottom Line
In spite of Bank of America's Buffett-inspired stock jump, the outlook for BofA is murky, at best. Whatever the capital requirement amount actually is, it is a huge problem for the bank (see "
JP Morgan's Competitive Position Just Increased
"). Meeting it is questionable and will adversely affect its future, both financially and competitively. CEO Moynihan's seemingly naïve, rose-colored view is delaying a realistic solution. Even dramatic action at this point may not be enough to save the bank. The big four could become the big three plus a Wikipedia entry.

Disclosure: I am long JPM.

Additional disclosure: Positions: Long U.S. stocks and U.S. stock funds.