From the song "Sounds of Silence" ...
And in the naked light I saw
Ten thousand people, maybe more
People talking without speaking
People hearing without listening
People writing songs that voices never share
And no one dared
Disturb the sound of silence

"Fools", said I, "You do not know
Silence like a cancer grows
Hear my words that I might teach you
Take my arms that I might reach you"
But my words, like silent raindrops fell
And echoed
In the wells of silence ...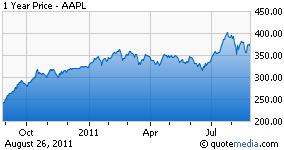 Steve resigned. As expected [at least by most logical Apple (NASDAQ:AAPL) watchers], Tim took over the reins. Shocking? Not really, but the timing certainly was a surprise. The stock dropped after hours after the announcement but finished the day in harmony with the general market - down only $2.46 to $373.72. The press was in full swing about the pros and cons about the change. Even the anti-APPL crowd was in full swing denouncing the jobs "exported to China!"

What if we are missing the message again ... that Steve's greatest legacy is AAPL itself (John Gruber)? Remember when we were so immersed with trying to "think like the Japanese" in order to compete and revive our Auto industry or when Business courses were abuzz with "Welch" theories and practices? Maybe ... just maybe, we can finally understand what it takes to compete in the world stage instead making excuses and envious of leaders who actually do make a difference.

Strangely enough, aside from placing a stinker bid in last night for this morning; my mind was overwhelmed by the profound impact he had on our society. Personally, I hope he does recover well and comes back for a finale.
Like any other investor with vested interest in AAPL, the questions will now be:
1. IF I haven't bought in, should I buy now?
2. IF I have recently bought in, should I stay or go?
3. IF I have been with AAPL prior to 2007 should I look elsewhere?
4. WHY was it announced today?
5. WHY will AAPL continue to perform?

I've always believed that if you know the "why," the "how" and "what" will follow. In this case, I've always wanted to know "why" did I chose AAPL to be my largest holding. Given the latest turn of events, I'm now wanting to know "why" I should stay and add more (or why I should leave). As always, a bit of a perspective is important as it helps me build my assumptions.

From his resignation letter (which didn't address the "why") ...
" As far as my successor goes, I strongly recommend that we execute our succession plan and name Tim Cook as CEO of Apple. I believe Apple's brightest and most innovative days are ahead of it. And I look forward to watching and contributing to its success in a new role."
It is clear that, AAPL always had a succession plan in place (the statement above confirms it; the event validated it). In other words, AAPL (like anything Apple) had the details planned out already. Interestingly enough, you will get the glimpse of this "planning" mentality in the speech Tim delivered at Auburn. I suggest you watch the video to get an "intuition" of what AAPL would be like in the years ahead under Tim.

What's an article without a quote from Steve?
"My model for business is The Beatles: They were four guys that kept each other's negative tendencies in check; they balanced each other. And the total was greater than the sum of the parts. Great things in business are not done by one person, they are done by a team of people." - Steve Jobs
Just who are these "parts"? IMHO, they would be Tim, Scott, Jon, Peter, Philip, Bruce and Bob. Anyone who has managed and have been part of a dynamic team will understand what he meant.

Conventional thinking would make it is extremely easy to try to use examples of what happened to the other great companies when its visionary leader left to make sense of AAPL today. IMHO, this will be akin to why the competition or the analysts never really "got" AAPL. There has never been anyone like Steve (Bill is the closest maybe) and there has never been a company like AAPL.

We have to look at today's announcement thru the "eyes" of AAPL. By doing so, we can make the following assumptions:
Jobs cannot be replaced; he is one of a kind. End of discussion or comparisons. He KNOWS this and have gone to great lengths to "codify" the process of how things need to happen or be done at Apple.
AAPL is in a league of their own from leadership to products and ultimately in customer & employee satisfaction. According to Glassdoor.com, Jobs held the distinction of being the highest rated CEO ever. I cannot think of a single executive who left AAPL to pursue another opportunity that have made any meaningful impact in the market that they serve. Great teams tend to achieve more (Miami Heat didn't go very far did it?).
AAPL is meticulous with its planning and process. You cannot be this big and successful without being disciplined and efficient. It would not be a stretch to assume that given its desire to control its own destiny, it would have already planned its course over the next 5, 10 and 15 years.
Great companies are only as good as the people it chooses to hire. Jobs couldn't have possibly have interviewed and hired all AAPL employees; it stands to reason that they have standards and rigors in place to insure they hire the "right" people.
Currently, it is difficult or near impossible to find a company that matches their financial performance.
We will still have markets to conquer with the iPhone, the iPad, the iCloud, iOS5, and Apple TV. China and Latin America have not yet been properly served. This is WHY I think AAPL's earnings momentum will continue.
Why was it announced today? Certainly, there can be different assumptions. I happen to think that he isn't doing very well health wise and what better way to exit than before the strongest quarter of the year for them. Why not do something different to jump start the stock that has not traded with its fundamental reality; what is there to lose?

For me, the reasons on why I chose AAPL as my largest holding as per my previous article have not changed with today's announcement. Given HP's (NYSE:HPQ) recent unceremonious departure from the tablet and PC business, Dell's (NASDAQ:DELL) lackluster earnings results, iPad's continued sales results and Google's (NASDAQ:GOOG) purchase of Motorola (NYSE:MMI) only solidifies my assumption that AAPL truly have moved on beyond the "PC" era.

For those who have been on this great ride, we need to give Tim a shot and remind ourselves that he is NOT and will never be Steve. However, for Steve to have chosen and mentored him over these years MUST mean Steve saw something in Tim. That is good enough for me. Tim just needs to be "Tim" and AAPL just needs to continue to be true to its core - disrupt markets and make cool products/services that "just works".

For those wishing to take a new position in AAPL, you can pick your spots or wait for a breakout to a new high. As always, your mileage may vary. I remain convinced that AAPL is a great micro amidst a bad macro!

Disclosure: I am long AAPL, GOOG, XIV.