Israeli-based Teva Pharmaceutical (NYSE:TEVA) is the world's largest maker of generic drugs. After the recent sell-off, the stock trades at 7 times forward earnings and faces rising demand for its drugs worldwide. A recent Barron's article gave a very bullish outlook - (click charts to enlarge):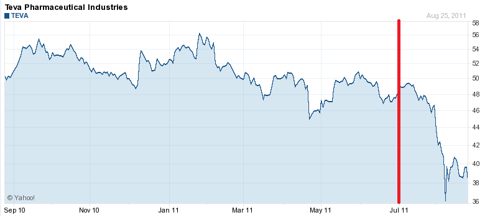 Some of our Q2 13F reports have shown that several hedge fund managers have started taking an interest (or increased positions) in TEVA...but almost as many have decreased their stakes in the company.
We show a time series report for the top 75 filers with a position in TEVA for Q2: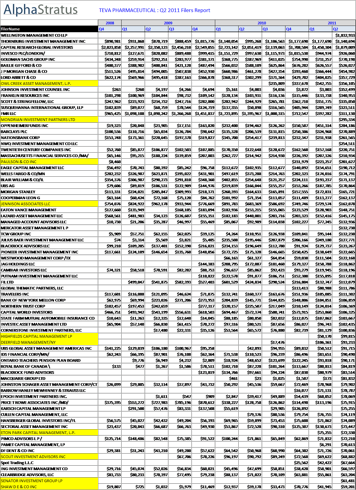 The largest hedge fund holder, Owl Creek, reduced its shares from 10.8M in Q1 to 7.3M in Q2. The next largest hedge fund holder, Mondrian, initiated a $295M position this past quarter and the 3rd largest hedge fund holder of this name, Paulson & Co. (who's run into trouble this year), slightly decreased its position from last quarter. Moving down the list shows that Eton Park, Scout, Senator, D.E. Shaw and Samlyn all have positions in TEVA. Matrix Advisors ( a small value-fund profiled in the Barron's article) initiated an $8M position in Q2.
TEVA has had its share of troubles and the stock has certainly been a disappointment but time will tell if this bet pays off for its holders.
Disclosure: I have no positions in any stocks mentioned, and no plans to initiate any positions within the next 72 hours.