Who isn't looking to buy gold? Me. I'm not interested in playing this commodity (or now currency game) with the markets. In fact, most retail traders don't even know how to buy gold, yet they seem eager to cash it in on one of those preposterous TV ads. I've been asked by college interns, family friends, dentists, you name it. Do I think the rise is over? I have no clue and I would say that most of the analysts you watch on TV don't either. What causes this precious metal to keep rising?
The commodity is now labeled a currency and a global standard to boot. The U.S. dollar (and previous world currency) has been de-valued globally. Without QE3, the dollar should begin to strengthen. Do I think that it can't go lower? No, but a key point is that most institutional traders will be looking to exit gold before everyone else, and probably six months before this precious currency will lose its value.
In fact, as we approach the annual Fed meeting, it seems that the market commentators are expecting a third stimulus. I, however, do not believe it will come. The good news is that this should bring some stability to the dollar (and weakness to gold). Over the last two trading days, the
GLD
ETF has fallen near 10% in two trading days. This fall has been quick and large. Even volume is approaching its highest level in six months. See this chart for more:
Click to enlarge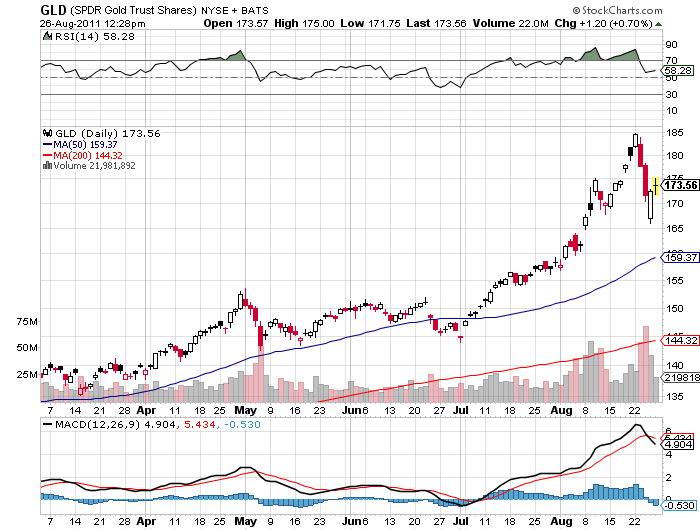 Over the past year, GLD has returned 43%, and 177% over the past five years. I can't go a day without hearing about this metal. I wouldn't even know what to do with it once I got it. Should I put it under my bed? Or is that what people have been doing with their cash? Maybe I should start hoarding physical gold, bring it into Wal-Mart (NYSE:
WMT
) and buy some cheap household appliances. How about those 3-D TVs at Best Buy (NYSE:
BBY
)? Obviously I'm being a little absurd, but the bottom line is that the U.S. dollar will eventually regain its stature as the worldwide currency.
Taking a historical look at the price/ounce, one can begin to see a parabolic move underway. See below.
Click to enlarge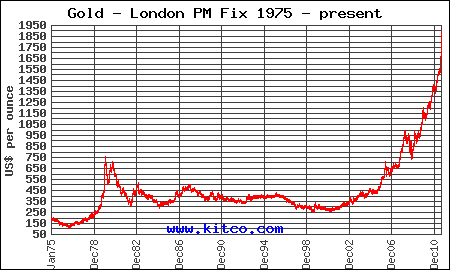 Investors need to remember that the supply/demand parameters are working against them at some point in time. It's looking more and more likely that this move maybe is heading to a dramatic end. Once the price starts its downward process, the longs who were buyers at the top will begin to sell, and as the price falls, more longs will sell. This is the waterfall effect. At around $1,800 an ounce, the price could easily head back to $1,000. During 2008, not many people expected gold to get close to $2,000, but it did. I doubt many expect it to drop right now either.
What should you do instead? I would invest in the U.S. dollar in the hopes of a better than expected debt ceiling bill from the bi-partisan group. The 12-person House and Senate special committee has the task of identifying spending cuts. The committee must complete its work by November 23, with Congress holding a vote on the committee recommendations by December 23.
Why do I trust these politicians? I don't, but I think that they need to respect the American people's wishes. After this game of political chess, I believe that they need to make good on this deal in order to restore the trust that was lost. I couldn't be more against the political games, and I'm hoping that a deal can be set in place that betters our country's finances. Reiterating my stance, Howard Schultz, CEO of Starbucks (NASDAQ:
SBUX
), has started a pledge to boycott U.S. political campaign donations. To date, over 100 business leaders have joined with the hopes of eliminating incumbent leaders in Washington (I know there are more out there that agree with me here).
Jobs and unemployment need to improve. We need to bring back innovation and change to the workplace. Corporations have been reluctant to hire based on the uncertainty of Congress (it's not the fault of any individual person, mind you). At the beginning of September, we will have President Obama address the nation with a plan to reduce the unemployment level. I don't believe that this will be a quick fix, but I do believe that Congress may get this right; or at least I hope so for your sake and mine.
Disclosure: I have no positions in any stocks mentioned, and no plans to initiate any positions within the next 72 hours.