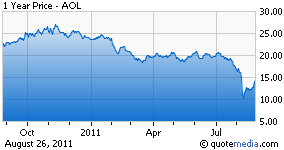 Word has leaked out. AOL (NYSE:AOL) is circling the drain.
The company that epitomized the Dot-Com bubble bursting with its 2000 acquisition by Time Warner is now a stand-alone failure.
A tweet alerted me to a webinar yesterday where the company discussed an "open source strategy" but open source pixie dust won't fix its problems. The company's technology is obsolete, and its costs are dragging everything down. The best thing for everyone at AOL would be to sell the pieces without hosting, and shut the computers down.
That's why, when private equity companies look at AOL, they are all talking about its break-up value. The fading dial-up business alone could pay for the purchase, the thinking goes, and the editorial pieces could then be parceled out.
But who might buy? Believe it or not, AOL has some real franchises. They just don't go under the name AOL:

Its tech publishing assets, like TechCrunch and EnGadget, might be of interest to a publisher like CBS Interactive (owner of CNET) or even O'Reilly Media.
Its women-oriented sites, like those devoted to Ellen DeGeneres, Jillian Michaels and Heidi Klum, could be packaged together for Oprah Winfrey.
Its financial sites might be of interest to Bloomberg.
Its entertainment sites like Moviefone might be of interest to IAC.
HuffingtonPost could be spun back out on its own.
At its current valuation, remember, all these sales would be pure profit. When the editorial assets are sold they would go as pure editorial, without the computer boat anchor that has been driving AOL down.
What happened to Tim Armstrong's grand strategy wasn't the Huffintgon Post. It was the cost of his operations, and a dream he had called Patch.
Patch, a network of local news sites, has been losing money hand-over-first because it's run by bloggers, not publishers. Publishers understand how to advocate and organize their local markets. It's what they do. Bloggers just write, caring little for finance, and that's all publishing really is – market making.
Patch is worthless. Close it. Think a company like Gannett (NYSE:GCI) or The New York Times (NYSE:NYT) or News Corp. (NASDAQ:NWS) might want it? If you find a sucker like that, call me. I have a bridge to sell.
An AOL break-up is too much work for a public company buyer, which would have shareholders watching every move. This is a job for private equity. The best move AOL bankers might make is to create an auction for the asset that might draw multiple bidders.
But there is value here.
Disclosure: I have no positions in any stocks mentioned, and no plans to initiate any positions within the next 72 hours.