Like many industry observers, we eagerly anticipate the first Thursday of every month, when U.S. retailers release monthly same-store sales reports, as they provide a timely indicator of both performance at individual chains and clues about overall spending trends by American consumers. Unfortunately, the decade-long trend of retailers discontinuing monthly reporting continues (see graphic below), and soon it seems we will have only the oft-revised monthly retail report from the Dept. of Commerce, and be forced to extrapolate company performance based on overall sector results in between quarterly reports.
Same-store sales, also called comparable-store sales have long been one of the most relevant measures of healthy growth at retail companies, as it provides an apples-to-apples comparison of top-line growth at existing stores (usually open at least 12 months, excluding new and remodeled stores). This enables analysts to differentiate between sales growth that comes from new stores, especially at-fast growing chains that derive much of their growth from increased store counts, from that of improved operations at existing stores.
Retailers are not required to report monthly sales, but it has been a novel aspect of the industry since the 1970s. Same-store sales are no silver bullet for retail industry performance, and there has always been noise in monthly comparisons caused by factors including calendar shifts and changes in weather. However, the monthly reports have long provided a unique perspective on company and industry trends, relative and comparative performance, and retail executive commentary and outlooks.
Ten years ago, over 100 retailers reported performance on a monthly basis, and as recently as July 2004 there were still 77 chains reporting across a variety of sectors with aggregate monthly revenues of $52.5 billion, representing 65% of GAFO (General Merchandise, Apparel & Accessories, Furniture and Other – Office Supplies, Stationary & Gifts) sales.
Last month, only 27 chains with aggregate July revenues of $30.6 billion reported results, comprising just 31% of GAFO sales for the month. With Hot Topic announcing July would be its last monthly report and BJ's Wholesale likely to stop reporting when its buyout by private equity is complete, the ranks will be down to just 25.
(Click graphic to expand)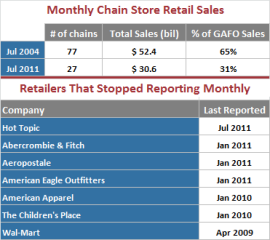 While some of the contraction can be attributed to bankruptcies (Gottschalks, Bombay Co., Sharper Image) and some due to acquisitions (Goody's by Stage Stores), the majority of companies made conscious decisions to stop reporting monthly sales. Unfortunately, there is no longer any representation from footwear companies, dollar stores, women's apparel companies or home goods retailers, and many important bellwethers, such as Home Depot (HD), Lowe's (LOW), Best Buy (BBY) and Barnes & Noble (BKS), ceased reporting long ago.
There is basically one main argument put forth as the reason why retailers discontinue reporting sales on a monthly basis: Companies want to align how management thinks about the business to the interest of long-term shareholders, removing short-term trading and volatility of share prices.
Here is commentary from Wal-Mart's (WMT) announcement they would be switching to a quarterly reporting schedule after April 2009:
Wal-Mart was built on a foundation that manages for long-term success," said Tom Schoewe, executive vice president and chief financial officer for Wal-Mart Stores, Inc. "This decision aligns investors with the long-term view we take to build shareholder value. We feel this also will reduce the intra-period volatility related to events such as calendar shifts. Reporting sales quarterly also places us in line with most other large retailers.
Wal-Mart wasn't the first chain to stop reporting monthly sales, but as the largest retailer in the world, they were certainly the most significant, with domestic sales alone accounting for nearly 10% of all U.S. retail (excluding auto and restaurant) sales. It's also perhaps no coincidence that they, like most companies when they stopped reporting, were going through a period of particularly poor performance.
Our own view is that we now live in an on-demand, nearly real-time business intelligence world where retailers have all the relevant data at their fingertips. In a recent Reuters article suggesting yearly and quarterly financial reports seem stuck on an industrial-era pace that some say was obsolete decades ago, former SEC chairman Harvey Pitt put it this way:
Almost any company with rational management tracks its performance daily and makes critical business decisions on the basis of data and trends that should be distilled and published for public consumption.
Paul Miller, a University of Colorado accounting professor, asks:
If I'm an investor, why can't I go on the Web and see what the Wal-Mart sales are today? Instead, investors have to wait to find out what happened months ago. It's a constant state of incomplete information and the consequence of that incompleteness is discounted stock prices, which means a higher cost of capital.
There are many excuses offered by companies, but here are a few:
Cost and effort. As stated above, we're talking about information that nearly every company uses on a daily basis to make business decisions, so the cost and effort of putting the data (which is always unaudited) into a press release once a month should be minimal. Even companies that years ago stopped reporting monthly sales, including Best Buy, Toys "R" Us and Barnes & Noble make sure to report monthly performance during the Holiday season. And Wal-Mart still manages to leak internal memos and discuss monthly results when they feel it could benefit them.
Stock price volatility and short-term trading. Several companies have mentioned that they are eliminating outdated practices that encourage short-term decision-making and can confuse investors. However, as we have seen from companies that stopped reporting, such as Aeropostale, the lack of timely information can lead to even larger plunges in stock prices later, as investors aren't armed with accurate information in between quarterly reports. If retail executives are making short-term decisions to juice same-store sales, that's a separate issue entirely, and changing reporting schedules isn't going to solve a company's woes.
Analysts are mixed on whether reporting on a monthly basis is beneficial to companies and shareholders, with two decidedly different views:
The more information the better. More information helps us determine the true value of the company." --Michael Baron, an analyst for Baron Capital Inc. in New York

As we have stated for some time, refraining from monthly comp reporting is a good way to align how management thinks about the business to the interest of long-term shareholders.

--Wall Street Strategies analyst Brian Sozzi, in a research note late last year
We are actually quite surprised there hasn't been more of a backlash from shareholders. In fact, there has only been one significant example of a chain discontinuing monthly reporting only to be convinced by investors the decision was a mistake.
After a particularly tumultuous 2007 Holiday season, Macy's (M) announced it would no longer report monthly sales after January 2008:
"The numbers are increasingly confusing because of the calendar shifts," Jim Sluzewski, a spokesman for Macy's, told The New York Times. He added that the monthly numbers encourage "a short-term orientation, which is not the way to run a business."
The company was forced to backtrack and once again began monthly reporting in October 2008:
"We want to provide investors as much information and transparency as possible," said Terry J. Lundgren, Macy's, Inc. chairman, president and chief executive office. "While we continue to believe that sales on a monthly basis are an incomplete and sometimes misleading measure of a retailer's performance, we will again provide this information so investors have a sense of the direction of our business on a more frequent basis through this uncertain time."
We are keenly that the retail environment remains extremely tough these days, and especially with the recent volatility on Wall Street companies are loathe to give traders ammunition to affect sharp moves in their stock prices. We also appreciate the fact the same-store sales as a metric has many shortcomings, but there's also a reason it dominates headlines and remains in the toolbox of analysts and investors after nearly 40 years.
It's interesting to note that Mr. Sozzi of Wall Street Strategies somewhat changed his tune recently, telling TheStreet that "I used to think there was a benefit for retailers to move away from reporting monthly results, since it often causes volatility in the stock, but you're taking information away from investors who are used to having these numbers."
Maybe companies should take a lesson from Costco (COST), perhaps the most well-run and shareholder-friendly retailer in America, who (by the way) continues to release detailed performance data and commentary every month.
The first thing executives at most chains mention is their obligation to drive shareholder returns. When Jim Sinegal, CEO of Costco, lists the 4 core values of the company, investors are conspicuously absent:
Obey the law
Take care of your customers
Take care of your people
Respect your suppliers
In other words, successful retailers focus on what they can control: keeping consumers coming back with products they want at prices they can afford, while offering them great service, all the while providing shareholders the information and transparency about what you're doing and why you're doing it. Everything else will take care of itself.
"Driving stock up from one day to the next is not what we are about. We are about building a good company and performing for the long term. I know everyone says that, that sounds trite when I repeat it that way, but that is and has always been our attitude about our business. If we do the right things, the stock price will take care of itself, and our shareholders will be rewarded.

--Jim Sinegal
Disclosure: I have no positions in any stocks mentioned, and no plans to initiate any positions within the next 72 hours.