Millions of people are going to be affected when hurricane Irene hits land in the heavily populated northeastern section of the United States. Along with being heavily populated this area consists of a large portion of the country's gross domestic product along with having one of the strongest financial economies within the country. I believe the effects of this hurricane will be felt throughout the U.S. economy as it will cause damage to several industries. Below is a look at the industries that could be affected by hurricane Irene along with individual stocks that could be affected during the next several weeks.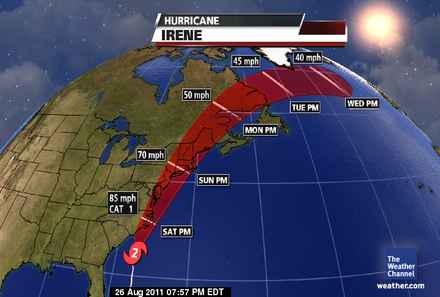 According to the chart above, hurricane Irene will arrive in New York City and other heavily populated areas on Sunday night with winds of 85 MPH. With several meteorologists suggesting the possibility of this storm growing in size, the east coast has been put on alert. Mayor Michael Bloomberg urged New York City residents in low-lying areas to begin evacuating the area by Friday. The mayor continued to inform that officials expect to shut down the city's entire transit system as of Saturday afternoon, and warned that it will probably not be fully operational for the opening of business on Monday.

A hurricane of this size will most likely cause extensive tree and power line damage possibly affecting tens of millions of Americans. The likelihood of experiencing high water levels for local bays and significant flooding for much of the area should be expected. A storm this impactful is both rare and devastating to the country on many different levels.

There is never a good time for natural disasters but with a fragile economy I do not believe it could have come at a worse time. Along with the millions of people this storm will affect, it will also impact several areas of our economy.

It is difficult to predict the size of the storm when it reaches the Northeastern section of the United States. It is also difficult to judge the long lasting effects that this storm could possibly bring, especially if it were to grow larger than meteorologists are expecting. Since so much uncertainty still remains we must hope for the best and prepare for the worst. I believe that it is important to look at which industries and companies could possibly be affected by the storm.

Electric Utilities are severely affected by hurricanes of all sizes. Hurricanes usually tear down power lines or cause trees to fall on power lines, which require manpower and time to repair. It can sometimes take weeks for an electric company to make all necessary repairs and for the system to be fully operational. During this time the company is not creating revenue and has increased costs because of the storm. In some cases, such as happened after Hurricane Katrina, workers are unable to reach the areas in need because of excess flooding. A good example is Entergy Corporation (NYSE:ETR), which filed for bankruptcy protection in 2005 after Hurricane Katrina, for reasons listed above. Here are some electric utility companies located in either New York City or Boston that could be affected by the storm.
Consolidated Edison (NYSE:ED) provides electricity, natural gas, and steam services to New York City and Westchester county. ED provides electricity for more than 3 million customers in the New York City area.
National Grid (NYSE:NGG) is an international electricity and gas company. The company delivers electricity to more than 3.3 million customers located throughout the northeastern section of the United States.
Northeast Utilities System (NU) is a public utility holding that operates in several subsidiaries in the northeastern section of the United States.
The financial sector, which includes banking and insurance industries, has historically experienced the effects of large hurricanes. Small local banks usually experience the most distress since after a destructive hurricane mortgages may stop getting paid, foreclosures increase, and deposits slow down. However in cities such as Boston and New York large banks could be affected. These two cities and the surrounding states to be affected combine to equal a large portion of our country's income. Insurance companies are usually affected in a worse way than banks. Insurance companies receive claims in heavy volume during the days and weeks that follow a hurricane. The claims can range from property and auto to life as policy holders look to the insurance company to help rebuild. The National Flood Insurance pays out a large portion of the claims but it does not come close to the total that is requested from the policy holders. Below are the top banks and insurance companies in New York City, Boston, and the surrounding states to be affected. Click here to read more regarding the largest banks in New York City based upon assets according to the Federal Reserve in 2010.
Historically the financial and utilities sectors are impacted the greatest as a result of hurricanes. However, this Northeast is rarely affected by these storms and differs from the usually hit southern cities in the country. This area is very populated and relies on a variety of industries for its economy that could be affected. I believe the airlines will be significantly impacted throughout the next week. We do not know and cannot prepare for the floods that could come over the next few days. A large portion of these states are at or near sea level. Therefore I expect a wide range of heavy flooding which will affect airlines, probably closing the airports. With most cities this would be tolerable for the airline industry but the amount of travel that runs through New York and Boston is enough to significantly affect the revenue of Delta Airlines (NYSE:DAL), United Continental (NYSE:UAL), and Southwest Airlines (NYSE:LUV).

The damage could be severe and while we hope for the best we must indeed prepare for the worst as both citizens and investors. If I owned stock in any of the above companies I would be watching and listening to the developments of this storm closely. I expect Wall Street to be affected by the hurricane and see a large amount of loss next week following the event. I expect for these industries to be hit hard with a focus on the financial sector. The financial sector is the first to fall as the result of any economic event but with an event that could eventually affect the companies directly, I expect to see large loss. Hopefully I am wrong and this turns out to be nothing more than a severe thunderstorm that weakens as it approaches these heavily populated areas. But if the storm lives up to its publicity, then these stocks will most likely be affected along with 100's of other stocks that have not been mentioned.

Click here for information on North and South Carolina's economic impact.

Disclosure: I have no positions in any stocks mentioned, and no plans to initiate any positions within the next 72 hours.