Total Return of Stocks with the Largest Following on Seeking Alpha
Some of Seeking Alphas most followed stocks, for instance, Apple, have had outstanding total returns.
Others have not fared as well.
Let's look at the data and see how the most followed SA stocks have done over time frames from 1-year through 10-years.
I keep a database of stocks and one of the things I track is the number of people who have signed up for email alerts specific stocks. This data can be seen when you look up a stock on the SA site: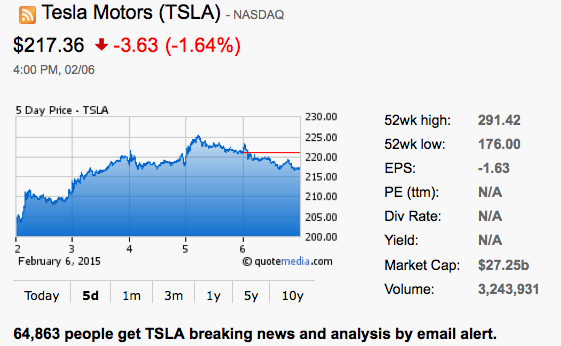 This data gives us some indication of the stocks that the SA community is most interested in.
I thought it would be thought provoking to combine this data with the annualized total return data from Morningstar to analyze how the most followed SA stocks have done over various time frames. In an earlier article, I examined how the most followed stocks at Seeking Alpha performed in 2014. In this article, we will examine how they have performed over a number of different time frames.
Morningstar calculates the total return as follows:
"Expressed in percentage terms, Morningstar's calculation of total return is determined by taking the change in price, reinvesting, if applicable, all income and capital gains distributions during the period, and dividing by the starting price."
The Most followed Stocks: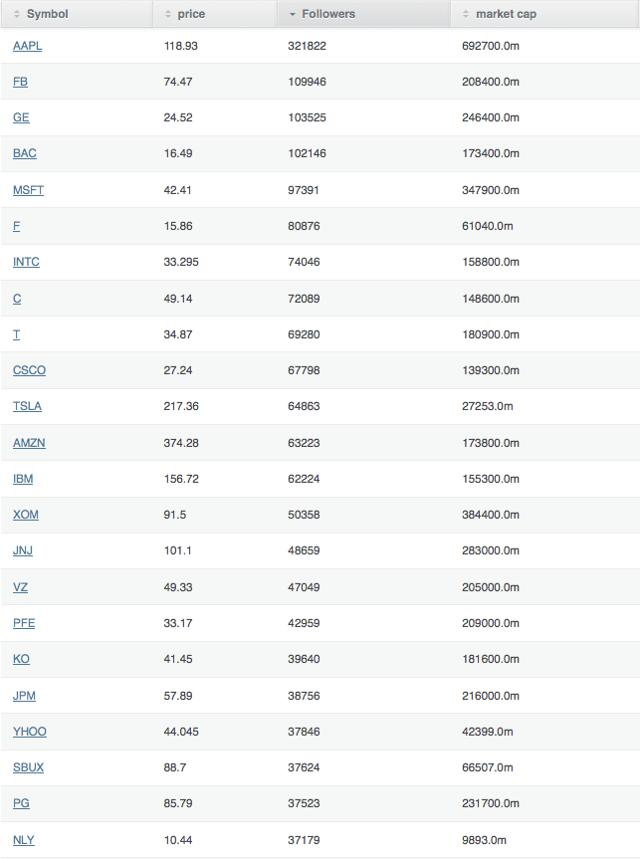 We excluded Google (NASDAQ:GOOG) (NASDAQ:GOOGL) because we do not have historical return data from Morningstar for Google. This is related to Google changing their share types.
SPY is included for the purpose comparisons.
The most followed stocks are all large caps, market cap > 10 Billion, many are mega caps, market cap > 200 billion. (NLY is right on the cusp of 10 billion dollar market cap.)
1-Year Total Returns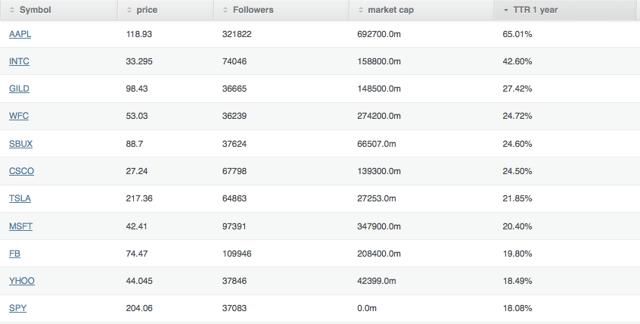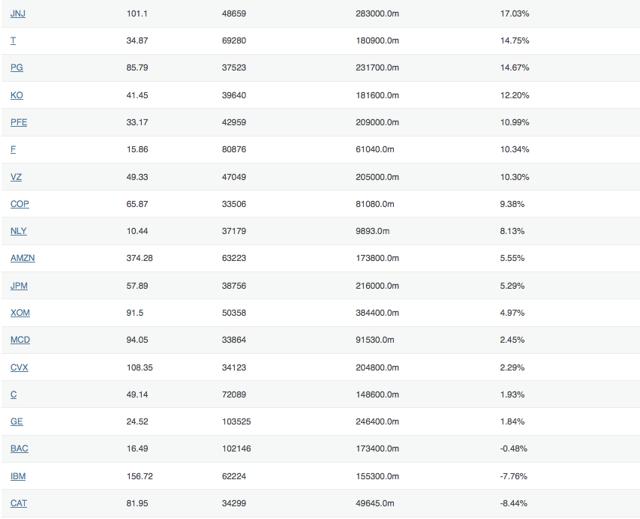 10 stocks had a better total return than SPY:
Apple (NASDAQ:AAPL)
Intel (NASDAQ:INTC)
Gilead Sciences (NASDAQ:GILD)
Wells Fargo & Co (NYSE:WFC)
Starbucks (NASDAQ:SBUX)
Cisco (NASDAQ:CSCO)
Tesla (NASDAQ:TSLA)
Microsoft (NASDAQ:MSFT)
Facebook (NASDAQ:FB)
Yahoo (YHOO)
19 Stocks trailed SPY in total return:
Johnson & Johnson (NYSE:JNJ)
AT&T (NYSE:T)
Proctor & Gamble (NYSE:PG)
Coca-Cola (NYSE:KO)
Pfizer (NYSE:PFE)
Ford (NYSE:F)
Verizon (NYSE:VZ)
ConocoPhillips (NYSE:COP)
Annaly Capital Management (NYSE:NLY)
Amazon (AMXN)
JPMorgan Chase (NYSE:JPM)
Exxon Mobile (NYSE:XOM)
McDonald's Corp (NYSE:MCD)
Chevron (NYSE:CVX)
Citigroup (NYSE:C)
General Electric (NYSE:GE)
Bank of America Corp. (NYSE:BAC)
International Business Machines (NYSE:IBM)
Caterpillar (NYSE:CAT)
3-Year Total Returns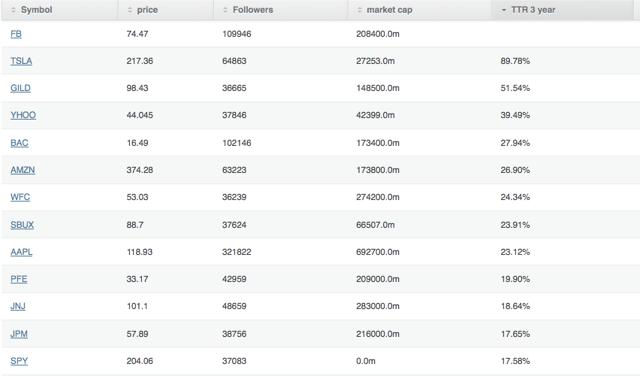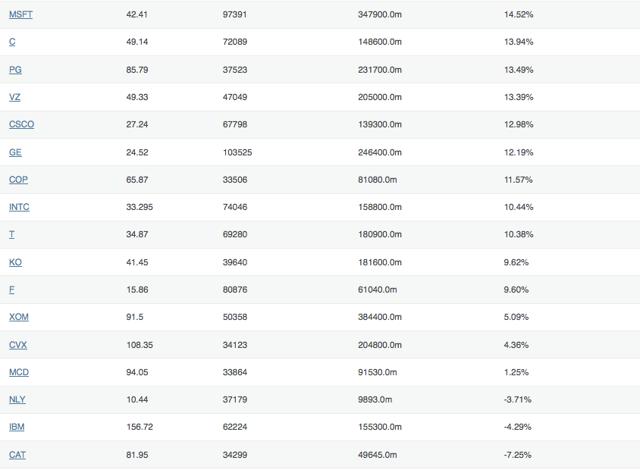 FB does not qualify
11 stocks outperformed SPY: TSLA, GILD, YHOO, BAC, AMZN, WFC, SBUX, AAPL, PFE, JNJ and JPM
17 stocks underperformed SPY: MSFT, C, PG, VZ, CSCO, GE, COP, INTC, T, KO, F, XOM, CVX, MCD, NLY, IBM and CAT
5-Year Total Return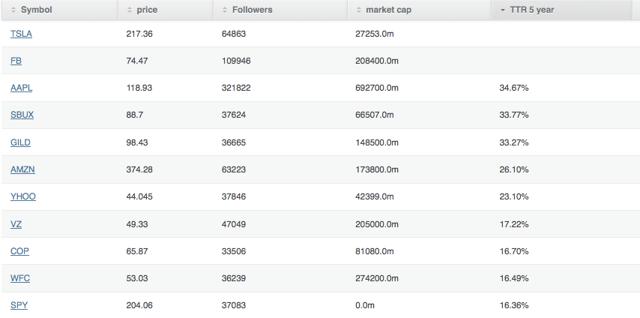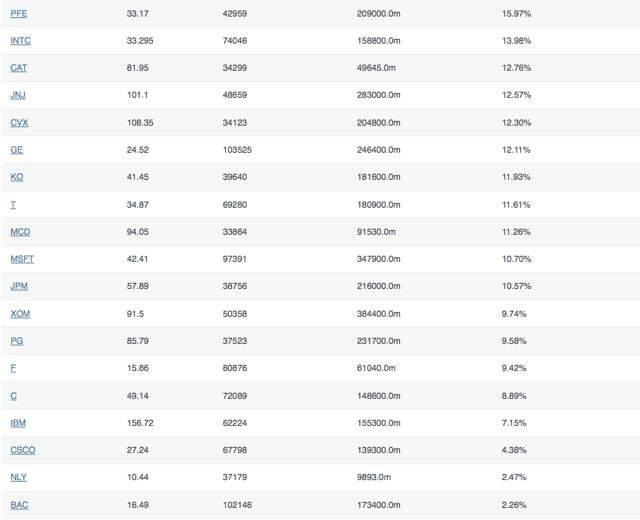 FB and TSLA do not qualify
8 stocks outperformed SPY: AAPL, SBUX, GILD, AMZN, YHOO, VZ, COP, WFC
19 stocks underperformed SPY: PFE, INTC, CAT, JNJ, CVX, GE, KO, T, MCD, MSFT, JPM, XOM, PG, F, C, IBM, CSCO, NLY, BAC
10-Year Total Returns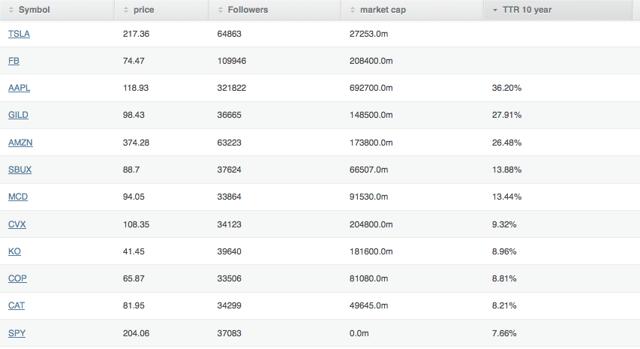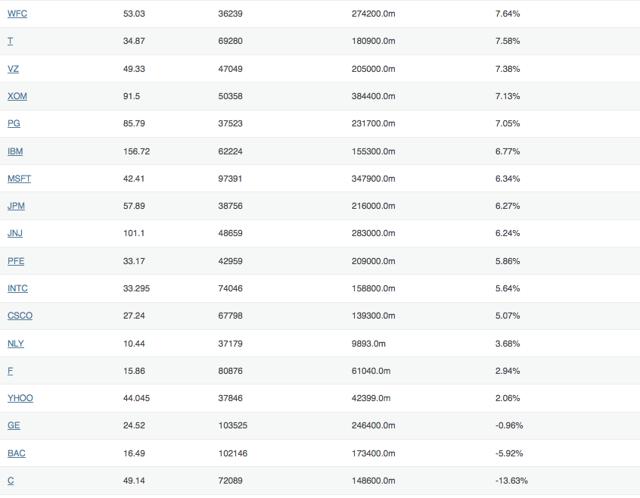 FB and TSLA don't qualify.
9 stock outperformed SPY: AAPL, GILD, AMZN, SBUX, MCD, CVX, KO, COP, CAT
18 stocks underperformed SPY: WFC, T, VZ, XOM, PG, IBM, MSFT, JPM, JNJ, PFE, INTC, CSCO, NLY, F, YHOO, GE, BAC, C
Total Returns All Time Frames Relative to SPY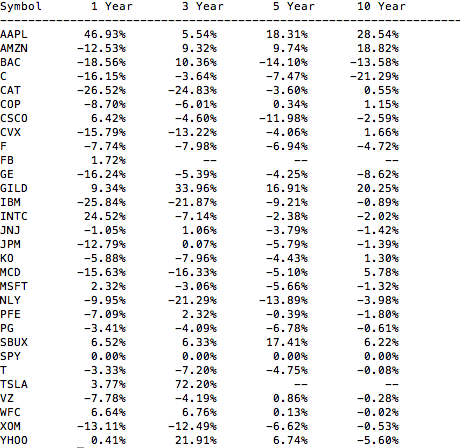 Stocks that outperformed SPY over every time period: AAPL, GILD, SBUX
Stocks that trailed SPY every time period: C, F, GE, IBM, NLY, PG, T, XOM
Champions, Challengers, and Contenders
Here are the stocks that are on David Fish's lists of Champions, Contenders, and Challengers (List from 12/31/2014):
Champions: CVX, KO, JNJ, MCD, PG, T, XOM
Contenders: CAT, COP, IBM, MSFT, VZ
Challengers: GE, PFE, SBUX
As a whole the champions, contenders and challengers that have the most followers, did not perform well over the specified time frames. Many DGI investors do not worry about price and are only concerned with dividends, and dividend growth, so the total return statistics may not impact their investment decisions.
Those who are concerned about total return may want to consider why these stocks have underperformed. In an environment with low bond rates, many income investors have turned to dividend paying stocks. The high profile large caps, with good dividend histories are an obvious place to look for income. This in turn drives up the prices, making it hard to find good entry points.
Caveats
I do not have historical data on stocks SA readers have followed in the past. It may be that the stocks being followed today are not the most followed stocks of past years. It would be nice to know how stocks that were most followed five years ago have done over the last five years. On the other hand, these are the stocks that readers are most interested in now and from what I have observed most of these stocks have had a large followings for a number of years and have had a lot of articles about them published on SA.
These are stocks that SA readers have signed up to receive email about. It is not clear how closely it correlates with what they own.
CONCLUSIONS
The most followed stocks that have had the best performance are growth stocks: AAPL, GILD, and SBUX. Many of the most followed and discussed value stocks have underperformed over most time frames: XOM, IBM, T, GE and JNJ, for instance.
Amongst the stocks studied more trailed the SPY than outperformed it, but this does not mean that an investor who invested in these popular stocks is trailing the market. We only tested specific time frames, while investors' results will be based on the timing of their distinct purchases. It's worth pointing out that while finding alpha is always difficult it may be even more difficult when selecting from a list, like this one, of closely scrutinized stocks.
I am not a professional advisor or researcher. I am an individual investor who studies investing and shares my thoughts. I encourage all investors do their own due diligence and please share your findings. I strongly feel the best thing about Seeking Alpha is the sharing of ideas. Please comment; I value your input. Divergent opinions are welcome.
Disclosure: The author has no positions in any stocks mentioned, and no plans to initiate any positions within the next 72 hours. The author wrote this article themselves, and it expresses their own opinions. The author is not receiving compensation for it (other than from Seeking Alpha). The author has no business relationship with any company whose stock is mentioned in this article.