I made money following this strategy during the last two market crashes in the SPDR S&P 500 index (NYSEARCA:SPY). I played the S&P 500 through the SPY exchange traded fund without using any leverage. You could play variations to this strategy using futures or options. I prefer not to use leverage in my long term portfolio because this allows me to ride the volatility without having to worry about margin calls.
Many investors get scared during broad market selloffs and are not sure how to properly position themselves. Most broad market selloffs get oversold and I believe that will happen once again. It can be scary to buy in the middle of an economic collapse, but that is what creates the opportunity. If that didn't happen, you would never be able to get that bargain price and stocks would always be fairly valued. The reality is that markets always move from one extreme to the next. The portion of my portfolio that I allocate to this strategy may at times have a large amount in cash. If you are uncomfortable with this, be sure to make an adjustment when trailing your position.
The S&P 500 is a good instrument to use with this strategy because it is a representation of the US economy. By investing in a diversified instrument that covers the major industries, you minimize the risk of investing in a sector that may not participate in an economic recovery.
This strategy is very simple. First, you have to be confident in the instrument you are investing in. In this case, you have to believe that the SPY will survive and will not go down to zero. There is always a risk that this could happen. After all, the flash crash did have many stocks that hit zero within a matter of minutes.
Next, you have to determine a risk amount. This is the total amount of money that you are willing to lose on this investment. You will then break up the risk amount into a predetermined amount of group purchases. For example, I divide my purchases into four groups. I recommend that you customize the amount of purchases to your risk tolerance. I purchase stock in a x, x, 2x & 4x tiered structure. The "x" represents a fixed amount of shares to be determined by the investor. This creates an average price as the stock drops.
Below is an example of how you would have executed the trade during the financial crisis. The example also assumes if you planned to accumulate a total maximum position of 8,000 shares.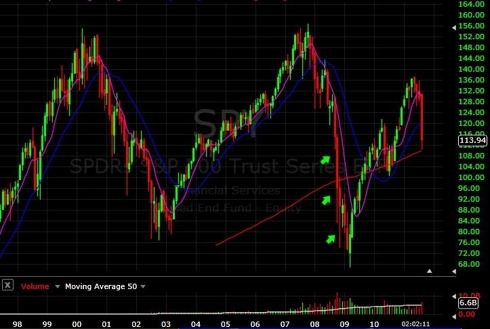 Our first buy of 1,000 shares took place at $109 which started our position. This was when the SPY was down 30% from the most recent high. As SPY started to decline we added an additional 1,000 shares at $94 which brought our average price on 2,000 shares to about $101.50. We got another opportunity to add 2,000 shares when the SPY declined to $78. This brings our total position at this point to 4,000 shares, with an average price of about $89.75. As you can see, the trade performed well. Unfortunately, the trade never made it to my last buy area around $62, so I wasn't able to get my 4th buy in. The 4th buy would have been to purchase an additional 4,000 shares. Below you will find the guidelines I used to arrive at the purchase prices.
Here are some general guidelines I use in my own personal trading:
I start my first buy once the SPY is down 30% and buy in 10% increments all the way down until my position is fully invested. I calculate my percentages from the highest peak of the last big rally. Once I'm fully invested, I just wait for the market recovery and take profits once my targets are hit. You could make adjustments by starting your position when the market is down 40% or more, but that depends on your risk tolerance.
When taking profits, I start selling when I'm up 30% and take profits in 20% increments thereafter. For example, if I have 4,000 shares of SPY, I might take 1,000 shares off when I'm up 30% on my full position, then sell another 1,000 shares when I'm up 50% on the position. I will then continue process until I'm flat the position. The profit taking percentages are based from the most recent low the SPY created in the selloff.
I played the SPY this same way during the dot com bubble bust and financial crisis. I plan to purchase the next selloff this way as well. I'm currently using 137 as my high to calculate my buy percentages. This will then put my first buy in the $96 area.
NOTE: This strategy is not for new investors and may not be appropriate for your individual situation. This is for educational purposes only and is the opinion of the author. This is in no way investment advice so be sure to consult your financial advisor before making or following any investments.
Disclosure: I have no positions in any stocks mentioned, and no plans to initiate any positions within the next 72 hours.