The Lawsuit:
The company lawsuit against BDT starts on August 29th. Overland Storage (NASDAQ:OVRL) launched litigation against BDT AG and BDT-Solutions GmbH based in Germany and BDT products in Irvine, California. The complaint broadly claims infringement of BDT's products and it specifically identifies BDT's FlexStor II product line as infringing on Overlands Storage patents.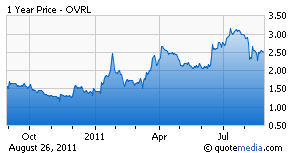 BDT is the largest tape provider in the world (60-80% of the market). OVRL claims that BDT infringed on its patent and started selling equipment to HPQ. Defense of the litigation for BDT could eclipse $50mm, which is equal to the market capitalization of Overland. BDT won the contract with HP approximately 5 years ago by giving a discount with an identical product. The HP business represented 70% of Overland's revenue (approximately $150mm per year).
Overland is represented by DLA Piper (the largest law firm in the world), with the case taken on contingency. John Allcock (lead counsel) has never lost a case in his career; he's taken 71 infringement cases to trial and won. The win number does not include settlements. The suit was filed with the ITC (International Trade Commission) where DLA is 9-for-9 in their cases. The only strategic advantage to filing in the ITC is speed…approximately 15 months to decision by the ITC and there are no delays.
It is also important because the ITC can stop shipments of products to U.S. tape customers any time during the process if BDT get sanctioned for any reason. IBM, Dell (DELL), and HP OEM customers may have to start qualifying a new OEM 6 to 9 months in advance of the trial in August 2011 to prevent customer product delays or disruption. There will be a domino effect when the order is delivered by the ITC.
I would expect a settlement between September 15th and the end of October. If a final decision is reached without a settlement, the timing should be November 2011. A win for the company would be worth more to investors than just the multiple point rise in the stock. A win would also open up the potential to add many more defendants to the litigation, with several more points of potential upside.
This is a case of a potentially huge win for shareholders with limited downside. If the case is not successful, shareholders still have a storage company selling for (0.5x EV/FY12E revenue) in an industry that has seen several buyouts in the 5x-10x EV/Revs. It also has a solid management team and a history of growing the top line while cutting expenses.
Disclosure: I am long OVRL.
Additional disclosure: I run a fund that may trade OVRL at any time. I also consult clients that may choose to trade in OVRL at any time.