Philip Morris International, Inc. (NYSE:PM) continues to shine as a dividend growth stock. Philip Morris is the leading international tobacco-product company. The company operates in about 180 countries. The company's 2010 net international tobacco market share was 16%. If China is excluded, then PM owns a 27.6% international market share. PM, in 2008, was spun off from Altria (NYSE:MO). Growth prospects loom in China.

Business Model Includes Finding Technology to Reduce Tobacco-Harm
Part of Philip Morris' business model is focused upon finding new technologies which reduce tobacco's alleged negative health risks. To a certain degree, this is being done to improve the tobacco's company image. On the other hand, PM benefits if its customers are not harmed from tobacco products.

One specific action, on May 26th, is the private acquisition of a promising technology to reduce nicotines' negative health impacts:




Market Share
PM is either the number one or two top seller in 22 of the top 30 international markets. PM does not sell tobacco in the U.S. Philip Morris International was spun off from the company structure currently known as Altria (MO). Due to the high growth in non-U.S. markets, PM has a distinct advantage over Altria which sells tobacco domestically.

2nd Quarter Financial Results:
Here are some key Philip Morris International (MO) second quarter highlights:
PM's adjusted diluted earnings per share (EPS) grew 21.0% year-over-year,
PM experienced growth in the Asian region. This includes Indonesia, Japan,
Korea, and the Philippines,
The key profitability driver is the ability to raise packaged cigarette prices,
PM raised their 2011 EPS guidance. The increase was from a prior $4.70-2011 EPS-estimate to a $4.80-2011 EPS expectation,
PM earned $3.87 EPS in 2010. The 2011 EPS expectations represent a 22-25% growth rate based upon current currency exchange rates. If currency exchange rates are not factored in, the growth rate represents a 15-17.5% increase.
Philip Morris International has a $122 billion market cap. The current dividend yield is 3.7%. The average price-to-earnings (P/E) ratio has been 14.3x. Earnings are growing at approximately a 13.4% rate per annum.

Brand Names
Investors and smoker will know the leading Philip Morris International brands. Some are more popular in specific countries versus other countries.
Marlboro is among the top 5 brand names of all products.
Other popular PM international brands include: Bond Street, Philip Morris, Chesterfield, and Parliament.
Philip Morris International (PM) vs. S&P 500: 3-Year Analysis
PM has provided an impressive 22.1% return for the past 3 years. This exceeds the same S&P 500 return over the same time frame. The S&P 500 returned a 12.2% annual return. Click to enlarge:




2011 - 2020 Growth Expectations
Below you will find PM's 10-year earnings and dividend estimates. Despite one's views about investing in tobacco, it is apparent the EPS and dividend growth are intriguing. The year 2016, currently 5 years out, looks like PM may trade for $121.71 per share and yield a $4.69 annual dividend.

In my opinion, the above projections are conservative. PM fiscal staff are conservative in their fiscal guidance. Smokers will buy cigarettes. I, like many, have friends and relatives who cannot quit smoking.

Philip Morris International (PM) has a 50-year legal learning curve to fall back on. PM has the advantage of operating in countries that want PM products. PM can provide warning labels, tobacco education, establish political ties, and provide a desired brand name.

These experiences and legal rulings, to fall back upon, were based upon the company's prior tobacco experiences in the United States. PM has top tier lawyers working to ensure each country has legal precedent and proper approaches to avoid future litigation - to the extent the company can.

Brass tacks: I would not want to bet against PM lawyers operating in new international markets.

Please note the anticipated "dividends per share" growth column. In difficult economic times, cigarettes are a product deemed a "necessity" for smokers. It has been, it currently is, and it is likely to continue to be so in future years.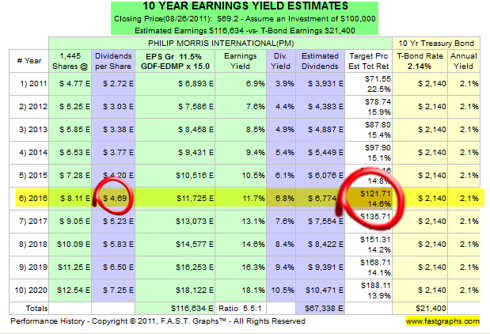 Debt Levels
PM fiscal staff have continued to focus upon reduced Philip Morris International's debt level. In my conservative judgement, the present 72% is a high number. PM has dedicated financial resources to pay higher dividends, buying back shares, and reducing debt levels.

PM is an advantageous position of a free cash flow business full of opportunities. The company works on positive shareholder returns. Long-term debt is gradually decreasing. The company also continues to purchase accretive acquisitions which only make Philip Morris International stronger.

Dividends and Share Repurchases
As most Altria and Philip Morris investors are aware, management is focused upon shareholder returns. This includes frequent dividend increases and the repurchase of outstanding shares. Current quarterly dividends are 64-cents per share.

The company, in aggregate for 2011, will allocate $5 billion to repurchase PM shares.
For the quarter ending June 30th, PM spent $1.5 billion to
purchase 22.7-million Philip Morris International shares
at an average price of $68.32 per share,
Since the spin-off from Altria, 17.9% of Philip Morris International shares outstanding have been repurchased,
Fewer outstanding shares means the distributable dividend grows as there are fewer shares to pay out in net quarterly dividends.
Summary
When Philip Morris International was spun off from Altria, PM clearly was identified as the growth story. Altria (MO) was known as the cash cow business. U.S. cigarettes have a significant mark-up due to taxes.

I am a non-smoker. I do own PM in some accounts, but not all accounts. If anyone has a relative who has gone through allegedly tobacco-related cancer, the process is not pleasant. The product, legally speaking, is "acceptable" to buy and the consumer makes the final decision. Whether to own Philip Morris International (PM) is one to make on an individual basis.
| | | | | |
| --- | --- | --- | --- | --- |
| Company | Symbol | Price | Yield | Debt vs Market Cap |
| Altria | MO | $26.30 | 6.2% | 69% |
| British American Tobacco | BTI | $87.58 | 2.8% | 48% |
| Lorillard | LO | $110.11 | 4.7% | 10% |
| Philip Morris International | PM | $69.20 | 3.6% | 73% |
| Schweitzer-Mauduit | SWM | $57.05 | 1.00% | 16% |
| Reynolds American | RAI | $36.57 | 5.8% | 36% |
| Universal | UVV | $38.29 | 4.9% | 29% |