It was not until late Friday, I had finally decided who will become the largest gold royalty company, Royal Gold (NASDAQ:RGLD) or Franco-Nevada (FNNVF.PK). My decision now favors Franco-Nevada for three reasons.
Royal Gold has peroformed absolutely fantastically YTD, closing at an all time high today of $75.75/ Share. While Franco has lagged on a relative basis.
Its largest rival Franco-Nevada acquired a 22% streaming interest in the Prosperity project. This is one of the largest undeveloped gold-copper deposits in Canada which will produce 300,000oz of gold for well in excess of 30 yrs although the current 2p reserves allow for a 25.5 year mine life.
With Franco accumulating streams instead of royalties left and right, they have given its investors leverage to the change in the gold price.
Not only does Prosperity propel Franco's long term production growth, but it came a very cheap cost. Because the deal between Tesako and Franco had taken place about one year ago, when gold was much lower. Franco is only required to issue Taseko 2m warrants + 350m in cash in exchange for 66,000oz/yr @ 400/oz for what I think will turn out to be well in excess of 30 yrs although using just 2p reserves indicate a 25.5 year mine. Below are the NAV's of Franco's streaming portfolio and other cornerstone royalties.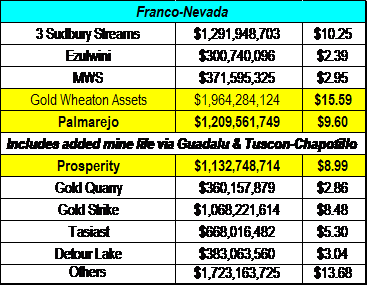 [Click images to enlarge]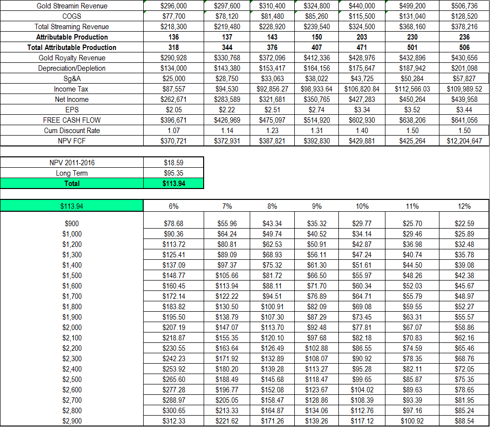 Silver Wheaton (SLW) - Discounted Cash Flow Valuation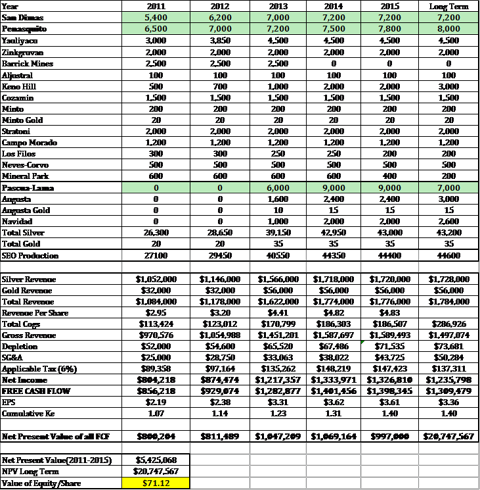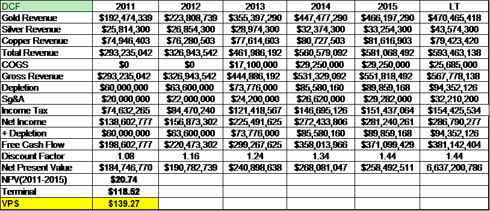 Sandstorm Gold (SNDXF.PK) Valuation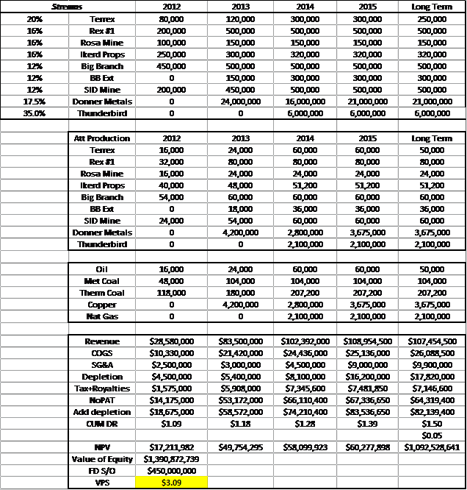 So who is the giant in the gold royalty space? France Nevada has officially overtaken Royal Gold for the time being.