The Baltic Dry Index (BDI) is a composite of the Baltic Capesize, Supramax, Panamax, and Handysize Indicies. It is useful in determining the cost to move materials by sea.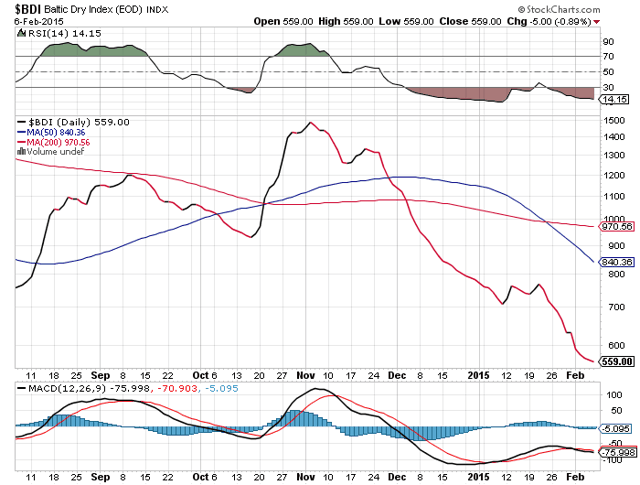 Source: stockcharts.com
Over the last three months the BDI has dropped over 60% at a pace not seen since the months prior to the Great Recession and nearing all time lows set just a year before Black Monday in October of 1987.
Shippers who subsist off daily spot rates and short term charters like Dryships (NASDAQ:DRYS) and Star Bulk Carriers (NASDAQ:SBLK) have seen their stocks collapse, down 23% and 56% respectively over that same period. Q1 of 2015 looks to be shaping up to be one of the roughest quarters in recent memory with BDI at such depressed levels.
Those who prefer contracts over daily spot rates, like Diana Shipping (NYSE:DSX), also face challenges in the near term. One fifth of its charters are set to expire in the month of February and striking profitable contracts amid this depressed environment could prove challenging.
But this turmoil may last well beyond the current quarter. Several factors are at work to create this perfect storm in the shipping sector. One of the main problems is a current oversupply of vessels.
So will bankruptcies or scrapping solve the problem of oversupply in the near future?
Even though major shippers like Genco Shipping (OTCPK:GSKNF) and Eagle Bulk Shipping (NASDAQ:EGLE) filed for bankruptcy in 2014 it did little to alleviate the glut in vessels. In many other industries when companies go bankrupt or cease operations some supply may be removed from the equation. But shipping is not like that. Ships from bankrupt companies are sold to others and put into service thus maintaining the supply. Often these vessel sales occur at reduced prices which consequently lowers the break even rates allowing for reduced day rates or contracts. Therefore, no excess capacity is really ever curtailed as a result and rates continue to see downward pressure.
So if bankruptcies aren't the answer maybe scrapping will present a solution?
Scrapping rates over the last few years have been quite high.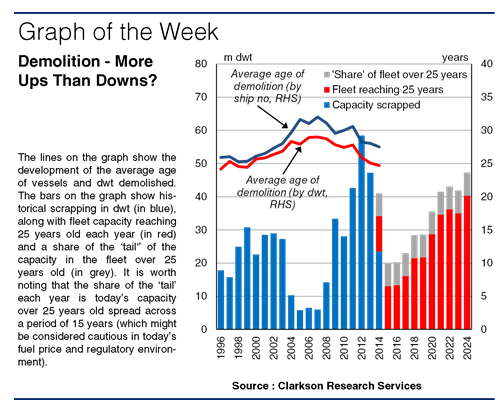 Source: Clarkson Research
However, as the graph indicates, scrapping will most likely not continue at that pace. The massive fleet that was ordered in the early 80's and delivered over the following years, as shipping prices collapsed, has been cleared out.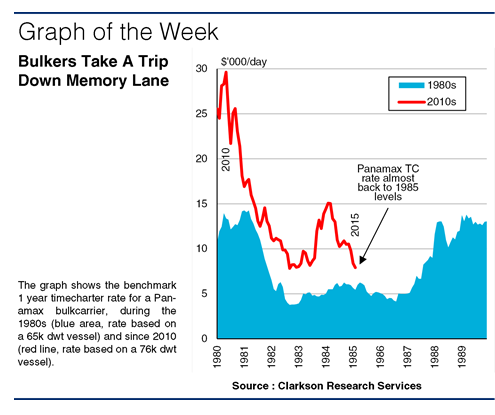 Source: Clarksons Research
The price collapse of the early 80's combined with high interest rates and a recession following the oil crisis of 1979 lead to a slump in new vessel construction.
The high scrapping rates seen in 2009-2014 were the result of this aged fleet being retired as the average age of a vessel sold for demolition was almost 30 years. The same way those builds back in the early 80's contributed to heavy scrapping 30 years later, the lack of new builds in the mid to late 80's will contribute to low scrapping rates over the next few years.
On top of that, the massive amount of new orders placed prior to the Great Recession have recently been delivered with new deliveries peaking in mid 2012. Currently the industry finds itself with a much younger fleet with an average age of just 9 years old. The Wall Street Journal estimates that the size of the world's current dry bulk fleet exceeds demand with an oversupply of 20%.
Conclusion
The oversupply problem in the dry bulk sector won't be corrected anytime soon. Bankruptcies won't provide any relief and may in fact exacerbate the problem. Scrapping won't be of much help either with such a young fleet. For now it looks like dry bulk shippers will be at the mercy of the global economy which is facing headwinds in the form of declining commodity prices, a slowdown in China, and turmoil in Europe.
Disclosure: The author has no positions in any stocks mentioned, and no plans to initiate any positions within the next 72 hours. The author wrote this article themselves, and it expresses their own opinions. The author is not receiving compensation for it (other than from Seeking Alpha). The author has no business relationship with any company whose stock is mentioned in this article.