Over the last couple of weeks I've been taking a long-term look at real estate investment trust (REIT) valuations for leading REITs. A regular flow of community comments about REIT overvaluation led me to the effort. Not surprisingly, based on historical trends, REITs like Realty Income Corp (NYSE:O), HCP, Inc. (NYSE:HCP), and Equity Residential (NYSE:EQR) are trading well above historical ranges. And the REIT sector's response to last week's employment report just adds more evidence to support the REIT overvaluation case-in fact, it might best be seen as a BIG FAT warnings sign.
Good news!
CBS MoneyWatch's take on last week's employment report was: "January Surprise: U.S. Jobs Growth Tops Forecasts." CBS quoted Paul Ashworth, chief U.S. economist with Capital Economics as saying that, "The economy is doing so well that it has created more than 1 million additional jobs in the last three months alone. That's the strongest pace of job growth we've seen since 1997." According to the Bureau of Labor Statistics, the U.S. added 257,000 jobs in January.
And while the unemployment rate went from 5.6% to 5.7%, that's more a reflection of the fact that the labor participation rate increased slightly. Essentially, more people appear to believe they can find jobs after dropping out of the workforce because of dim prospects. This is all good news, right? So why did REITs as an asset class fall on the news?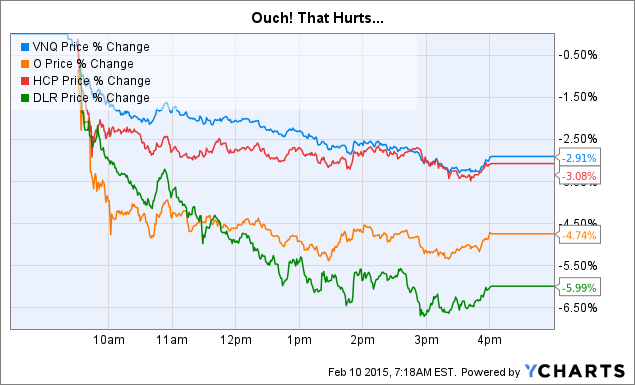 VNQ Price data by YCharts
The answer is pretty simple. Investors got spooked because the positive employment numbers could mean the Federal Reserve starts raising interest rates sooner rather than later. And if rates go up, the premium being afforded to REITs because of low interest rates could very quickly go away. The market's reaction should be taken as a warning sign.
Connect the dots
And here's the evidence. Vanguard REIT Index ETF (NYSEARCA:VNQ) fell nearly 3% on the jobs report news. HCP sold off around 3.1%. Realty Income dropped around 4.75%. And Digital Realty Trust, Inc. (NYSE:DLR) fell a more pronounced 5.99%. These are pretty big moves for investments that are supposed to be slow and steady income generators. In fact, Digital Realty's yield is less than the swift price drop it experienced. So, all of the dividend income an investor would have expected if he or she owned it on February 5th was, effectively, wiped out by capital losses due to the jobs report.
I agree that low interest rates justify higher valuations for REITs. But I've argued that heightened valuations pull future returns forward. So investors are paying more today and, thus, should expect lower returns in the future. That's the trade off and the reaction to the jobs report shows just how sensitive the market is to even a hint of interest-rate-increase risk.
One day doesn't make a market
Now, to be fair, a couple days of market action don't mean all that much for long-term prices. Markets are, as we all know, pretty fickle. And the jobs report is really a backward looking metric, since it reports on what has been and not what might be (In fact, some might argue it isn't all that valuable a report). So jobs could weaken from here and that would mean that the concerns over Fed action have been overblown. But whether or not the reaction was correct isn't the right take away from the market's response.
What you should note from the response is how quickly investors were willing to dump shares of financially strong companies with solid, though surely not spectacular, future prospects. REITs are meant to be tortoises, but they've been increasingly treated like hares. Eventually that will change and investors will be left holding the bag: last one in gets to keep the losses. The reaction to the jobs report shows that a lot of investors are concerned about this very issue. You should be, too.
Disclosure: The author is long O, HCP. The author wrote this article themselves, and it expresses their own opinions. The author is not receiving compensation for it (other than from Seeking Alpha). The author has no business relationship with any company whose stock is mentioned in this article.