As the U.S. Government has committed to keep interest rates at low levels for at least another 2 years, retail income investors are being forced out into the equity markets in search of yield. Who could blame them as CD's and U.S. Treasuries are paying such meager amounts that it just makes more sense to invest in other assets. Now as these investors starts to research where they should invest their money, they are faced with an overwhelming amount of choices.
The amount of options is truly staggering, but in the end you will find that several of these investors will migrate to the energy sector in search of that desired yield. This is pretty easy to predict as the sector is easier to understand for most investors as they can relate to the products. The basic concept is simple and straight forward on the surface in that the companies sell their energy related products and give a cut to the investors. Our new income investor will be attracted by the yield first, but after that they might not give much thought to anything else. Beneath the surface though lies all kinds of potential risks and concerns that need to be addresses.
Although the risks for each company in the energy sector may vary, they still have exposure to the same issues. For example, the distributions are made based upon the products they sell. That is based upon the demand for the product. In a global economic downturn, this demand can quickly fall off. Some companies might put up some form of hedging for protection, but that will only last for a limited time. Another risk will also be interest rates on borrowing funds. These companies usually have large capital expenditure projects to try to replace reserves. Higher interest rates mean higher borrowing costs which can eat into the distribution.
Finally, some companies can experience weather related risk as the wells tend to be in inhospitable environments. Such risks as forest fires, snow, and wet weather can bring production to a standstill. Needless to say, that will have a material impact on the company's financial statements. So our income investor will need to be vigilant with which companies they buy and hold. In an effort to mitigate some of these risks, the new income investor might choose to hold a basket of energy stocks instead of just one or two. Let's take a look at a potential basket of energy stocks and what entities might be included.
Penn West (PWE): If one is going to have an energy basket, then Penn West is one of the companies that should be considered. PWE is a Canadian company that engages in acquiring, exploring, developing, exploiting, and holding interests in petroleum and natural gas properties. The company can boast access to a huge land mass of 6.2 million acres which is plenty of room to grow. The company is also using new drilling technologies such as applying hydraulic fracture-stimulation along a horizontal well. Without going into the technical aspects, what this boils down to is that PWE has a highly effective way to get to oil that otherwise might not be unattainable.
Another reason PWE might make a great addition to the basket is that Penn West owns 15% of the approximate 80 billion barrels that is said to be in place in the Western Canadian Sedimentary Basin (WCSB). That is quite a bit of reserves, but if one were to go to their company reports, one will find they report 661 million BOE of proved and probable reserves. Of that number, only 5% of these reserves are related to the new horizontal drilling technologies, which represent wells that have been drilled using the new technology.
So basically, PWE's reserves are understated by quite a bit. As new wells are drilled over time, the reserve life should be revised. To do this, Penn West in 2011 is estimated to expend C$1.4-C$1.5 billion in capital expenditures for 2011. The company should have access to cash as it has an aggregate borrowing limit of $2.25 billion.
The reported net income for the second quarter of 2011 was $271 million compared to $291 million in the first quarter of 2011, and $745 million in the second quarter of 2010 that included a $572 million after-tax gain recorded on the formation of partnership. Net income remained strong in the second quarter of 2011 mainly due to higher revenues, gains on unrealized risk management items and gains on minor property dispositions.
The drop in income can be related to extreme flooding in Southern Saskatchewan and Manitoba, forest fires in the Slave Lake region and a third party facility issues which all contributed to delays in production. The wet conditions across western Canada have also delayed projects that would have brought production from recently drilled projects in the last few quarters. As the company moves forward they expect to recover most of the production in the fourth quarter as things return to a more normal operation. The current yield is around 6.2% which should do just fine in the basket.
[Click images to enlarge]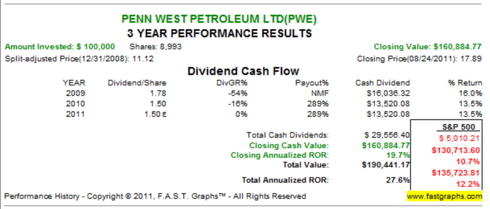 As we look for candidates to fill the basket, we should stay in Canada and consider Enerplus (NYSE:ERF). Enerplus is a Canadian company that engages in the acquisition, exploitation and operation of crude oil and natural gas assets in both the United States and Canada. The energy production is almost an even break of 53% natural gas, 47% crude oil and natural gas liquids. Much like PWE above, ERF has great management that has set their priorities on the growth of the company. The company has stated that its goal is total production growth of 10 – 15% through 2012. The oil production side is where ERF will plan to invest a large portion of its capital expenditures and plan to increase that production by more than 30% over the next two years. The original capital expenditure plan for 2011 was worth over C$650 million, but now has been revised to C$770 million.
To help the growth plan, ERF sold approximately 45% of its Marcellus acreage position in the United States for approximately $568 million and captured a pre-tax gain of $272 million. The final proceeds were used to reduce the outstanding bank debt which now leaves $1 billion that has virtually been untouched at the end of the second quarter. ERF also invested approximately $75 million in undeveloped land which added another 61,000 acres to its land inventory for future use.
The company's dividend is paid monthly and looks to be stable for a long time to come, when considering that its payout rate is running at 55%. The yield is 7.1% which should make an income investor take notice. ERF posted a higher second-quarter profit and earned C$268 million, up from C$76.5 million from a year ago. It should also be noted that the company cut its production outlook for the year as it was hurt by unusually wet weather at some of its properties.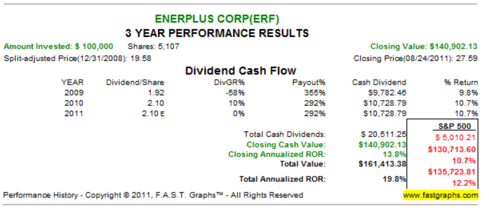 Let's venture south of the Canadian border into the United States for another possible holding for the basket. Linn Energy, LLC (LINE) is a limited liability company that deals in the oil and natural gas business. The company has proven reserves of 2,597 billion cubic feet equivalent of oil and gas and natural gas liquids, as well as 7,097 productive wells. Of this total number of wells, it should be known that LINE does not operate all of its wells and some are in a non-operating status while the characteristics of the drill site can be analyzed.
So the question is why does Linn Energy make a good pick for our energy basket? The answer lies in management's goal, which is to make consistent and growing dividend distributions to shareholders. To aid in this goal, Linn Energy has strengthened its commodity hedge portfolio, with current expected natural gas production hedged at approximately 100 percent through 2015 and oil production hedged at approximately 100 percent through 2013, and 80 percent in 2014 and 2015. LINE knows that there will be volatility in the energy markets as the global demand for energy expands and contracts and they are not willing to take any unnecessary risks. LINE pays its distribution on a quarterly basis and currently that is $2.76 per unit for a yield of 7.90%.
For the second quarter, LINE recorded profits that fell a bit short of market expectations. The company blamed it on the June production amounts that were affected by bad weather. On top of this Linn Energy entered into an equity distribution agreement with Citigroup (NYSE:C) Global Markets. In this agreement, LINE may offer and sell units having an aggregate offering price of up to $500,000,000 from time to time through Citigroup. On the positive side, the company raised its quarterly cash dividend by 5 percent to $0.69 per unit. Also for the April-June quarter the adjusted net income was 47 cents per unit, compared with 36 cents a share a year ago so things are moving in the right direction for the company. This company should be a fine addition to the energy basket.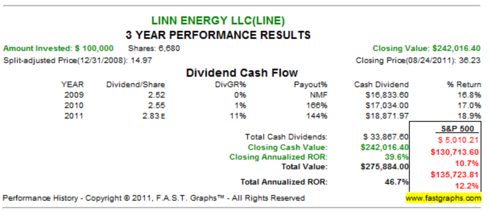 For our next holding let's move offshore and out to sea with Seadrill Limited (NYSE:SDRL). SDRL is an offshore drilling contractor that provides drilling services to the oil and gas industries worldwide. It also offers platform drilling, well intervention, and engineering services. The company owns and operateS 59 offshore drilling units, which consist of drillships, jack-up rigs, semisubmersible rigs, and tender rigs for operations in shallow and deepwater areas, as well as in benign and harsh environments.
SDRL might be a good candidate for the basket for a variety of reasons. One is that the company operates on an international basis; therefore they will generate multiple revenue streams in a variety of currencies although currently they are doing a good majority in US dollars. Another positive for the company is that they operate on a worldwide stage and are involved with some of the biggest names in the business like Petrobras (NYSE:PBR), Total (NYSE:TOT), Exxon (NYSE:XOM), and Shell (RBS.A).
Seadrill's story is really one of rapid growth for the company. This is easy to see as it currently has 59 units, but in 2005, it only had 5. Needless to say the company stacked on lots of debt to get all this equipment in place. Demand for its services is high and the company generates enough cash to cover its borrowing costs. As a result of the fast growth, SDRL can boast that it has some of the youngest and most modern drilling units in the industry.
Seadrill released its second quarter 2011 results on Thursday August 25, 2011 before the start of trading on the Oslo Stock Exchange. Second quarter earnings before interest and taxes (EBIT) amounted to $430 million, compared with $383 million in the same period last year. The company also stated that their newer high-quality oil rigs have been more in demand in the wake of the Deepwater Horizon rig accident last year that led to the worst oil spill in U.S. history. In the first quarter the company decided to pay out an additional $0.20 per share during the next four quarters which will be payable as US$0.05 per quarter. This was confirmed once again and SDRL is offering a dividend of $0.75 per share which translates into a 10% yield which will make a fine addition to the basket and give us that offshore exposure that we need.
For the next pick I thought it would be good to get a major integrated oil and gas player, so I picked ConocoPhillips (NYSE:COP). If the new income investor was just doing a high level review, they would be attracted to COP's dividend of 4.2% and the fact that it is a major player across the globe in the energy sector. For example, the company's exploration and production (E&P) segment explores for, produces, transports, and markets crude oil, bitumen, natural gas, liquefied natural gas, and natural gas liquids. The midstream segment gathers, processes, and markets natural gas; and fractionates and markets natural gas liquids in the United States and Trinidad. The company's refining and marketing (R&M) segment purchases, refines, markets, and transports crude oil and petroleum products, such as gasoline, distillates, and aviation fuels. Its chemicals segment manufactures and markets petrochemicals and plastics. So, one can see that COP is huge and could have an article solely devoted to its business processes, but what makes COP a potential candidate to the basket is that the company will split itself into two publicly traded companies.
The split of COP will separate its refining and marketing segments from the exploration and production businesses. The net affect will be a tax-free transaction that will create the largest independent refiner in the world that will be separate from the exploration and production side of the house. The hope is that the spin-off will create two independent companies which can focus on their respective industries without having to worry about the other business strategies at hand.
Currently Conoco's refineries produce close to 2.3 million barrels per day of gasoline, diesel and other petroleum products. The split is expected to take place sometime during the first half of 2012. Until that time, there are still many unanswered questions, but when the split happens we should have two very efficient and effective companies with a very experienced and respected management staff in place. So unlike the other mentioned companies in the basket, COP is unique as we are not simply going after yield, but also looking to unlock the value of the two emerging companies as they are spun out.
E&P segment earnings were $2,524 million in the second quarter of 2011, which accounted for 74 percent of the total earnings in the quarter. This compares with E&P earnings of $2,352 million in the first quarter of 2011 and $4,114 million in the second quarter of 2010. Earnings in the second quarter of 2010 included the $2,679 million after-tax gain on sale of the company'as Syncrude oil sands mining operation. Domestic refining margins significantly improved in the second quarter of 2011, while international refining margins decreased slightly. The R&M segment reported earnings of $766 million in the second quarter of 2011, compared with earnings of $482 million in the first quarter of 2011, and a loss of $279 million in the second quarter of 2010. The loss in the second quarter of 2010 was the result of the $1,103 million after-tax impairment of COP's refinery in Wilhelmshaven, Germany.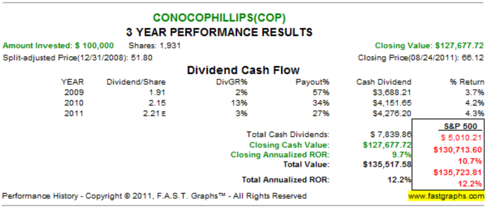 For the next company let's go back to Canada and take a look at Baytex Energy Corp (NYSE:BTE): Baytex Energy Corp. is a Calgary, Alberta based conventional oil and gas corporation engaged in the acquisition, development and production of oil and natural gas in the Western Canadian Sedimentary Basin. The corporation also has an emerging presence in the United States. As a result of changes to trust taxation laws in Canada which took effect January 1, 2011, Baytex has converted to a corporation and is executing a growth-and-income model.
BTE's stated goal is to provide investors with a meaningful dividend while growing the production base of the company organically. When the company looks out over the long term, it desires to fund substantially all of its exploration & development expenditures from internally generated funds from its operations. To further quantify, BTE has stated that its long-range plan calls for a projected organic production growth rate of approximately 8% per year which would be an impressive feat. As proof of its ability, Baytex from September 2003 through year-end 2010, has grown its reserve base at a compound annual growth rate of 12%, to a level of 229 million barrels of oil equivalent (proved plus probable) as of December 31, 2010. To add to this, the company has also replaced 297% of its annual production at a finding, development, and acquisition cost of $5.90 per boe.
As a result of this type of business operations, Baytex runs a pretty conservative business model and closely controls the payout ratio of the company. The current payout ratio has generally averaged between 40% and 50% of their funds from operations. The final result is that BTE pays a 4.9% yields and has one of the strongest balance sheets around.
For the second quarter, BTE's profit was helped by higher oil prices and increased production output. For 2011, Baytex expects production of 49,500 to 50,500 barrels of oil equivalent per day (boe/d), which is up by 500 boe/d from its previous outlook. The net income for the quarter was C$106.9 million. The petroleum and natural gas revenue rose 16% to C$336.9 million, while production for the quarter rose 9%to 47,853 boe/d. I think this conservative holding would also make a fine addition to the income investor's basket.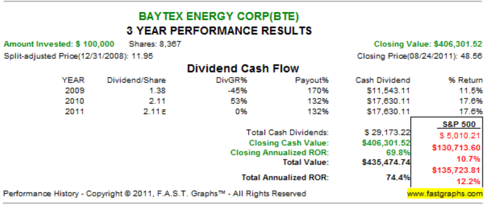 Our last holding might be something of a surprise in that it is not a company at all, but a Closed End Fund (CEF). Unlike a standard stock, a CEF is a much different animal with unique characteristics and risk. To review these risks in greater detail, see the following article before continuing on, "A Primer On Risk for the Closed End Fund Investor". The CEF holding is The BlackRock Energy and Resources Trust (NYSE:BGR). BGR is a closed-end equity fund that commenced operations in December 2004. The investment objective of the fund is providing total return through a combination of current income and capital appreciation. The trust will invest at least 80% of its total assets in the equity securities of energy and natural resources companies and equity derivatives with exposure to the energy and natural resources industry.
Companies in the energy and natural resources industry include those involved in the exploration, production or distribution of energy or natural resources, such as gas, oil, metals and minerals as well as related transportation companies and equipment manufacturers. Specifics about the fund are as follows:
Number of Holdings
61
Turnover Rate
80%
Yield
5.95%
Dist. Amount
$0.4050
Divi Frequency
Quarterly
Total Exp Fees
1.11%
Leverage
0.05%
Premium/

Discount

-4.69%
To boil it down, the fund holds a large variety of stocks related to the energy sector and then sells covered calls on the holdings for income, as well as collects dividends too. The fund has proved to be successful at providing consistent dividends while also increasing its value as well. This fund will be a nice addition to help round out the basket.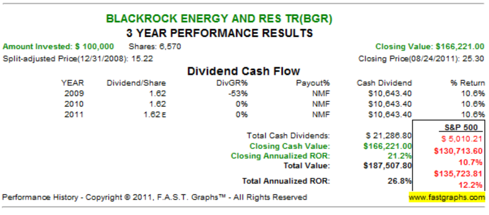 In conclusion, the above seven holdings would be a great start in making a basket of energy stocks for the new income investor. Needless to say, each equity mentioned above could easily have its own article, so this should just be viewed as an introduction to these companies and funds. It can also be said that there are many other companies and funds that could easily fit the profile for entry into this basket of holdings. With that understanding, our current basket should earn a competitive yield and provide some nice capital gains if one believes that the demand for energy will continue in the future.