Where to Invest for Uranium's Rebound
After the closing bell on Friday February 6th, Cameco Corporation (NYSE:CCJ) reported quarterly earnings, beating expectations while showing a 14% increase in earnings. Q4 earnings rose to C$73 million, or 18 Canadian cents per share, while the same quarter a year ago came in at C$64 million, or 16 Canadian cents per share.
The increase in revenue can be attributed to a higher realized price for uranium as uranium spot prices have increased 36% since May of last year. The company's average sales price of C$56.78 per pound is well above uranium's current spot price of C$47.56 per pound. Additionally, the company lowered its average unit cost of sales by focusing efforts on core projects in Saskatchewan and scaling back on other projects in Australia.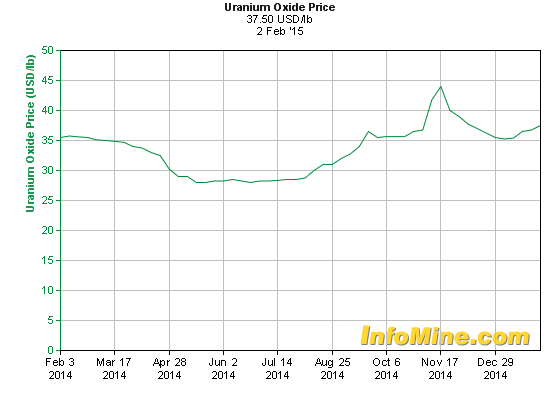 The current supply of uranium is outstripping overall demand which continues to put pressure on the industry. This oversupply has been a concern since 2011 when Japan shut down its nuclear reactors in response to a tsunami's damage to its Fukushima reactor. As I've written in the past however: Uranium: Can You See the Light?, this situation is bound to change. With the fundamentals of the uranium market improving I believe that now is the time to invest in the sector.
Tim Gitzel, CEO of Cameco Corp, expressed his similar sentiment during the announcement on Friday: "When we look longer term, we continue to see exceptional growth on the horizon, as billions of dollars are being invested in reactor construction around the world - reactors that will need uranium. With our world-class, low-cost assets, we believe that when the market signals a need for more uranium, we will be well positioned to benefit from that growing demand."
Cameco Corporation is the obvious investment choice in this sector as it is the single largest producer and seller of uranium in the world. The fact that it is a Canadian company is also an attractive benefit. Being headquartered in a friendly neighboring country offers ease of investment and stability considering other large uranium producers are headquartered in places like Russia and Kazakhstan. The current weakness in the Canadian dollar relative to the U.S. dollar may also prove to be a net benefit for the company's future earnings as U.S. utilities are the company's largest buyers of uranium. Much of the uranium is produced in Canadian dollars and then sold in the stronger U.S. currency.
From a valuation standpoint CCJ is currently trading for a forward P/E of 14 at 1.4 times book value while paying a 2.37% dividend yield. At first glance CCJ appears to have a worrying debt load but with a current ratio above 4 it's clear that the company's cash flows are more than adequate to service its debts even in today's low uranium price environment. Improving uranium prices will only help to strengthen this financial position. The stock is trading just off of its recent 52 week low.
With average uranium production costs above $70 per pound most miners are currently losing money and reducing production levels. Decreasing production at a time when demand is continuing to rise creates an excellent environment for a price spike in the near term. CCJ will obviously benefit from any improvement in underlying uranium prices. The company, due to its size, is also in position to take advantage of the depressed pricing and participate in the industry's likely consolidation; increasing its mining assets now to benefit from the higher prices in the future.
Less obvious investment options are the smaller players in the sector. Denison Mines Corporation (NYSEMKT:DNN) is a mining company with diverse assets. The company currently operates in Canada, Zambia, Mali, Namibia, Niger, and Mongolia. While all of Denison's assets provide value, it is the 1,445,000 acres of premier real estate located in the Athabascan Region of Saskatchewan that sets this company apart as a possible takeover target. The Athabasca region is a proven area of high grade uranium where other larger miners such as Cameco are also currently operating. Any large company looking to increase production while uranium spot prices are currently depressed will be looking carefully at Denison. Regardless of any potential buyout, Denison's trophy assets allow for it to be a smart investment on its own merits. Owning shares at current prices wouldn't simply be a speculative bet on the likelihood of a takeover but another fundamental play on the company's future prospects with rising uranium prices.
Another interesting company to consider, incorporated and operating entirely within the U.S., would be Uranerz Energy Corporation (NYSEMKT:URZ). The company is in the process of merging with Energy Fuels Inc. You can learn more about the buyout from an earlier article: Why Hasn't the Market Reacted to Energy Fuel's Buyout Announcement of Uranerz?
Nuclear power is a clean source of energy that will not only continue to play a role in global energy supply but will continue to grow over time as well. Better to be invested now before the demand imbalance becomes obvious to the investment community as a whole.
Disclosure: The author is long CCJ, URZ, DNN. The author wrote this article themselves, and it expresses their own opinions. The author is not receiving compensation for it (other than from Seeking Alpha). The author has no business relationship with any company whose stock is mentioned in this article.
Editor's Note: This article covers one or more microcap stocks. Please be aware of the risks associated with these stocks.