My favorite equity investments are those commonly known as ruler stocks. A ruler stock is one in which the earnings, when plotted on a graph, form an upward sloping straight line like one drawn with a ruler. The graph of Johnson & Johnson (NYSE:JNJ) illustrates this definition.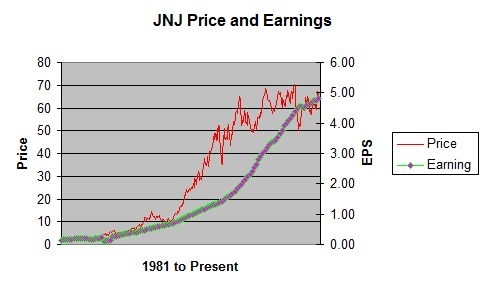 After viewing such a graph one should have a higher confidence that owning shares of this type of pattern might lead to a future great investment. The expected continuation of the past into the future is higher than that of a company with a poor history of erratic earnings. It is at this point of discovery that one further examines the "story", fundamentals, valuation, and technical's to examine the merits of a potential purchse.
Company Description: Johnson & Johnson is a large and diversified health care firm with services in medical, pharmaceutical and consumer products. The pharmaceutical segment is 36% of sales, medical devices 40%, and consumer products comprise the remaining 24%. J&J's best known products are Band-Aid and Tylenol. Many of the company's products are regarded as immune from depressions in the economic cycle and therefore the shares have a lower risk to the investor compared to the market in general. The company carries an A+ rating by Standard & Poor's.
Earnings: In 2010 the company reported earnings of $4.78 a share. Estimated earnings for 2011 are expected to climb to consensus range from $4.95 to $5.03. Risks to earnings include pricing pressures, any adverse reactions to the line of pharmaceutical products and detrimental currency exchanges.
Valuation: Using historical yield and P/E ratio's as measures of valuation finds JNJ at compelling levels. The P/E chart posted below shows that the shares are valued at or very near the lowest levels in 30 years. Only in the middle of 1984 has the PE been this low for the shares.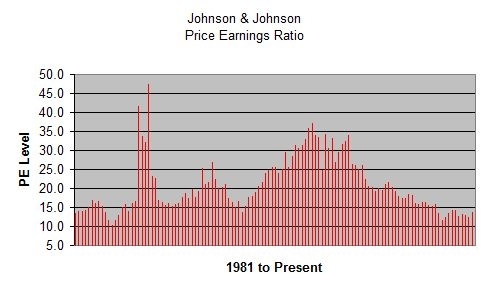 In addition to the low P/E, the shares are also at a similar valuation regarding the current yield. The current yield of 3.55% is near the highs for the past 30 years offering income investors an excellent opportunity to position the shares. The green dividend line is a history of the rising dividend payments and all indications favor the trend continuing. Dividends have been paid since 1948. If JNJ increases the dividend by the same 3 cents per shares next year as done in 2011, the shares will yield 3.75% at current prices.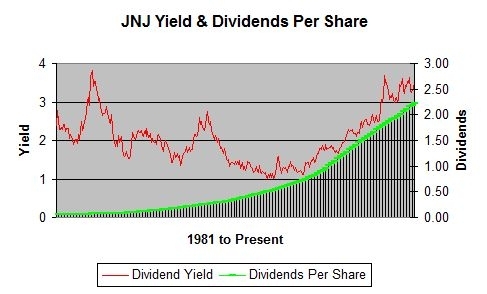 Technical Picture: The monthly charts below shows the trend since 2004. Though I would prefer to buy shares in the 55-57 area, I believe that it will take new lows in the market to achieve those levels. Therefore, any pullbacks to the 60-61 area should be considered a good buying zone.
[Click to enlarge]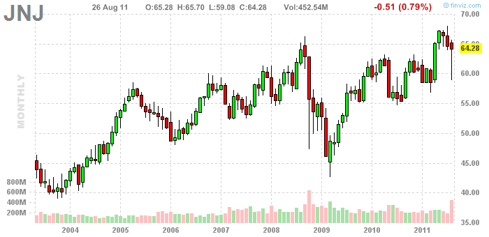 Summary: Reasons to buy shares of JNJ:
Steady historical earnings growth
Steady historical dividend growth
P/E at historical lows
Current yield at historical high
Positive estimated earnings growth
A+ rated company
Conclusion: An investor without ownership of shares of JNJ in their portfolio are encouraged to establish an initial position at current levels. For those that wish to add shares to an existing position, then I would add on any dips of 2-3 points. Barring a market collapse, I believe that investors will look back on the current valuation as a rare opportunity to purchase these shares.
Disclosure: I am long JNJ.