When looking for a good investment in the retail sector, most investors must choose a sub-sector to invest in, such as luxury, groceries or electronics. Costco (NASDAQ:COST), however, is a retailer that caters to seemingly every demographic and sub-sector. Despite having no advertising, seemingly everyone shops at Costco, for it sells everything from $1 million diamonds to baby food. Costco is a store for shoppers of all income levels. It is this level of diversification in its merchandise and customer base that makes Costco, in our minds, a great investment.
This unique model stems from Costco's ability to sell merchandise in bulk, making it an enormous value for large families, or even people who purchase a lot of goods. In addition, Costco, by virtue of selling a myriad of consumer staples, is very recession-resistant, and it is levered to economic recoveries and boom times due to its sale of discretionary goods such as televisions. What truly makes Costco a good investment in our minds, however, is the true loyalty of its customers, including us.
Costco's membership fees can easily pay for themselves in just one visit, and also provide a lucrative income stream for Costco, which generated 1.2 billion in income as of the end of Costco's third quarter.
Click to enlarge




Don't mistake Costco's stability for slow growth. While Costco is certainly growing slower than many companies, it is still growing quite quickly, particularly in emerging markets. More than a quarter of Costco's warehouses are located outside the U.S. (click here for details) and the company has plenty of opportunity to open more international stores going forward. The Costco model has been very successful in the U.S., and it will no doubt be just as successful abroad. But does all this expansion and customer-friendly policies undermine Costco's financial strength? The answer is a resounding no.
Costco has some $6.2 billion in cash and short-term investments on the balance sheet, with just over $1.2 billion in debt, creating an ample cushion to fund its expansion and the return of capital to shareholders, both via dividends and stock buybacks.
Click to enlarge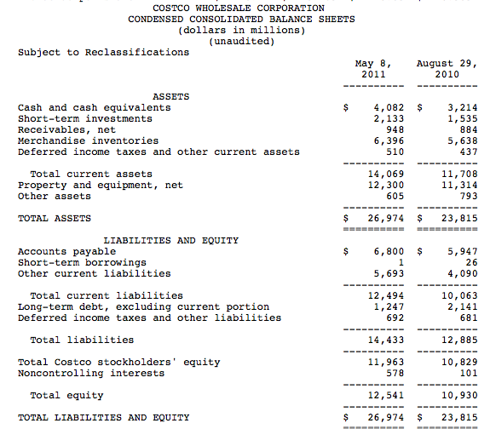 Costco has been actively buying back stock and boosting the dividend. It should be noted that even in the depths of the financial crisis, Costco did not cut its dividend. After a record year for the company in 2010, 2011 should be just as good, allowing Costco to increase the dividend further from its present 1.2% yield.
We believe current weakness caused by the stock market would be a good time to initiate or add to a position in Costco, a leading retailer levered to prosperous times, while offering stability in times of economic malaise. Most companies offer either one or the other, and a company that combines these two forces should have a place in a well-rounded portfolio.
Disclosure: I am long COST.