The recent market volatility has been fast and furious. The fears of EU sovereign debt default, political gridlock in Washington, banking problems, U. S. double-dip recession, and global economic slowdown have taken their toll on many investors' portfolios.
Picking amongst the wreckage, I offer three stocks that appear to offer better-than-average returns for investors with a longer view. They span the industrial, tech and energy sectors: Honeywell International (NYSE:HON), Intel Corporation (NASDAQ:INTC) and ExxonMobil Corporation (NYSE:XOM).
Good investors base stock purchases upon a thesis or set of premises. The overarching macro, near-term entry point premises before owning these stocks are as follows:
The global economy does not lapse into a recession. A "muddle along" scenario, with weak U. S. and EU growth coupled with decent Asia and Latin America prospects wins out. Japan regains some footing in early 2012.

The EU debt and associated banking fears will not devolve into a worldwide financial crisis. More scares, yes. Weak EU responses, yes. A total banking collapse, no.

Washington will enact some semblance of bi-partisan U.S. debt-reduction plan versus triggering the $1.5 trillion across-the-board cuts outlined in recent debt increase legislation. Nothing revolutionary, just ongoing mediocre leadership and results.
Now a closer look deeper into these three specific companies.
Honeywell is a diversified global manufacturing and technical company whose business includes aerospace products and services; control, sensing and security technologies for buildings homes and industry; turbochargers; automotive products; specialty chemicals; electronic and advanced materials; process technology for refining and petrochemicals; and energy efficient products and solutions for homes, business and transportation.
One-Year Price and Volume
[Click all to enlarge]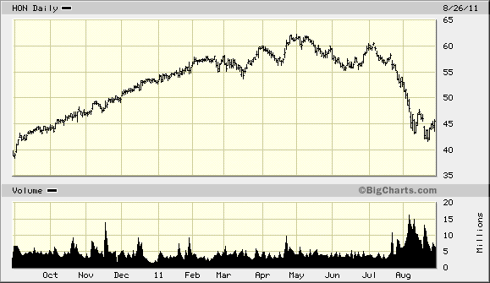 Fundamentals
Using Friday's close of $45.48 per share, the TTM PE is 14.5X and the forward 2012 multiple is 10.2X. This assumes a 2012 EPS of $4.47. Going back 10 years, the annual low PE is about 13X if one excludes the extremely depressed multiples during the Great Recession. Even then, the multiple was less than 10X only between October 2008 and June 2009; the depths of the panic.
Going back to 2008, HON management has not missed an EPS street forecast. Revenues have increased by nearly 4 percent a year over the past five years. EPS has improved even faster: over 7 percent per annum during the same period. This demonstrates good operating efficiency. The balance sheet is sound. Return-on-Equity is 23 percent, Debt-to-Equity is 63 percent, and a Current Ratio of 1.4 indicates liquidity is strong.
HON has a demonstrated ability to generate cash. Its Free Cash Flow conversation rate (a measure of FCF versus Net Income) remains greater than 100 percent. Indeed, the company has spun off more Free Cash (Operating Cash less Capex) than its reported Net Income for several years. This permits management to invest in selective acquisitions as well as provide a solid three percent yield to current investors.
Target Price
I review investments for potential upside and downside. At this point in time, I envision Honeywell stock upside potential to be $63 a share based upon full-year 2011 EPS of $3.93 and a conservative 16X multiple. Earnings are forecast to grow by 12 percent next year, considerably above the past five-year average rate. Management provided specific financial guidance on July 22 and forecast 2011 earnings between $3.85 and $4.00 a share.
The upside target offers a 39 percent return on investment, excluding dividends. The downside is limited. If one assumes earnings will be flat next year at $4 a share, and the multiple is compressed to 11X, the stock is still at $44 a share. Please note these assumptions are somewhat pessimistic. HON has not backtracked on annual EPS since 2008, nor has the multiple been at 11X since the depths of the recession.
Intel is the premier semiconductor chip maker, a best of breed tech titan and apparently a company all the world loves to hate.
Fundamentals
At the current price of $19.77, the PE ratio is 9X. The 2012 forward PE is a staggeringly low 8 times earnings, using the consensus street estimate of $2.47 a share. Intel stock has not traded at 8X earnings at any time over the past ten years. This includes the nadir of the Great Recession. Management has beat street EPS estimates seven of the past eight quarters.
Despite a five-year average improvement in revenues (7 percent), earnings (3 percent), and dividends (14 percent), the stock is overlooked by investors. Legions of negative analysts help maintain a fair amount of momentum for those holding this view. This is not to say that investors cannot make money on such a stock. Indeed, the generous 4.3 percent yield makes hanging around worthwhile.
My thesis has been that Intel is making a fundamental transition from a growth story to a dividend value stock. During this time, the stock remains in limbo, pleasing neither investor community. Hence the PE multiples that are worse than the average U. S. utility. Meanwhile, the balance sheet is pristine. The RoE is 26 percent and the Debt-to-Equity ratio is 5 percent. Margins are sky-high and the company holds over 11 billion in cash on the books.
Cash flow is strong. The company also has a notable share-buyback program. Common shares outstanding have actually decreased since 2006, despite the Tech industry propensity for offering bountiful employee share incentive plans.
Target Price
Based upon listening to management conference calls and my own views, I project 2011 EPS to be $2.25. Placing a utility-like PE of 12X on these earnings, I calculate a target price of $27 a share. Using Friday's close as the benchmark, this suggests an upside potential of 37 percent.
Street consensus EPS is $2.47 next year. As noted, the Street tends to be pessimistic about INTC, and management has a propensity for beating forecasts. The downside risk appears quite limited. The stock is currently trading a near-historic low multiple. There is little reason to believe that near-term EPS will crater. If 2012 earnings did slip 15 percent and the multiple stays crushed at 10X, I still calculate a $21 stock. The 4 percent dividend is secure.
I add that that INTC stock cracked a technical seven-year channeling downtrend (weekly chart) in late April this year. Since that time, the share have fallen below the top edge of that channel, with the $21 mark offering another breakout.
The king of the oils, XOM has a sterling record of beating the long-term market averages. Exxon shares have provided patient investors a return greater than the S&P500 index for the one-, five-, 10- and 20-year periods.
The company is the largest and premier integrated energy company, now laying claim to the largest natural gas producer in the U. S. post the XTO acquisition. While based in America, it should be noted that Exxon generates most of its earnings and cash outside the United States.
Fundamentals
The shares closed Friday at $72.64 each. The TTM multiple is 9.5X. Using the a 2012 EPS forecast of $9.33, the forward PE is under 8X.
Exxon shares have only traded with a PE below 9X once in the last 10 years: The lows during the Crash of 2008. A predictable cadence exhibiting an annual low PE never less than 9X has been demonstrated over the past 10 years. Therefore, buying at 9 times today with a projected 8X next year appears to be a reasonably safe investment.
The company has not missed the annual Street EPS view for years. By nearly all management efficiency metrics, XOM is at or near the top versus its sector peers: RoE is 25 percent, RoA is 10 percent, operating and profit margins are 10 and 13 percent respectively. Debt-to-Equity ratio is 10 percent and the Current Ratio is 1.0. There are no weaknesses in any balance sheet measure.
Exxon showed both top and bottom line growth over the past five year periods. The dividend yield is currently pegged at an uninspiring 2.6 percent. However, the company has raised the payout each year for the past 27 years. The five-year dividend growth rate has been nearly 9 percent. Exxon directors and management also authorize long-term share buybacks routinely. Despite issuing XOM shares for the XTO buyout, there are still 16 percent fewer shares outstanding today than there were at the end of 2006.
Operating Cash Flows are enormous -- around $50 billion a year. Huge capital expenditures are undertaken with little to no debt issuance. Exxon management is known for big bets on long-term projects and trends, with less emphasis on meeting short-term EPS marks.
Target Price
Current year EPS is forecast to be $8.50 with next year's view to be about $9.30. While the stock may trade somewhat with the price of crude oil, this is more a function of stock traders versus underlying earnings and cash flow generation. Exxon operates and plays for the long haul.
Placing a 12X multiple on the shares, I calculate a potential stock price of $102 a share. This is somewhat conservative, as the historic 10-year high PE is typically 13X or greater. Nonetheless, such a price offers a 40 percent uplift from Friday's close. Downside risk appears low. Flat 2012 earnings and a 9X multiple still yield a $77 share price. It seems that a more dire scenario violates the initial premise whereas the world does not slip into a recession.
The Bottom Line
There are numerous good stocks the patient investor may choose to pick at during inevitable market downturns. Despite being in disparate stock sectors, those outlined above have several things in common:
Sound balance sheets

Demonstrated strong management teams

Demonstrated ability to generate cash

History of five-year top and bottom line growth

History of growing dividends