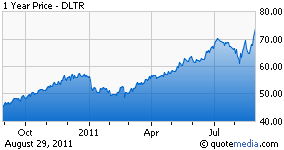 Since last year, the stock price of Dollar Tree (NASDAQ:DLTR) has gone up by over 50% - amazing! Compare this to 37% rise of Costco Wholesale (NASDAQ:COST), 18% of BJ's Wholesale Club (NYSE:BJ-OLD), 16% of Dollar General and 9% of Family Dollar Stores (NYSE:FDO). Even the PE ratio is still hovering around 19, similar to that of others mentioned above. But the question is, why such an increase in the stock price? Is it because of the improving market sentiment after the end of the Great Recession? Or, is it because of the buyback program initiated in 2010, which led to repurchase of around 9.3 million shares at the cost of $414.7 million? Historically, since 2003, the company has invested approximately $1.6 billion for share repurchase without increasing long-term debt. I am forced to think that the abnormal rise in the price of stocks perhaps is an effect of the stock buyback program in 2010.
Interestingly, if you have followed news on Dollar Tree regularly, you will know that on August 25, last Thursday, they announced of reacquiring around $200 million of common shares under $500 million accelerated share repurchase program. All of these shares bought will retire nonetheless. "Our share repurchase program continues to represent an important part of our capital allocation strategy and an efficient and flexible way of returning value to shareholders," said President and CEO Bob Sasser. "We ended second quarter 2011 with $545 million in cash and investments and are confident in the Company's ability to continue to generate substantial free cash flow for the foreseeable future." And this can play a big role in the future increase in the stock price as well.
Things are getting interesting! It's time to look into the hard facts of life – the company's latest financial statements.
Remember, if the PE ratio is currently around the average level and the stock price is moving upwards, there is a possibility that the price might go up, depending on the level of business profitability, financial health and general market sentiment about the company. So, let's figure out if Dollar Tree is the deal or not.
Going by the FY2010 annual report, nothing was wrong in there. And as an investor, I was happy to see the company growing in 2010.
The total revenue went up to $5.9 billion in 2010, from $5.23 billion in 2009, which led to an increase in the operating income by over $117 million. Sounds good!
The total number of stores has crossed 4000 in number, with around 235 new stores this year, and the company has expanded to Canada as well, the first expansion of the company outside United States.
The earnings per share have gone up to $3.23 in 2010 from $2.37 in 2009.
And needless to say, all the products are still being sold for $1 or so. That's a huge factor in generating sales in the tight economy.
Now, let's turn to the latest second quarter results of 2011.
The total revenue this quarter has been recorded at $1.54 billion, up from $1.4 billion same quarter last year.
The operating income margin improved to 10% from 9.3% same quarter last year.
Interest expense declined to $0.7 million from $1.6 million same period last year.
The current ratio went up to 2.8 this quarter from 2.5 as recorded in January this year.
I believe the company enough free cash flow to sustain and grow over the coming few quarters.
It is also obvious from the cash flow statement that an increased amount of money has gone into capital expenditures, pretty natural for a physically growing company. And one more thing, less cash has been spent on share repurchase this year as of yet.
To sum it up, Dollar Tree is expected to be a good buy from my side.
Disclosure: I have no positions in any stocks mentioned, and no plans to initiate any positions within the next 72 hours.