One of the biggest threats to shareholders in a public company comes from litigation risk. I'm not just talking about class action lawsuits from the parasitical lawyers out there who rush to file these lawsuits at the hint of any impropriety. I'm talking about SEC and DOJ investigations. You don't want to mess with the federal government, and if a company you own is under scrutiny, you should take your money and run. The only possible exceptions are with gigantic companies with global exposure. The famous never-ending tobacco litigation against Altria (NYSE:MO) and Philip Morris International (NYSE:PM) never impacted them in the long term. They remain powerhouses with billions in free cash flow, billions of cash on their balance sheets, and pay fabulous dividends.
Not so for smaller companies.
I was bullish on Education Management Corporation (NASDAQ:EDMC). It seemed to have a great business model. However, the assault on for-profit schools by the Dept. of Education will impact the company. Then, the company recently disclosed that the Department of Justice filed a whistleblower suit under the False Claims Act, seeking $11 billion in damages. The suit revolves around allegations that Education Management violated rules regarding compensating recruiters strictly based upon the number of students enrolled.
This, folks, is mighty serious.
Whistleblower cases usually come down to one of two issues: either the whistleblower is a disgruntled former employee who is falsifying information, or they know exactly what they are talking about. The suit was originally filed by Lynntoya Washington, a former EDMC admissions recruiter, who later filed an amended complaint, jointly with Michael T. Mahoney, a former director of training for EDMC's Online Higher Education Division. The states of California, Florida, Illinois and Indiana have also intervened as plaintiffs.

The DOJ takes these cases seriously, and they don't just leap to a lawsuit. According to a general overview of the process, there is some rather comprehensive investigation and filing a suit, "will often involve specific investigative techniques, including subpoenas for documents or electronic records, witness interviews, compelled oral testimony from one or more individuals or organizations, and consultations with experts." Fewer than 25% of False Claims Act complaints result in a lawsuit.

It certainly appears that the DOJ has the goods. However, we just don't know.
Education Management has strongly denied the allegations. The problem is this is going to loom over the company and the stock for some time. Neither side is permitted to even disclose the text of the complaint itself, as it is under seal, so investors cannot even evaluate the accusations in the complaint.

All this creates uncertainty, and nobody likes uncertainty. Now other firms are piling on with lawsuits. Even worse, the company forecast FY 2012 earnings as much as 5% below analyst expectations. Q4 net income was 18% below last year's, and student enrollment was flat.

The big problem: The DOJ is suing for $11 billion. The company has only $400 million on its balance sheet and only generated $262 million in free cash flow for the last fiscal year. Any settlement more than 5% of the amount being sued for wipes out all of the company's cash. You think the DOJ will settle for 5 cents on the dollar?

The chart has broken down, with the 50 day moving average about to do the "death cross" over the 200 day moving average. Courtesy of DecisionPoint.com: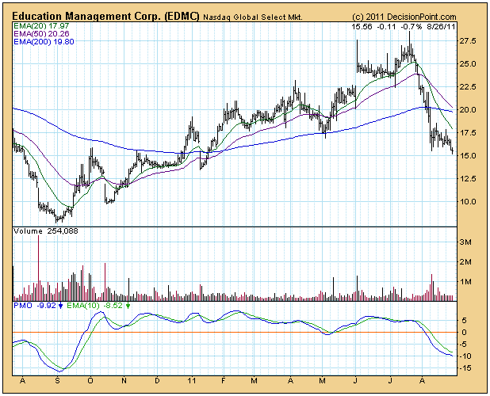 Add it all up and there is no reason to hold this stock. Sell it now. In fact, I suggest shorting it. There will be a buyer's strike.

Other authors have written extensively about Life Partner Holdings, Inc. (NASDAQ:LPHI). Talk about litigation risk. The SEC investigation on this company is very serious, calling into question the very basis under which the company exists. Fellow SA contributor Harry Beck offers up 20 lessons from the LPHI litigation. When you follow through Harry's list, it says to me that Life Partner is toast. The defensiveness and outright arrogance of its CEO generates enormous skepticism in my mind that goes beyond just bad PR management. I believe Life Partner will go bankrupt. I would short the stock, but cannot find any shares to borrow.

Investors may also want to be wary of shale gas drilling companies. The SEC is conducting a fact-finding inquiry into alleged misleading of investors by overstating reserves and underestimating costs of their wells, as well as rates of decline of the wells. The companies in question include Quicksilver Resources (NYSE:KWK) and Exco Resources (NYSE:XCO) (noted on p. 48 of Quicksilver's 10-Q and p. 55 of the Exco 10-Q here.). There are other shale gas drillers but they have not been subpoenaed. These include ExxonMobil (NYSE:XOM), Anadarko Petroleum (NYSE:APC), Petrohawk Energy (NYSE:HK) and Chesapeake Energy (NYSE:CHK). The difference between these cases and screaming shorts like Education Management and Life Partners is that these investigations are by the SEC, not the DOJ, and appears to have been triggered by a heavily-criticized article in the NY Times. If I owned these stocks, I might choose to sell all or part of my position, or possibly hedge them by selling covered calls and/or buying puts. I wouldn't short, however.


Disclosure: I am short EDMC.

Additional disclosure: Editors: You had asked to link to the SEC subpoenas for XOM, APC, Hk, and CHK, but I have underlined and italicized that these companies did NOT receive subpoenas although they are shale gas drillers.