A Commodity Comparison
Crude oil production by OPEC, is an important factor that affects oil prices. The organization seeks to manage oil production in its member countries, by setting production targets.
Saudi Arabia is the largest oil producer within the 12 member countries that make up OPEC. Despite OPEC's efforts to manage production and maintain targeted price levels, member countries do not always comply with the production targets, oftentimes causing Saudi Arabia to prop up oil prices on their own.
In today's current oil market, Saudi Arabia has decided not to cut oil production, in an effort to maintain market share. This has resulted in a tremendous decrease in oil revenue, for all of the OPEC members.
Now imagine for a moment, being able to cut raw production, at the same time increasing market share and increasing revenue. That would seem very unlikely, correct?
One-Bird-Short Strategy
Oftentimes, historically in the US chicken market, as chicken prices increased and the cost of sales decreased, producers would ramp up production, causing an oversupply of chicken within the market.
USDA reports seem to indicate, that is exactly what is going to happen. Producers are ramping up broiler egg sets, as you can see in the chart below. (source)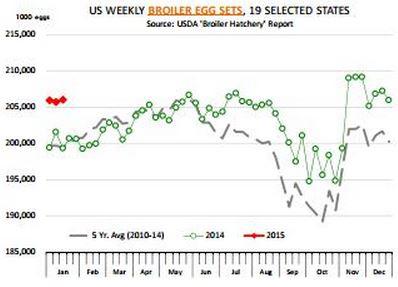 Tyson Foods (NYSE:TSN) is the largest chicken producer in the United States. Tyson's management team back in 2011, outlined a very unique strategy within their chicken division. They call it the "Buy-Versus-Grow" strategy. Basically, this strategy involves maintaining or even reducing their own chicken production levels, with buying more chicken on the open market from their rival chicken producers, in an effort to keep the chicken market from being over supplied. In Q4 of 2014 Tyson was buying over 4 million lbs per week on the open market.
Here are some interesting recent quotes from Tyson management. This is from an analyst day transcript on 12/10/14. You can read the full transcript here.
If I could add to that also, just to be clear, in terms of growing chickens, we can grow chickens as -- better than anybody out there. We've proven that time and time again. But just growing more chickens is not our plan.

So, in our fourth quarter of 2014, we purchased on the outside about 100 loads per week. So roughly 4 million pounds per week is what the outside purchases were.

So as we look at what will likely be increased needs, those outside purchases are likely going to go up. To what extent, I can't really say at this point. But I would say it'd be fair to say that it's probably going to be fairly significant increases.
Here are some more recent quotes from Tyson's management
But we've also have our buy versus grow. So you don't hear us talking a lot about supply, because we've put ourselves in a position to produce less than what we sell. And our goal going forward is to continue that buy versus grow.

So what happens when the industry overproduces, we typically will adjust our supply down and go into the marketplace and buy raw materials, for example boneless skinless breast meat. And we margin up on the buy of that. And then we continue to grow our more value-added business and our packaged goods business by taking other companies, our competitors if you will, their raw material, adding value to it, margining up, and keeping ourselves balance to short.
The chicken segment is Tyson's most profitable. It generated more adjusted operating income than all other segments combined in fiscal 2014.
Some Analysts Are Skeptical
The USDA is predicting chicken production, to increase up to 3% in FY15 and even higher in FY16 (source) and some analysts believe that the demand will not keep up with the supply, regardless of Tyson's "Buy-Versus-Grow" strategy. So let's take a closer look at some of the most recent data.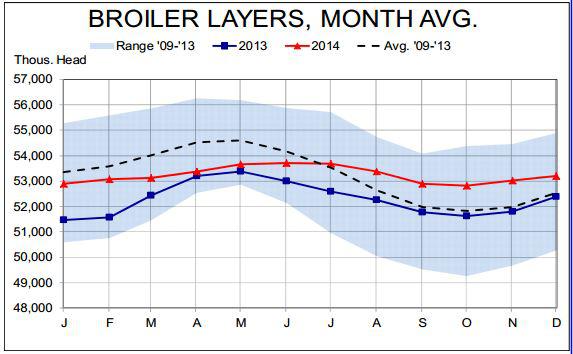 The above chart shows that we started trending above the 5 year average of broiler layers, in July 2014, but began trending closer to the average in December. (source)
Below, we have the most recent data thru January 2015 on broiler type chicks placed and broiler type eggs set.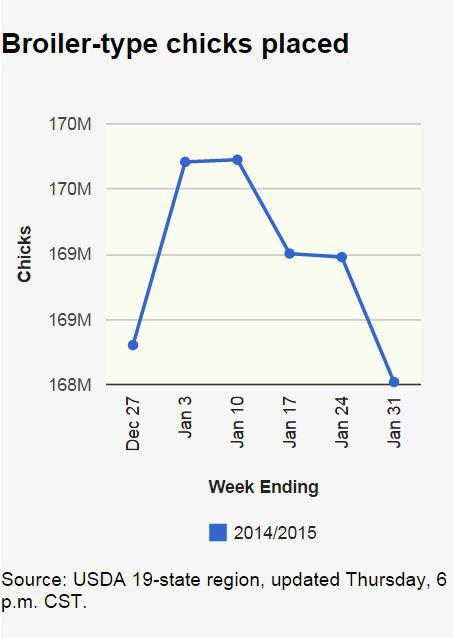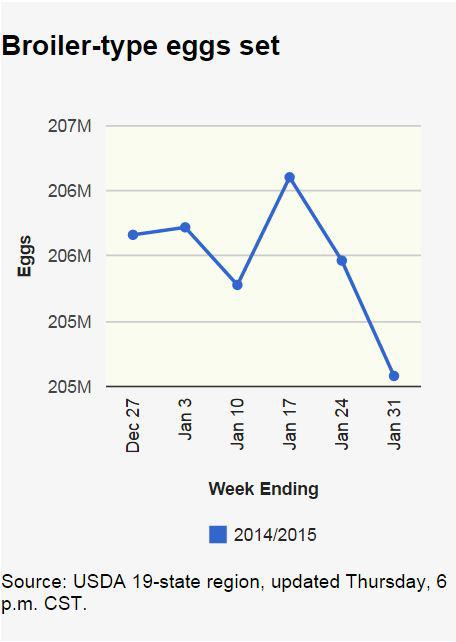 The most recent USDA data in the chart below, shows nationwide weighted average chicken prices are decreasing, but still well above the 3 year average... (source)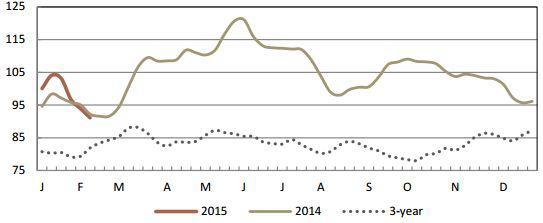 ... while the price of corn (50% cost of sales) over the last 3 years has dropped significantly. (see my previous article)
Actionable Information
On the other hand, Georgia Dock prices remain extremely strong at historically high prices. The USDA chart below, is very interesting. It indicates that as of 1/31/15, chicken broiler production has increased by 6.98% y/y and yet Georgia Dock broiler prices have increased by 9.20% y/y. This seems to indicate a very strong demand. (source)

This is especially good news for Sanderson Farms (NASDAQ:SAFM). The company has long-term contracts (one to three years) with most of its customers, which is based on a formula that uses the Georgia Dock whole bird price as its base.
Not all chicken is created equal. The chicken industry is divided into three separate weight classes, small bird, medium bird and large bird, each with its own market niche. The small bird market is focused mainly for the fast food industry and generally has the smallest profit margins. Sanderson Farms has no exposure to the small bird market and instead focuses on the medium and the more profitable, large bird markets.
Sanderson Farms is also a growth story. On 2/9/15, they opened up their newest poultry production complex in Palestine, Texas, for the higher margin, big bird market. It will not be up to full capacity production, until Q4 2015. Once at full production, it will be able to process an additional 1.25 million head of chicken per week. (source)
This new production facility will allow Sanderson Farms to better serve one of their biggest customers, Sysco Corp (NYSE:SYY). Sysco Corp is one of the largest food distributors in North America. This gives them a unique insight into current trends. Here is their latest poultry report. (source)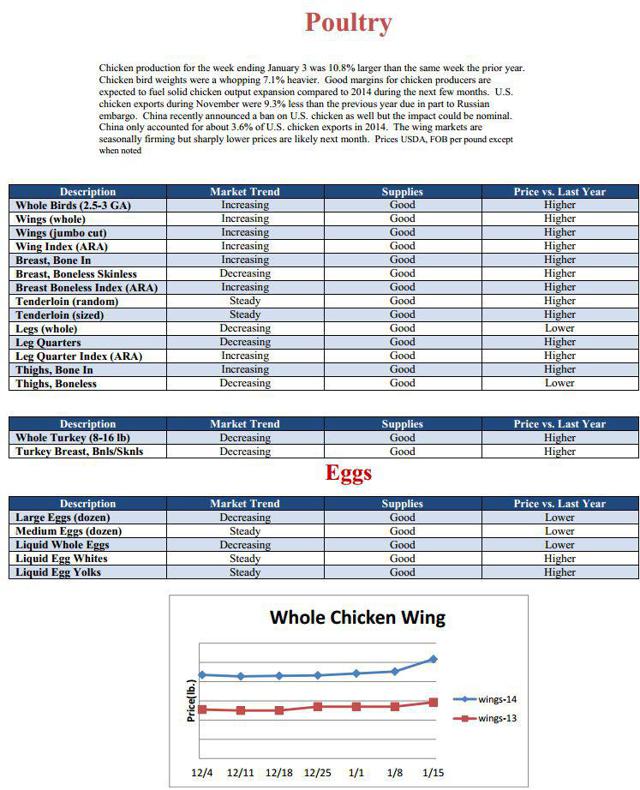 As you can see above, the trending and pricing, is increasing in most of their chicken products. As you can also see, they are raising some concerns about chicken exports. Here is a link to a great article explaining why it's only a minor issue. (Export Report)
As of 2/9/15, Sanderson Farms closed at $76.22 with a ttm 7.06 P/E Ratio and with an estimated forward P/E of 6.72. According to the WSJ, earnings estimates have been increasing both quarterly and annually. Q1 three months ago, was estimated at $2.02 EPS, the current estimate is at $2.82 EPS. FY 15 was estimated three months ago at $10.99 EPS, and is currently at $11.33 EPS. I fully expect these earnings estimates to continue to be revised higher. The median stock price target by the top 6 analysts covering the company is currently at $93.00. The lowest target price, by even the most skeptical analysts is $85.00.
I recommend caution entering into a long position, due to the extreme short interest in all of the chicken stocks right now. Sanderson Farms has 39% of the float shorted and its closest comp, Pilgrim's Pride (NASDAQ:PPC) has over 44% of the float shorted. Institutional ownership is extremely high and the shorts seem to be in full control here. With pricing being stabilized by Tyson Foods and as more earning reports start coming out, I'm not sure the shorts will be able to push these stocks down much further. I currently have an overweight position in SAFM with plenty of dry powder on the sidelines to cost average down, if it becomes necessary.
CONCLUSION
Earnings estimates for the three largest US chicken producers, Tyson Foods, Pilgrim's Pride and Sanderson Farms continue to be revised upwards. Personally, I believe Sanderson Farms offers a significant amount of upside at its current price.
Hopefully, if Pilgrim's Pride and Sanderson Farms, meet expectations and have record earnings this year, they will send a thank you card to their big brother, the Saudi Arabia of chicken, Tyson Foods!
Disclosure: The author is long SAFM, TSN. The author wrote this article themselves, and it expresses their own opinions. The author is not receiving compensation for it (other than from Seeking Alpha). The author has no business relationship with any company whose stock is mentioned in this article.