There are select stocks that provide a blend of both true growth and true value. While Apple (NASDAQ:AAPL) is the most notable of these, the stock we would like to highlight today is American Express. (NYSE:AXP)

Given that Berkshire Hathaway is AmEx's largest shareholder (owning 12.7% of shares outstanding, as of June 30) we think AmEx is a sound investment. Strictly speaking, Warren Buffet is rarely wrong, and investing alongside him has been far more rewarding than has denigrating him. While simply buying a stock because someone else has bought it is never a good idea, even if that someone else is Warren Buffet, there are many more compelling reasons to invest in American Express.

Of the 4 major US card networks, AmEx is the third largest, but is the most exposed to the luxury consumer. Indeed, AmEx has the lowest default rates in the industry, and the most affluent customer base While their default rate did edge up slightly in July, it remains far below any of its competitors. One may ask why invest in AmEx when you can simply invest in Visa (NYSE:V) or MasterCard (NYSE:MA) and have no exposure to credit issues? Because if you invest in either of the 2 largest payment networks, you are exposed to far more regulatory issues.

When these 3 companies were sued by the Justice Department for violating anti-trust laws, Visa and MasterCard settled, knowing it would be easier to pay than fight. But why did American Express choose to fight the case? Because it argues that it does not have the market power to force merchants to accept its cards, seeing as it processes only about 25% of payments in the US. Given that Kenneth Chenault, AmEx's CEO is a Harvard-educated lawyer, we do not think that they would have chosen to fight the case unless they believed they had a good chance of prevailing in the courts. We feel that AmEx's arguments are correct, that it cannot be sued under anti-trust law if it does not have market power. While this lawsuit plays out, we feel that now is a good time to invest in American Express.

American Express trades at a P/E ratio of 12.7, while Visa and MasterCard both trade at a P/E ratio of just over 20. This represents a value to both current and potential investors, given that we feel AmEx has far better prospects ahead of it than either Visa or MasterCard. We will admit that American Express has lagged these two competitors over the past year, but we feel that it will outperform going forward, due to its growth initiatives.





AmEx reported record results in July and has been aggressively investing in future growth. Though operating leverage is negative in the short-term, accelerating revenue growth clearly shows that these initiatives are paying off, and AmEx's expense to revenue ratio is trending down, as low as 72% in the most recent quarter from 77% in Q42010. AmEx has partnered with both Facebook and Foursquare to gain a foothold in the rapidly growing social payments space, taking an early lead in this area, as well as developing Serve, its online payments platform. These growth initiatives seem to be paying off, as card spending reached record levels in the second quarter and is continuing to grow. We would like to highlight one more fact that makes AmEx stand out in comparison to its peers in the financial sector. AmEx did not cut its dividend during the financial crisis. How many companies can that be said about? While the company hasn't raised its dividend since February 2008, most financial companies have barely restored their dividends to pre-crisis levels, while American Express is already there.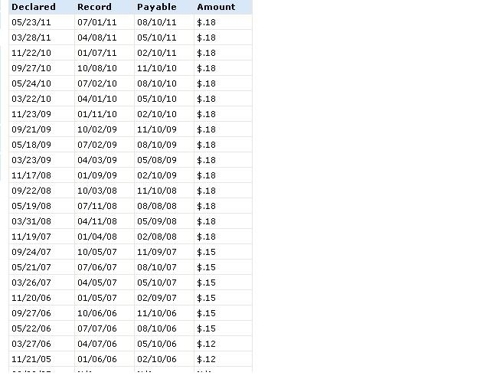 American Express' strong growth initiatives, affluent customer base and stricter credit profile make it a compelling investment. Its financial strength and stability have been thoroughly tested, and it is poised to succeed in the long-term. We feel that this is what drew Warren Buffet in, and think it should draw you in as well.

Disclosure: I have no positions in any stocks mentioned, and no plans to initiate any positions within the next 72 hours.