A Picture is Sometimes Worth a Thousand Words: The chart below is a color-coded annual price performance ranking of eleven CEF fund types since 2000. (For the sake of simplicity, the higher the ranking the greater the price performance relative to lower ranking CEF fund types.)
The chart allows investors to visualize movement of various CEF fund types over recent stock market cycles.
A Couple of Observations:


(Click to enlarge)
1. Since 2002, no CEF fund type experienced the lowest annual ranking consecutively. So, investors may want to purchase the CEFs fund types in the lowest ranked CEFs in the subsequent year. This doesn't mean that you'll make money on the other fund types, it just may mean you'll lose less. A potentially profitable strategy may be to go long the lowest ranked fund type and short another fund type.
2. Since 2004, this has also been true for the highest ranked CEF fund types.
3. There is visible cyclicality in the fund types.
4. MuniBndFnd since 2002 has gone from: 9 (3), 2 (10), 3 (9), 9 (3), 1 (11), 1 (11), 11 (1), 6 (6), 5 (7), 1 (11), 11 (1). Order rank (from top).
5. OthrTaxFnd since 2005 has gone from: 11 (1), 9 (3), 6 (6), 5 (7), 3 (9), 2 (10), 4 (8).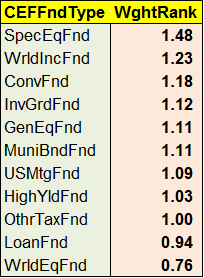 Consistent Performance: The following chart is comprised of the weighted relative ranking of the various CEF fund types. Essentially, it was the frequency count of the occurrence of each of the fund types per the eleven ranks weighted by their relative rank. Essentially, the more frequent your fund type in the higher ranks, the higher the weighted rank.
Curious: Base on this analysis there were a few surprises.
WrldEqFnds consistently ranked low. One would have thought that given the high beta of these stocks they would rocket to the top of the rankings with recent investor interest in emerging markets.
WrldIncFnds was also a surprise given the risky nature of the underlying securities. The plunge of the U.S. dollar could have been a factor in strong performance. Also, GenEqFnds was mid-pack. One would have expected slightly better relative performance.
Vectoring: Vectoring on a couple of simple data points it would appear that convertible funds might be worth a look. YTD they have underperformed and they rank fairly high on a relative rank basis. There are 11 convertible bond funds in our database. Very few of them are pure plays.
Worth a Look: One CEF in this category that looks interesting is AGIC Equity & Convertible (NYSE:NIE). It is currently trading at a 10.3% discount to NAV and at an annualized quarterly rate of 6.8%. Its next quarterly distribution payment will be in mid-September. Only 25% of the portfolio is in convertible bonds. The rest are equity investments. It has large position in retailers [Dollar (NYSE:FDO) & Target (NYSE:TGT)] and technology [Apple (NASDAQ:AAPL) and Google (NASDAQ:GOOG)]. Recent weakness in tech may weigh on the portfolio — especially Google.
With "convertible" in its name, it might just benefit from investing by the "colors."
Disclosure: I am long NIE.