ETF Spotlight on Teucrium Corn Fund (NYSEARCA:CORN), part of an ongoing series.
Assets: $130.2 million.
Objective: The Teucrium Corn Fund tries to reflect the daily performance of the closing settlement prices on three futures contracts for corn that trade on the Chicago Board of Trade.
Holdings: The fund invests in a third of its assets in three different corn futures contracts.
What You Should Know:
Teucrium is provider of the CORN fund.
CORN has an expense ratio of 1.42%.
CORN is up 9.44% over the last month, 9.23% over the last three months, and 28.35% year-to-date.
Potential investors may benefit from the fund's ability to diversify an investment portfolio or hedge against inflation. Traders can speculate on the price movements of corn.
Corn futures contracts on the CBOT expire on a specific date in March, May, July, September and December, which means that the fund will have to roll contracts five times a year to avoid taking physical delivery of the corn when the the contracts mature.
The ETF tries to mitigate the effects of contango or backwardation by holding three different futures contracts.
Contango in the futures market diminishes the performance of a fund since the fund will have to roll contracts upon maturity for more costlier later-dated contracts. Futures markets in backwardations are much more desirable since the fund will sell near-month contracts at a profit against later-dated contracts when rolling contracts upon maturity.
Funds and speculative futures traders roll contracts so that they would not have to take on physical delivery of the actual corn commodity.
It should be noted that investors will have to fill out a K-1 form during tax season since the ETF is structured as a partnership.
The Latest News:
The CORN ETF has almost doubled since its launch last year.
Chicago's December corn contracts set a new high of $7.79 a bushel, touching off an 11-week high, reports Jeff Wilson for Bloomberg.
According to a Commodity Weather Group LLC report, a third of the main growing areas in the Midwest will experience less than normal rain fall over the next two weeks.
"The fear is that supply is falling faster than demand," commented Don Roose, the president of U.S. Commodities Inc. "Oppressive heat in July damaged crops, and now the dry weather is further reducing yields."
Teucrium Corn Fund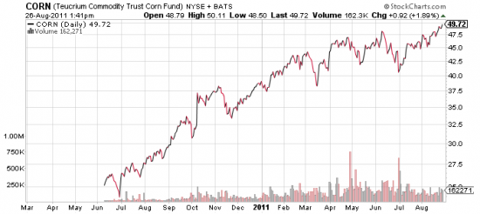 Max Chen contributed to this article.
Disclosure: None