My observation of stock trading action leads me to believe and determine that there is a rally storing up for a run, and the catalyst for that run is the Greek issue going away. There is too much uncertainty around what could happen in Europe and it is keeping investor capital precisely placed, off the table completely or tempered among hedges and specific ideas. It is my view that the Greek issue will not lead to a Grexit from the eurozone and will eventually go away. Once that happens or appears sure to happen, I believe stocks are ready to roar higher.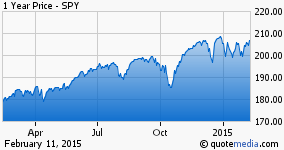 Stocks have gone nowhere for quite some time now, flirting with higher and lower ground year-to-date but otherwise they are hardly changed. My observation of various sectors of stocks has me now almost certain that there is one common thread holding back the SPDR S&P 500 (NYSE: SPY) or the market generally. But that issue will be resolved one way or another soon.
There's one critical issue overhanging stocks and many global markets today, and it is Greece. The brazen threats of Greece's new leaders, with some seemingly wild demands thrown in, has some people unsure about them and has markets unsettled. Uncertainty is the market's greatest enemy, and it certainly exists around Greece today. However, I see the end result somewhat more clearly than most because of my understanding of the circumstances.
There are some key points and reasons why Greece will not leave or be ejected from the eurozone. First and foremost, the Greek people would reject any referendum asking them to decide on that issue and they would vote to stay by great majority today. The government knows this, so it can make demands but it cannot withdraw. So could Greece be ejected? Well, if you've listened to anyone of significance speak on the issue, you know the answer is no. Germany needs weak eurozone partners to keep the euro from strengthening too much. The loss of Greece and the threat of losing other weak links would strengthen the euro so much as to damage Germany's export activity. It would severely harm Germany's economy and the same can be said for Europe's other strongest arms. So, we have a Greece that doesn't really want to leave the eurozone and a Europe that doesn't really want Greece to leave the eurozone. Sometimes relationship struggles can lead to an end nobody desired, though, so there still remains some risk of a miscue. However, the far greater likelihood is that Greece stays.
This issue is not only affecting Greek stocks, as evidenced by the approximate 52% drop in the Global X FTSE Greece 20 ETF (NYSE: GREK) since last June. But as the issue has come of age and become something we talk about regularly here in America, it has held back our markets as well. I believe it's a key reason why the energy sector has come off so far as well. But as this issue is resolved, the SPDR S&P 500 should burst higher, especially given that it has been held back while the U.S. economy has exhibited important strength.
Disclosure: The author has no positions in any stocks mentioned, and no plans to initiate any positions within the next 72 hours. The author wrote this article themselves, and it expresses their own opinions. The author is not receiving compensation for it (other than from Seeking Alpha). The author has no business relationship with any company whose stock is mentioned in this article.