I'm going out on a limb and predicting that investors who invest in Tansocean (NYSE:RIG) at this level could see a short term pop of 23% - 27% annual total return over the next five years. The stock has been beaten down but the company now has almost all its deep water rigs back on line and the last one should be operational shortly.
A look at the weekly price over the past 2 1/2 years vs. the 10, 50 and 50 week moving averages on this chart provided by Barchart shows how beaten down it is:
Click to enlarge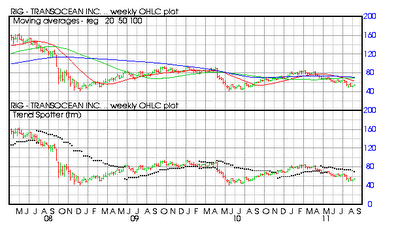 Transocean provides offshore contract drilling services for oil and gas wells worldwide. It offers deepwater and harsh environment drilling, oil and gas drilling management, and drilling engineering and drilling project management services. The company also offers well and logistics services. In addition, it engages in oil and gas exploration, development and production activities primarily in offshore Louisiana and Texas and in the United Kingdom sector of the North Sea.
As of February 10, 2011, the company owned, had partial ownership interests in, and operated 138 mobile offshore drilling units, including 47 high-specification floaters, 25 midwater floaters, nine high-specification jackups, 54 standard jackups, and three other rigs, as well as one ultra-deepwater floater and three high-specification jackups under construction. Transocean was founded in 1953 and is based in Zug, Switzerland. (Yahoo Finance profile)
The technicals on Barchart have been improving as this chart of the hourly trading activity over the last month reveals:
Click to enlarge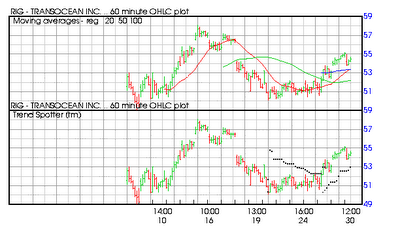 40% Barchart short term technical buy signal that is getting stronger
Trend Spotter sell signal that is weakening
The stock has begin trading above its 20 day moving average
New lows and down 11.89% this month
Although the stock is trading below its 50 and 100 day moving average Barchart computes a technical support level at 53.72
Relative Strength Index is 46.89% and getting stronger
Recently traded at 54.59 which is below its 50 day moving average of 58.81
Wall Street brokerage analysts are predicting a bad year but a turn around shortly.
Sales are projected to decrease by 1.60% this year but turn around and increase by 11.70% next year.
This is a capital intensive company with large fixed costs so earnings are expected to decrease by 39.80% this year and increase by a robust 65.00% next year and level off by increases of 3.00% annually for the next five years.
Most of the turnaround is because many rigs were taken off line after the BP (NYSE:BP) spill but are being all brought back and all should be in operation by the end of the year.
Analysts predict that RIG will not be held responsible for the majority of the BP spill and between insurance claims and reserves will not have a significant impact on future earnings.
Given all these assumptions brokerage analysts presently have 13 strong buy, 16 buy, 14 hold and only one under perform recommendation published.
General investor interest:
As measured on Motley Fool 6,307 readers have voted 96% that the stock will beat the market in the coming year.
The more experienced and savvy All Stars are slightly more positive with a 98% vote for the same result.
Summary: Transocean has been beaten down not only from bad press but from having a major portion of its revenue producing rigs brought off line for inspection and updating. These will all be back on line by the beginning of the year and in full production by mid next year. As the investing community realizes that legal concerns from the BP spill are being abated and the new increased earnings and revenue figures hit the press you should see a lot of investors come back and get on board. This is one where those who get on board early will reap the benefits not only in the short run but the long run as well. Buy in at today's prices and you can expect a 23% - 27% annual rate of return within the next five years.
Disclosure: I have no positions in any stocks mentioned, and no plans to initiate any positions within the next 72 hours.