For investors, the beauty of the mining industry is its simplicity. Every miner from the grizzled prospector to the CEO of BHP Billiton (NYSE:BHP) is engaged in the same activity - digging things out of the ground for gain. This basic concept is the same today as when proto-Euphrateans started using copper tools around 4,000 B.C. Mining is the quintessence of Warren Buffet's adage to "buy what you understand."
The Durable Mining Cycle
There are very durable patterns in mining that reflect this simplicity and can help understand what to look for in the next several years. Mining is global, so we begin by looking at the global picture. Figure 1 shows the world index of nominal metals and minerals prices from 1960 to 2005. This index includes aluminum, copper, iron ore, lead, nickel, tin, and zinc. All charts come from the World Bank Global Economic Monitor (NYSEARCA:GEM) database. (In this article periods before and after 2005 must be shown separately because the outsized prices since 2005 obscure earlier patterns).
Figure 1: Metals and Minerals 1960-2005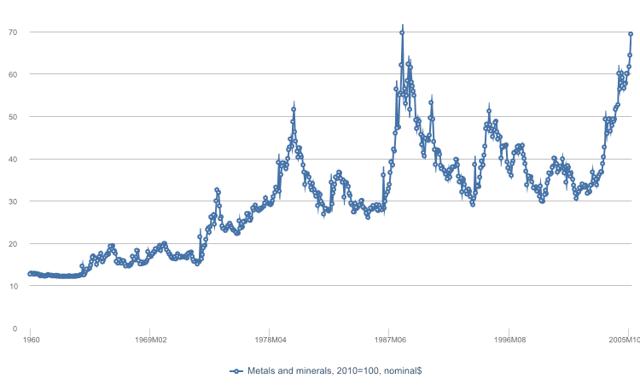 The pattern is remarkable. Prices reached major highs with a regularity like ripples on a pond. Between 1960 and 2005 there were six sharp peaks at intervals of 8, 6, 8, 7, and 10 years. Periods between peaks were mostly declining or low prices followed by a sharp rise. Then something different happened. Prices continued to rise to never before seen levels and stayed there for 6 years except for a brief drop in 2009 (Figure 2).
Figure 2: Metals and minerals 1960-2014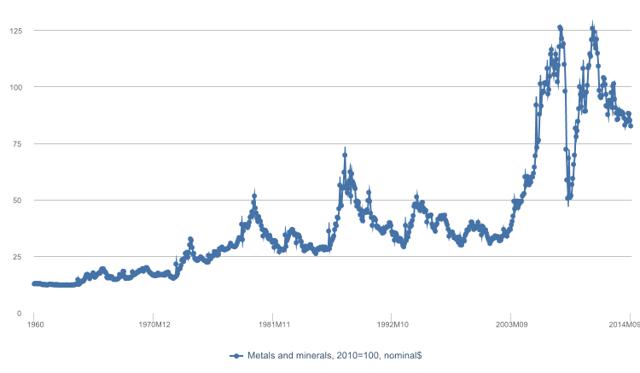 The obvious reason is the rise of China, which has become by far the world's largest user of many commodities including coal (47%), copper (40%), and iron ore (60% of world imports).
Does this mean the cycle is broken? Recent data show otherwise. At 79.2 the GEM index is down to the level of the breakout in 2005 and shows no signs of leveling off. Some high cost or financially weak producers from various markets have been eliminated, but remaining producers are increasing output to hasten that process and compensate for shrinking profit margins. For example, iron giants Vale (NYSE:VALE) and Rio Tinto (NYSE:RIO) are increasing production by almost 200 million tons in 2015. At the end of 2014 there was still an estimated 60 million tons of excess coal capacity. At the same time, on the demand side estimates of world growth are going down. China, the biggest driver of price increases, will have its smallest increase in growth since 1999.
Mining is still in a period of declining/low prices. From 1960 on the price cycle has ranged from six to ten years (excepting the post-2005 period) and the last peak was in 2008-2011. Since the single greatest factor in mining profits is the price received for their product, ETFs with a significant mining component like as SPDR S&P Metals and Mining (NYSEARCA:XME), Global X Copper Miners (NYSEARCA:COPX), Market Vectors Coal (NYSEARCA:KOL), and PowerShares DB Base Metals (NYSEARCA:DBB) reflect this trend.
Figure 3: Mining and Metals ETFs
| | | | | |
| --- | --- | --- | --- | --- |
|   | High price | High date | Recent price | % off peak |
| XME | $75 | 2008 | $29 | 61% |
| COPX | $20 | too new | $6 | 70% |
| KOL | $57 | 2008 | $14 | 75% |
| DBB | $25 | 2008 | $15 | 40% |
Many important metals have strong patterns similar to the overall metals and minerals complex. Figure 4 shows three examples: 1960-2005 prices for lead, zinc, and copper. Like the broad metals and minerals index, these metals also had a double peak in 2007 and 2011 and are now well off their highs.
Figure 4: Lead, zinc, copper prices 1960-2005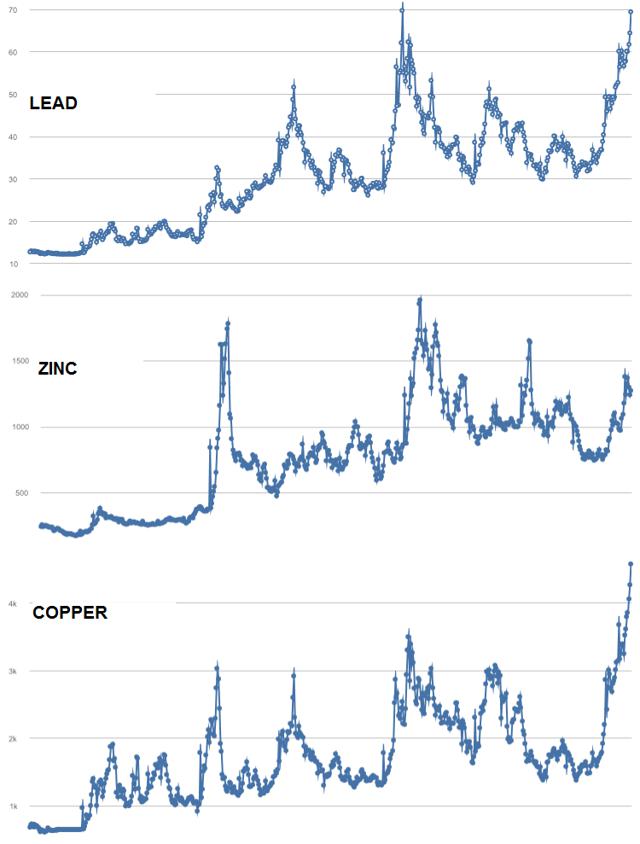 Mining Companies
When we look at some of the important producers of these materials, we see that stock prices have followed raw material prices since the last peak:
Figure 5: Vale , Freeport-McMoRan (NYSE:FCX), Horsehead (ZINC), Peabody (NYSE:BTU)
| | | | | | |
| --- | --- | --- | --- | --- | --- |
|   | High price | High date | Recent price | % off peak | Metal off peak |
| VALE (iron) | $39.78 | 2008 | $7.35 | 82% | 67% |
| FCX(copper) | $60.05 | 2011 | $18.85 | 69% | 43% |
| ZINC(zinc) | $17.39 | 2007 | $13.97 | 20% | 52% |
| BTU (Coal) | $88.05 | 2008 | $7.62 | 91% | 63% |
Summing Up the Data
For 45 years metals and minerals had a very reliable six to ten year price cycle, often characterized by mostly declining or low prices followed by a sharp increase. Individual metals have had very similar cycles, although with greater variability. Since the greatest single factor in mining company revenue and earnings is the price of the raw materials produced, company fortunes are tied to the price cycle.
Raw material prices are in turn affected by world economic conditions. The cycle was disrupted by the emergence of China, which led to hugely unprecedented prices after 2004. As growth in China and much of the world slows, prices are coming down and the cycle can reassert itself.
Investing Strategies
Make no mistake - mining company prices will come back with a vengeance. The question is when. There is no way to know whether raw material prices will get down to historical levels or if they are at some permanently higher plateau. Fortunately, that knowledge is not required. Instead, we can use the price cycle as a guide.
The unique double peaks in 2008 and 2011 combined with the six to ten year cycle results in a wide range of possibilities for the next peak, from 2014 (2008+6) to 2021 (2011+ 10). We are better served by monitoring where we are in the cycle. As long as prices continue declining or stay at low levels, putting money in the sector is premature. The time to invest in mining ETFs will be when the general metals and minerals complex starts a significant rise. By monitoring the price of specific metals we can get an idea of when it's time to invest in specific companies.
For investors not confident in their market timing ability, there is already a sizable cushion in the shares of a number of companies. Some mining ETFs peaked in 2008 and are off 75% , 70% , and 61% . Companies such as VALE and BTU also peaked in 2008 and are off 82% and 91% respectively. It's still important to monitor the prices of the underlying materials to avoid entering too early, but the downside at this point should be relatively limited and the upside is only a matter of time.
The Bottom Line
The mining price cycle is a remarkably long lasting and reliable phenomenon. Recent years of declining prices will be followed by high prices, and the fortunes of mining companies will follow. Even 55 years of cycles can't tell us when the current period of low prices will end, but for the general metals and minerals complex the window for monitoring begins now. Some companies may already be at a point where investors can be confident about good profits over the long term.
Disclosure: The author is long BTU. The author wrote this article themselves, and it expresses their own opinions. The author is not receiving compensation for it (other than from Seeking Alpha). The author has no business relationship with any company whose stock is mentioned in this article.