Price Trend Winter 2014-2015
Natural gas prices have continued to slide (alongside oil prices) for the last month, going from $3.349 on Jan. 15 to a low of $2.570 on Feb. 6. The price decline in natural gas has been even more dramatic for the winter of 2014-2015, from a price of $4.512 on Nov. 26 and $3.929 on Dec. 14. The price move is even more drastic when compared to the historical prices of natural gas, with Henry Hub prices falling to the lowest price since June 2012.

Due to the oversupply of natural gas and mild winter thus far, analysts have called for natural gas to go to $2.50 (as I did on Jan. 7), and some analysts are calling for an even more extreme drop to under $2.00.
February 2015 Weather
With brief spells of cold throughout the winter, the country has lacked a prolonged period of cold to lift natural gas prices. However, both the NOAA and Weather Underground forecasts for the upcoming weeks predict a period of cold in the population-dense Northeast.
NOAA 6-10 (2/16-2/20) Day Forecast (as of Feb. 10)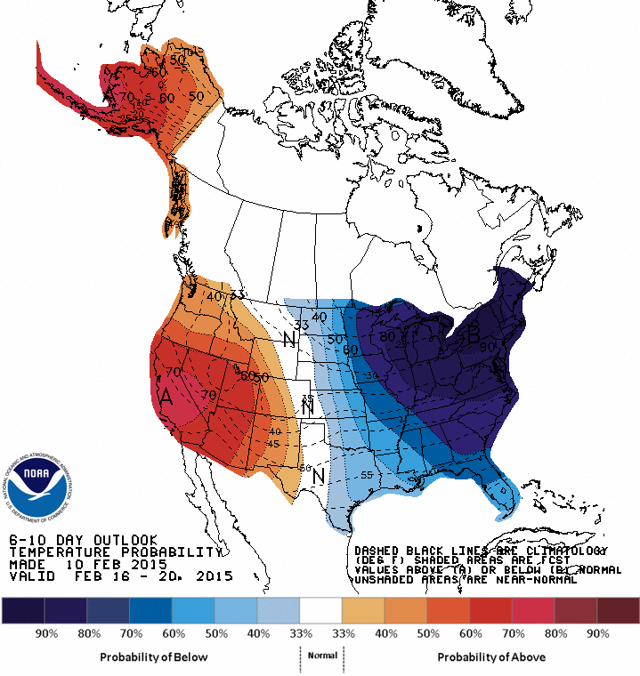 NOAA 8-14 (2/18-2/24) Day Forecast (as of Feb 10)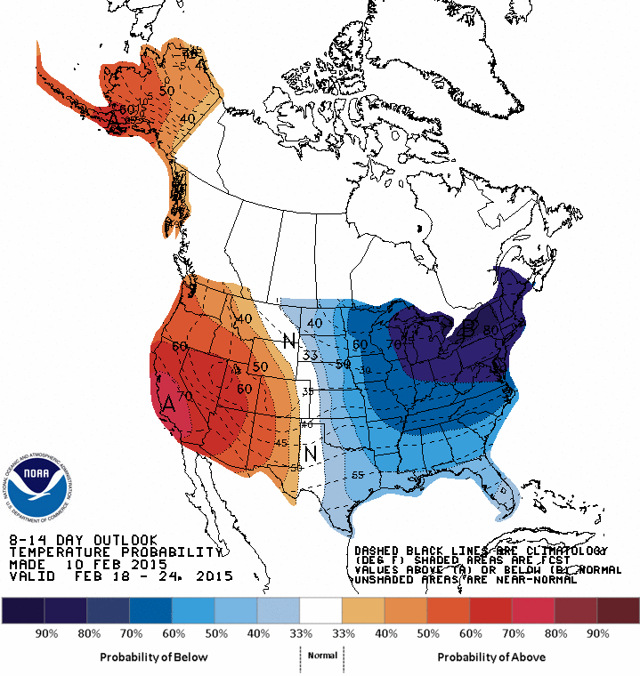 For more information on how to read the NOAA maps in depth, please see the following link. Another source I like to look at in my natural gas trades are the forecasts from Steve Gregory at Weather Underground. Mr. Gregory's maps show the number of degrees that deviate from the average temperature (slightly different than the NOAA maps). Mr. Gregory also includes the predicted number of HDD (heating degree days, a way to measure temperature with 65 degrees as a base line) and his confidence level in the pattern and magnitude of the forecast.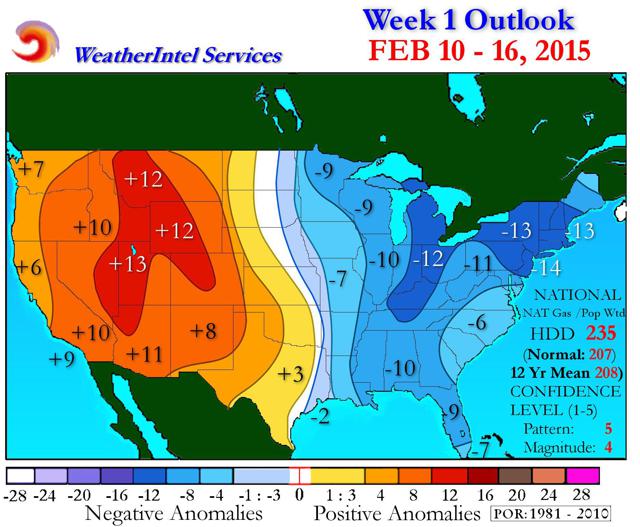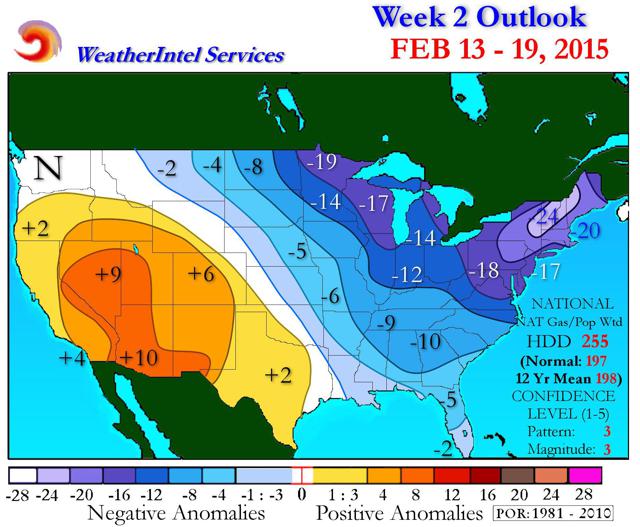 Please see his comments for further discussion about the details of the forecasts above.
Natural Gas in Storage
The most important theme in natural gas (and oil for that matter) continues to be oversupply in the market. After the extremely cold polar vortex last winter, natural gas storage levels were at a 5-year low and remained at low levels during the shoulder seasons (spring and fall) and summer. However, the winter thus far has been mild, with little extreme demand to soak up the excess supply available. Accordingly, storage levels have more or less returned to the 5-year average as indicated in the two charts below from the EIA. More specifically, working gas inventories as of Jan. 30 was 2,428 Bcf, 468 Bcf (23.9%) higher than last year at this time, and 29 Bcf (1.2%) lower than the 5-year average, as seen below.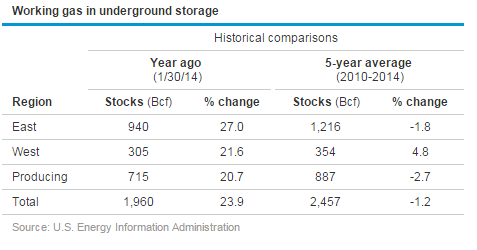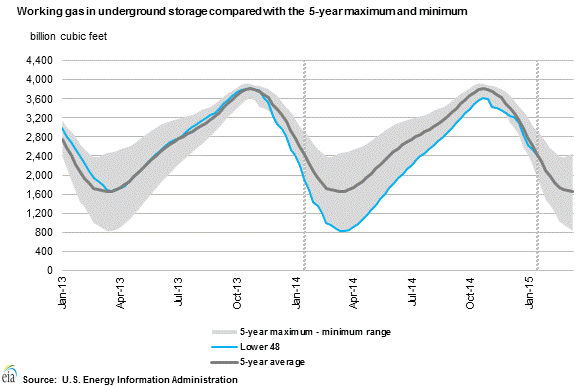 The levels in storage might briefly decrease below the 5-year average with the cold weather forecast above, yet production continues to increase. According to the EIA, "Dry natural gas production rose 0.5% from last week, and was 12.5% higher than last year, according to data from Bentek Energy."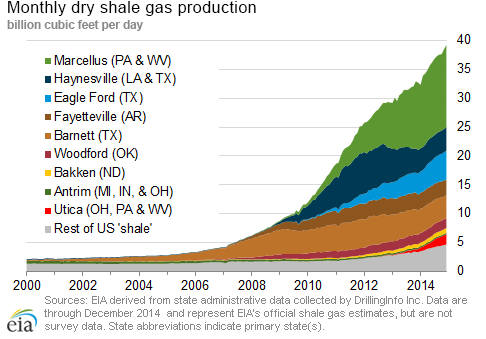 Relevant ETN/ETF Plays
I continue to be short natural gas as I suggested in my earlier article. Just as oil has bounced, I believe the bounces in oil to $55 (early Feb), and natural gas to $2.85 this morning (2/11) are temporary, and the bottom to natural gas and oil prices have not been seen. Natural gas prices still have some upside potential if the forecasted cold weather materializes in the short term. If looking at initiating a position currently, the weather forecasts would support a long position, but be aware of the vast oversupply of gas and the risk of the cold weather not occurring (leading to a potential price decrease).
However, in the long term, I am still short natural gas to below $2.50. Analysts calling for below $2.00 seems pretty aggressive at this point and I do not believe prices will fall that far at this point.
For an investor to short natural gas (aside from futures and options), one could trade the VelocityShares 3x Inverse Natural Gas ETN (NYSEARCA:DGAZ) and/or the ProShares UltraShort Bloomberg Natural Gas ETF (NYSEARCA:KOLD). Investors wishing to go long natural gas could trade the United States Natural Gas ETF, LP (NYSEARCA:UNG), the VelocityShares 3x Long Natural Gas ETN (NYSEARCA:UGAZ), the ProShares Ultra Bloomberg Natural Gas ETF (NYSEARCA:BOIL), and/or the United States 12 Month Natural Gas ETF, LP (NYSEARCA:UNL).
However, several of these ETF/ETNs are levered and rebalanced daily (except UNG and UNL). Consequently, these trades are intended for short-term traders due to the tracking error discussed in the disclosures below.
Natural Gas ETFs and ETNs:
Long
United States Natural Gas ETF, LP
VelocityShares 3x Long Natural Gas ETN
ProShares Ultra Bloomberg Natural Gas ETF
United States 12 Month Natural Gas Fund ETF
Short
VelocityShares 3x Inverse Natural Gas ETN
ProShares Ultra Short Bloomberg Natural Gas ETF
Disclosure: The author has no positions in any stocks mentioned, and no plans to initiate any positions within the next 72 hours. The author wrote this article themselves, and it expresses their own opinions. The author is not receiving compensation for it (other than from Seeking Alpha). The author has no business relationship with any company whose stock is mentioned in this article.
Additional disclosure: Futures - trading futures and options involves the risk of loss. Please consider carefully whether futures or options are appropriate to your financial situation. Only risk capital should be used when trading futures or options. You must review customer account agreement prior to establishing an account. Investors could lose more than their initial investment. Levered ETFs - the impact of negative compounding can result in long-term inaccuracy. Many leveraged ETFs trade only a few thousands shares per day, leading to low liquidity. Leveraged ETFs are a high-risk investment that could be dangerous to the uneducated investor.